First National Bank
After remodeling the former First National Bank, the Central Library moved into this building in 2004.
Historic Lobby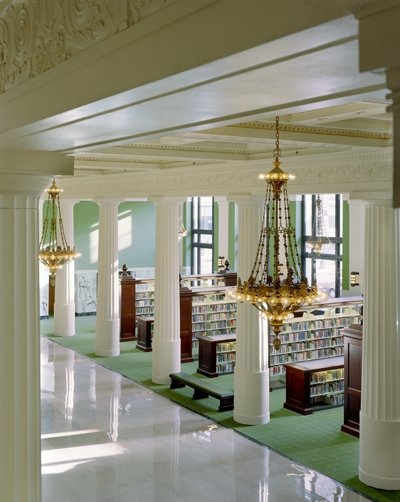 The restored 1906 historic bank lobby is one of the most magnificent spaces in the Central Library as it is the first interior view that customers experience as they enter the Library. This impressive space houses the popular materials collection on the first floor among the restored columns.
Grand Reading Room
Modeled after library reading rooms of the early 20th century, this room includes traditional library seating with custom-designed tables wired for modern computer usage. The Grand Reading Room is located on the third floor and is surrounded by the Community Reference Services, Reference Collection, and Periodicals Collection. Architectural features include a distinctive, 34-foot ceiling with skylight.
Stanley H. Durwood Film Vault
The old bank Vault, part of the 1925 bank addition, proves one of the most distinctive and unique features in the building with walls of steel and reinforced concrete and a 35-ton steel door. A variety of programming specific to the Vault Theater are presented in partnership with local film societies and organizations.
Youth Services
This themed space on the second floor welcomes children and encourages them to browse the collection, read aloud in small groups or to themselves, and look at picture books. This space, and the books housed within in it, provides more than just opportunities for "story times," it provides a unique setting in which children can take their own journey into the exciting and life-enriching world of books. A teen library is also available in this space.
Community Bookshelf – Central Library Parking Garage
The Community Bookshelf is a striking feature of Kansas City's downtown. It runs along the south wall of the Central Library's parking garage on 10th Street between Wyandotte Street and Baltimore Avenue. The book spines, which measure approximately 25 feet by 9 feet, are made of signboard mylar. The shelf showcases 22 titles reflecting a wide variety of reading interests as suggested by Kansas City readers and then selected by The Kansas City Public Library Board of Trustees. It was completed by the fall of 2004.