Post date:
Wednesday, September 2, 2020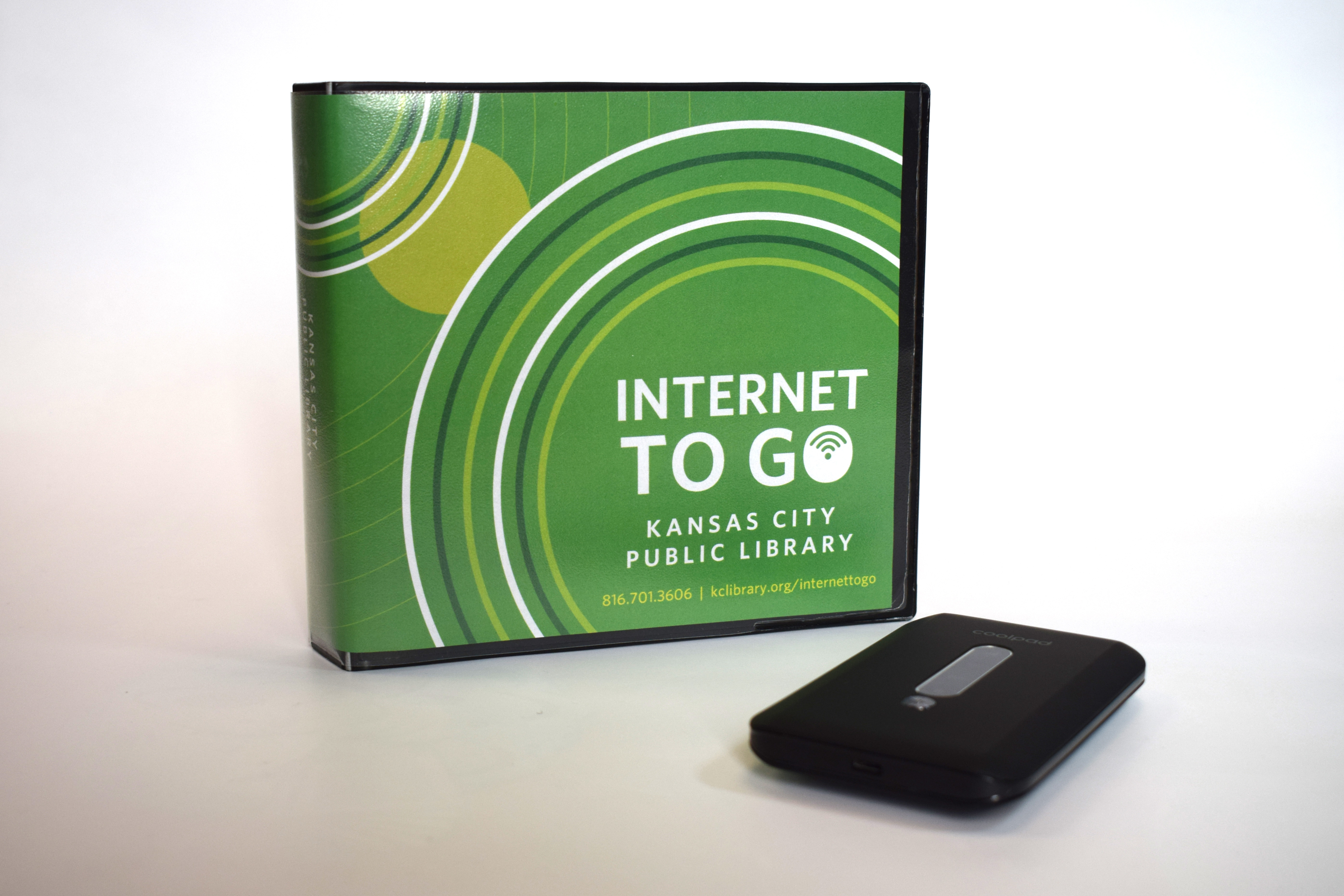 We find ourselves in an increasingly online time, our quality of life tied to the quality of a simple internet connection.

And if we're not connected?

The shutdowns and social distancing wrought by the COVID-19 pandemic have made the consequences all too clear, from an inability to seek out social services, search for a job, or now do schoolwork to the heartache of disconnect from family and friends. It underscores the significance of a new Kansas City Public Library resource: the availability of 100 or more Wi-Fi hotspots for free, 14-day checkout.

The Library launched Internet to Go the first week in September. The hotspots are housed at its Southeast, North-East, and L.H. Bluford locations – in three of the city's highest-need neighborhoods – though cardholders can place holds and pick them up when they become available at any of KCPL's 10 locations.

The impact of an individual checkout can be exponential. Each Wi-Fi hotspot will support basic web browsing on as many as 10 desktop or laptop computers, tablets, and other devices or handle streaming on two or three devices.

"A person can bring the device home, and the whole family can use it," says Dave LaCrone, who oversees the project as manager of the Library's Digital Branch.

Hotspots run at the same 4G/LTE internet speeds available on cellphones. Use during the two-week checkout period is unlimited.

Other libraries making the devices available around the country have seen high interest and long waiting lists, LaCrone says. He anticipates the same in Kansas City.

Southeast Manager Monica Jedine echoes that expectation. "We have heavy demand now for daily use of our computers," she says, alluding to the availability of limited, appointment-only computer sessions at select Library locations since May. "Once people find out they're able to use this device in their homes, yeah, it's very much going to be in high demand.

"People are looking for employment. They're trying to find food banks and services to help pay their bills. These are real needs in our community right now."

The Wi-Fi lending program was in the works before the outset of the pandemic. LaCrone's team started discussions in January, enabled by the additional revenue generated by voter approval of a modest increase in the Library's property tax levy in November 2018.

A further boost came from the Friends of the Kansas City Public Library, who targeted the project in a two-month membership and fundraising campaign that ended in early August. It generated nearly $13,000 in support, far more than doubling the volunteer organization's original goal of $5,000 and likely allowing the Library to increase its original supply of 100 hotspots.

When the idea of tying a membership drive and its proceeds to the project was presented to the Friends' board, organization President Matt Sterling says, "It resonated with a number of people that this is important, that this is a way our community can connect with one another, literally, and it's something we should be doing. It was exciting to see the strong response."

LaCrone estimates that the lending program will cost the Library around $20,000 a year.

Internet to Go is the Library's latest effort to mitigate a persistent digital divide – the economic, educational, and social inequity between those who have computer and online access and those who don't – in the Kansas City area. KCPL partnered with Kansas City Public Schools on a previous Wi-Fi lending program, offering checkout to households with school-age children during the 2015-16 and '16-17 school years.

This lending initiative, while still a critical resource for students and their parents, is farther reaching, available to anyone young or old with an unrestricted Library card. Visit kclibrary.org/internettogo to place a hold on a hotspot and have it delivered to the Library location of your choice. Or contact the Southeast, North-East, or Bluford locations about immediate availability and pickup during their Pop In / Pick Up hours.

Internet to Go Service

Some additional details:
· Checkouts are for 14 days only, one hotspot kit per Library card, with no renewals because of expected demand.
· Internet to Go kits include a hotspot device, charging cord, and instructions. Replacement cost for a lost or damaged device is $60.
· Hotspots run on the T-Mobile LTE network, so you'll need to be in that provider's coverage area for them to function.
· Internet browsing and other activity on the devices is private, undisclosed to the Library or anyone else. Content filters prevent internet connection to pornographic or malicious websites.
· Return a kit after 14 days to any Library location, dropping it off at the Pop In / Pick Up table inside. Don't use inside or outside book drops.
· Hotspot kits, like all Library materials, are cleaned, disinfected, and quarantined for five days after their return to ensure safety.