Borrow the internet from the Kansas City Public Library!
Our free Internet to Go service gives you a way to enjoy online access from nearly anywhere using a portable tool that lets you wirelessly connect your laptop computers, smartphones, or tablets.
Using a Library-provided mobile hotspot device, you can take part in all sorts of activities that require an internet connection: check email, browse websites, pay bills online, apply for jobs, conduct research, play games, stream music or movies, and more!
How to borrow Internet to Go kits:
Visit the catalog to place a hold and have it delivered to the Library location of your choice. Or contact us by phone, email or chat.
When you receive notice the Internet to Go kit is ready at your selected location, check in at the customer service desk when you arrive.
When you pick up the kit, you will need to agree to the Terms of Service for the program.
Once you have the kit, follow the instructions included to connect your Wi-Fi-enabled device to the hotspot.
You have 21 days to use the hotspot, with no renewals.
Return it to any Library location inside, during open hours, or using the outdoor book drop boxes.
There is no cost to you to use the device; the Library pays for unlimited wireless services.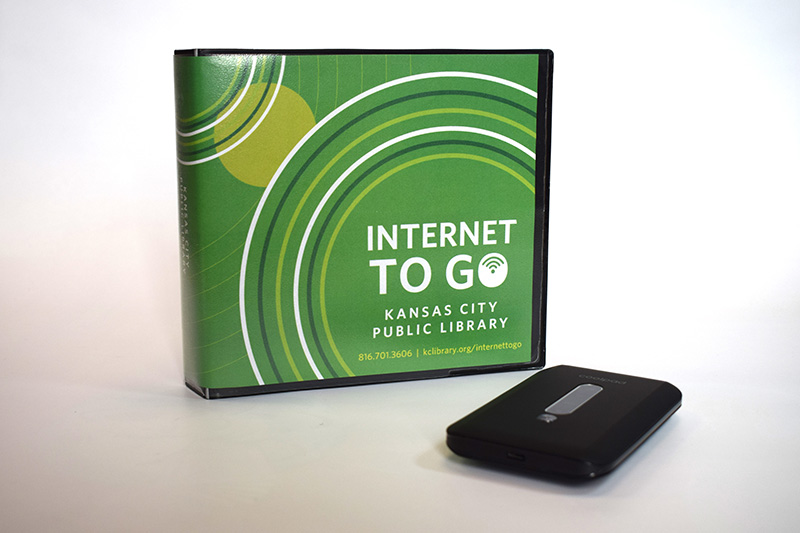 Borrow a Kit Library card required. Need one? Sign up here »
FAQs
What is an internet hotspot?
A hotspot is a device that provides wireless internet (also known as Wi-Fi) to devices that have Wi-Fi capability, such as smartphones, tablets, or laptops. Using the Library wireless network and password provided in the Internet to Go kit, you can connect your devices to the hotspot and access the internet. Unlike a computer that requires a cable connected to the wall, Wi-Fi hotspots let you access the internet from nearly anywhere – your home, in a park, or other places.
How many devices can I connect to a hotspot?
It depends on what kind of activities you may be using the hotspot for. One hotspot can support up to 10 devices for basic web surfing or up to two to three devices for streaming. They run at 4G/LTE speeds, like the speed of cellphone internet.
Do I need to pay for internet service?
No, the Library pays for the internet service, so it is completely free for patrons.
What network do the hotspots use?
The devices run on the T-Mobile (formerly Sprint) LTE network, so you will need to be within this provider's coverage area to function.
Who is allowed to check out a hotspot?
Patrons must meet the following requirements to check out a hotspot:
Must be 13 years old or older
Must agree to the Terms of Service of the program upon checkout
Must have provided proof of address at a library location or be a student of Kansas City Public Schools or Academy Lafayette Schools
Can I place one on hold in advance?
Yes, you can place them on hold in our catalog and pick them up at any location at the customer service desk.
How long can I check out a hotspot for?
The borrowing period is 21 days with no renewals. You must return the entire kit with all materials included.
What comes in the Internet to Go kit?
The kit includes a hotspot wireless internet device, a charging cord, instructions, and the case. Please make sure that all materials are returned.
What happens if I lose or damage the device or anything that comes with it?
The cost for a replacement hotspot device is $30.
How do I return the hotspot?
Return it to any Library location inside, during open hours, or using the outdoor book drop boxes.
Can the Library see how I used the internet service?
The Library is not able to see your browsing or other activity while connected to the devices. We do receive anonymous reports about the amount of data the device uses.
Is my web browsing restricted in any way while using the hotspot?
Hotspots are equipped with a content filter that prevents viewing of pornographic and malicious websites. This keeps the Library in compliance with Federal regulations and Library policy.
What should I do if the device seems to be broken or isn't working correctly?
Please call 816.701.3434 or notify a staff member when you return the kit
This service was made possible through the support of library district residents with the 2018 levy increase and a generous gift from the Friends of the Kansas City Public Library. The Tech to Go Program is supported by the Emergency Connectivity Fund administered by the Federal Communications Commission.