Post date:
Tuesday, February 23, 2021
Your North-East Branch staff is eager to welcome you back to our beautiful, renovated building at 6000 Wilson Rd. We're proud to showcase current library services as well as share some exciting features you can look forward to experiencing.  

We believe you'll enjoy our wide array of contemporary library materials available in English and Spanish languages, brand new computers with efficient processing, and the vibrant colors adorning the spaces and furniture that were selected with you in mind.  

Below are some of the major updates we've made to the building, but my favorite change has been the development and design of The Studio, where we plan to host numerous public programs. Its west-facing location affords a prime view of evening sunsets. With new shelving, we've also made it easier to access our children's and teen book collections. In addition to modifying the floor plan and increasing our facility's footprint, our team at the North-East Branch continues to grow. The Library's Refugee & Immigrant Services & Empowerment (RISE) staff joins in serving you and the Historic Northeast community, and we can't wait for you to meet them.

While the building certainly looks different, you'll still find familiar faces inside. We hope you are able to visit us soon and see for yourself all of the wonderful upgrades we've made for you.

Amanda Barnhart, North-East Branch Manager

CHECK US OUT  |  En español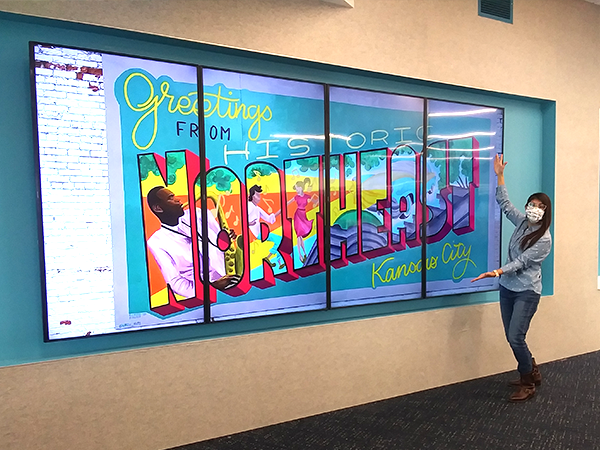 A digital wall exhibit showcases the neighborhood's creative murals.
**UPDATE**
Library buildings are once again to the public, and many services paused or changed during 2020 are once again available. Get the latest information at
kclibrary.org/covid
.


Connect with Our Collections

As always, you can borrow books, CDs, and DVDs through our online catalog. Use our Pop In / Pick Up holds service to get your requested items once you are notified they're ready for you at the North-East Branch.

Our new shelves are also stocked with fresh materials. As part of our efforts to provide useful and culturally relevant resources to Historic Northeast-area patrons, around 7,000 new books and other materials in both English and Spanish have been added.
Top-Shelf Technology

Our building isn't the only thing that's new and shiny. During the renovation, we also upgraded our public computers and now offer better and faster machines on which you can catch up on your email correspondence, apply for jobs, pay bills online, do homework, or simply browse the web for fun. 

Just need to print a document? With our remote printing service, you can email your files to the Library from home (or anywhere). No computer session reservation needed.

Want to take the internet home with you? Borrow one of the Library's Internet to Go kits. You can check out a Wi-Fi hotspot device the same way you'd check out a book from our catalog. Enjoy online access from nearly anywhere – wirelessly connect your laptop computers, smartphones, or tablets. It's free with your library card.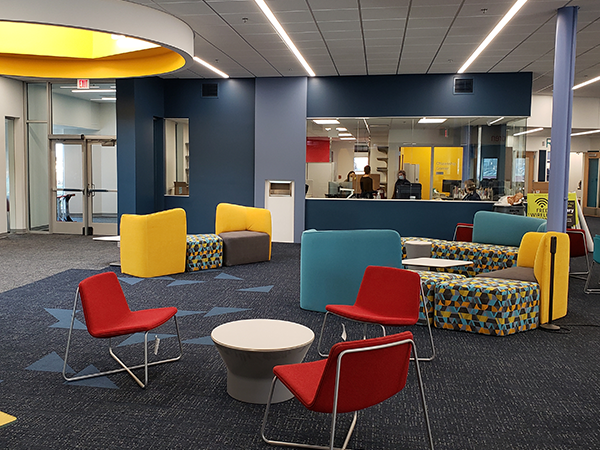 Bold, vibrant, and inviting spaces are the norm at the new North-East Branch.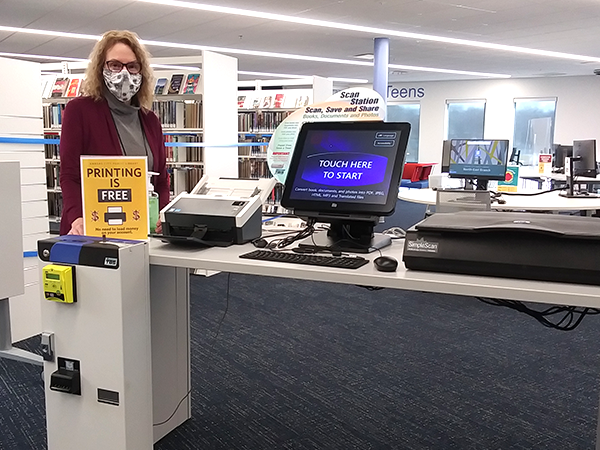 Upgraded technology will make for a better, faster experience when patrons use computers, scanners, or copiers.
Gathering Spaces

We have some amazing new spaces for the community to use. The Studio is a multipurpose room for youth activities and artistic revelry. New and reimagined study and meeting rooms will host community activities and other in-person gatherings (remember those?). Common areas with new brightly colored, comfortable furniture serve as "Social Spaces" where people can meet for small study sessions, sit and page through the latest magazines, or just casually hang out with friends.

As of fall 2021, you can once again reserve meeting and study rooms at Library locations, and the North-East Branch has great new offerings to host community gatherings.

Schedule a time in our single-person Community Connections Rooms and use our technology for all your virtual face-to-face commitments. Attend a virtual job interview, make a telehealth appointment, join a Zoom study group, or video-chat with family members. A webcam-enabled computer is available for you to use with your Library card for the duration of your appointment.

We've also made space where a pair of people can book some collaboration time. Reserve a Study Spot in our new Corner Lobby area, where you can comfortably bring your own laptop or device to make use of our free Wi-Fi and printing services, do some deep-dive reading or focus time, or meet with a colleague or classmate on a shared project. Study Spots are limited to one-hour sessions for only one or two socially distanced people.
 
Tailor Made for Teens & Children 
As we set out to redesign the North-East Branch, we wanted to make sure that we listened to our young patrons when they told us what they look for in a safe, energizing, welcoming space. First, there's the lighting: big windows that let in lots of natural sunshine. Aside from the view outside, the interior vistas are now more open and spacious, which make it easier for family members keep eyes on each other throughout the building. With new shelving, we've also made it easier to access our children's and teen book collections. And we have other great additions: new computers and tech designated for teens; an early literacy area with helpful resources; a LEGO surface table for young kids; and upgraded furniture that is bold, colorful, and comfortable.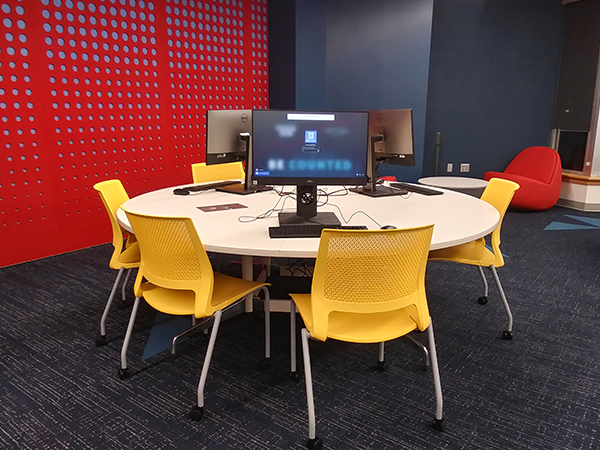 Teens offered input in imagining how their areas would look in the new space.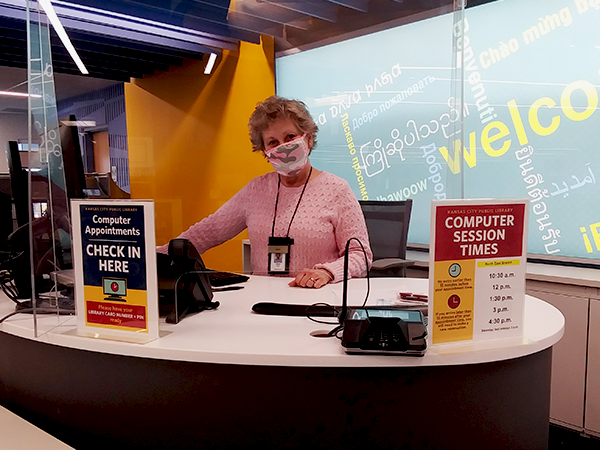 The mural behind the customer service desk welcomes patrons in different languages spoken in the community.
Art with a Heart
The Historic Northeast community is vibrant, creative, and inclusive, and we wanted this Library space to reflect those qualities. One of the biggest signs of this effort is ... well ... literally a big sign. As guests approach our customer service desk, they will be greeted by a large wall mural declaring "Welcome!" in many of the different languages spoken by our patrons.

The walls are also alive with a new original digital art display curated by the Library and local artists and activists. Community in Color: Murals of the Historic Northeast spotlights more than 30 outdoor murals and other works of art that have become a distinguishing feature of the Northeast area. 

READ MORE ABOUT THIS PROJECT
 
A Center for Service  
We're extremely excited to welcome the team from the Library's Refugee & Immigrant Services & Empowerment (RISE) program to the North-East Branch! While providing services throughout the region, RISE's move from the downtown Central Library to our newly renovated building provides even more direct service to patrons in the Northeast community. RISE's new headquarters will offer such amenities as a dedicated classroom space, computers dedicated to language learning, and a Citizenship Corner with various resources. 
 
Additional Resources & Improvements 
The Village Post Office and improved access to post office boxes.
New furniture, shelving, tables, and staff areas.
Upgraded audio-visual equipment in meeting rooms.
Fresh landscaping and improved parking lot access.
Physical facility updates: mechanical, HVAC, electrical, plumbing, roofing.
CHECK US OUT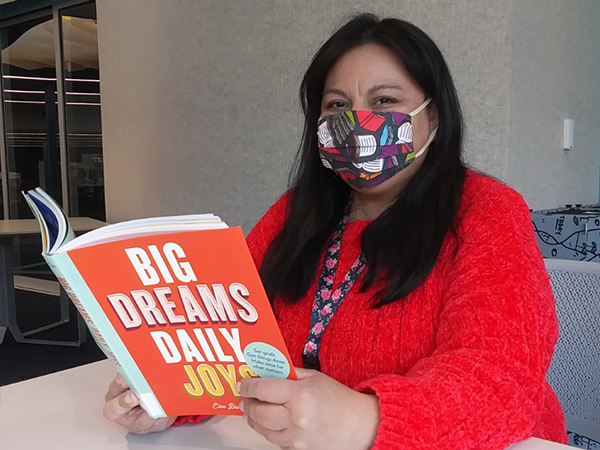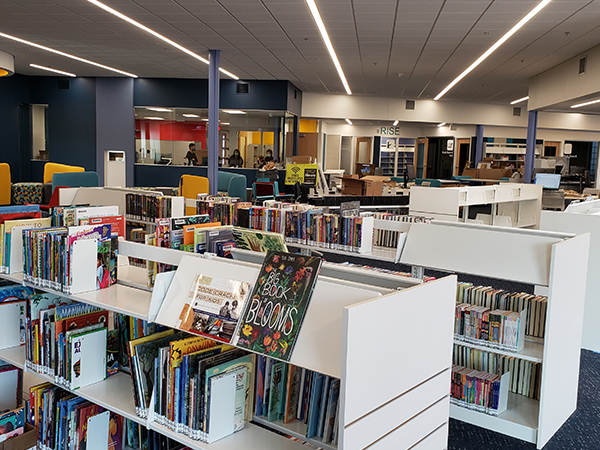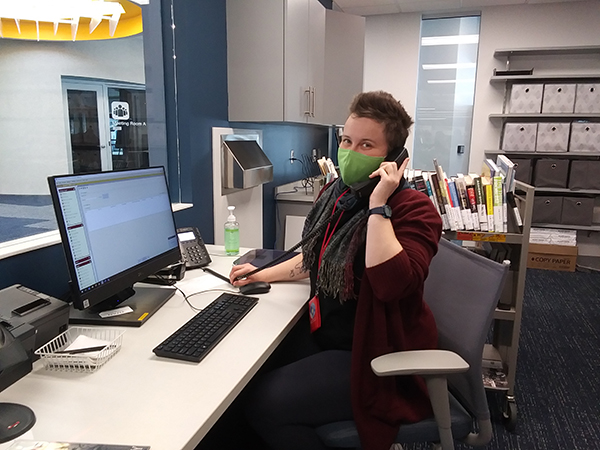 ---

These improvements were made possible in large part by voters' approval of 
the Library Question levy increase
 in November 2018, and crucial additional funding came from the 
William T. Kemper Foundation
, 
Sunderland Foundation
, and 
Marion and Henry Bloch Family Foundation
.