The Library invites all Kansas Citians to read, learn, imagine, and explore together in this year's Summer Reading Program: All Together Now. No matter your tastes — fantastic fiction picks, riveting real-life reads, awesome audiobooks, or gorgeously illustrated graphic novels — you can read ANY five books between June 1 and August 15, 2023, log them online, and earn a reward. Join us in celebrating the power of books to build bonds, create connections, inspire us, enrich us, and empower us.
Library programs and resources bring people from all walks of life together for shared experiences. Whether you're visiting your neighborhood Library location to check out the latest bestseller, bringing your kids to storytime to play and learn with other families, using our free technology services to connect with others or grow your skills, seeking help to access personal or professional resources, visiting our bookmobile as it pops up at local events, logging into an online class or workshop, or attending our free public programs that bring diverse ideas and voices to local audiences, your Library offers spaces and places where everyone comes together.  
The books on our shelves help people find themselves. They can amplify unheard voices and offer visibility for the unseen and overlooked. Stories of people who have faced challenges similar to our own resonate with us, make us feel less alone. Reading introduces us to an array of other worlds and perspectives, and within the pages of books are paths that lead us toward greater understanding of one another. Word by word, page by page, books expand our views to foster empathy and strengthen a sense of togetherness. 
Open your mind. Open your heart. Open a book. Let's start our Summer Reading adventure... all together now.
"True community is based upon equality, mutuality, and reciprocity. It affirms the richness of individual diversity as well as the common human ties that bind us together."
- Pauli Murray
"Books help us understand who we are and how we are to behave. They show us what community and friendship mean; they show us how to live and die." - Anne Lamott, Bird by Bird
START YOUR SUMMER READING!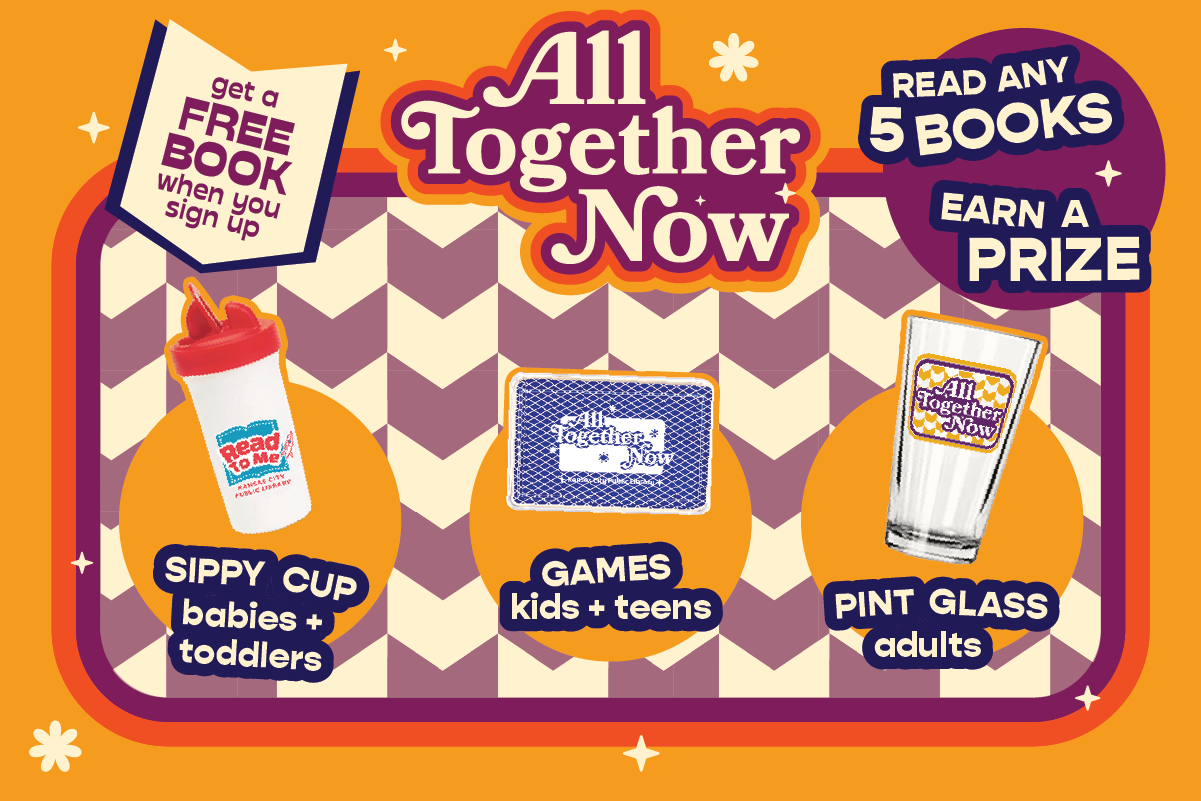 About Summer Reading:
Earn a FREE BOOK just for signing up!
Read five books between June 1 and August 15. Titles can be official Suggested Reading picks for youth, teens, or adults, but you can read any five books in any format – hardcover, audiobook, eBooks, graphic novels. Everything counts!
Log your five reads online using Beanstack or the Beanstack Tracker mobile app.
Earn a prize:

Sippy cup (babies and toddlers)
Creative journal and pens (kids and teens)
Pint glass (adults)

Be sure to share your Summer Reading experiences on social media! Follow the Library's accounts, and tag your posts with

#kcSummerReads

.