It was mid-April, a couple of weeks into the Library's latest Big Read initiative. Draped in a long-fringed shawl and a Native-designed blanket, presented as gifts at the end of a warmly received reading and discussion of her work, U.S. Poet Laureate Joy Harjo stood smiling on the stage of the Plaza Branch's Truman Forum Auditorium and spoke to the significance of the evening gathering.
"This is really about the community," she said to an audience of 200+ guests. "It's not about one person standing up here. This is all of us coming together."
Big Read 2022 did that – brought the Kansas City community together – for two months.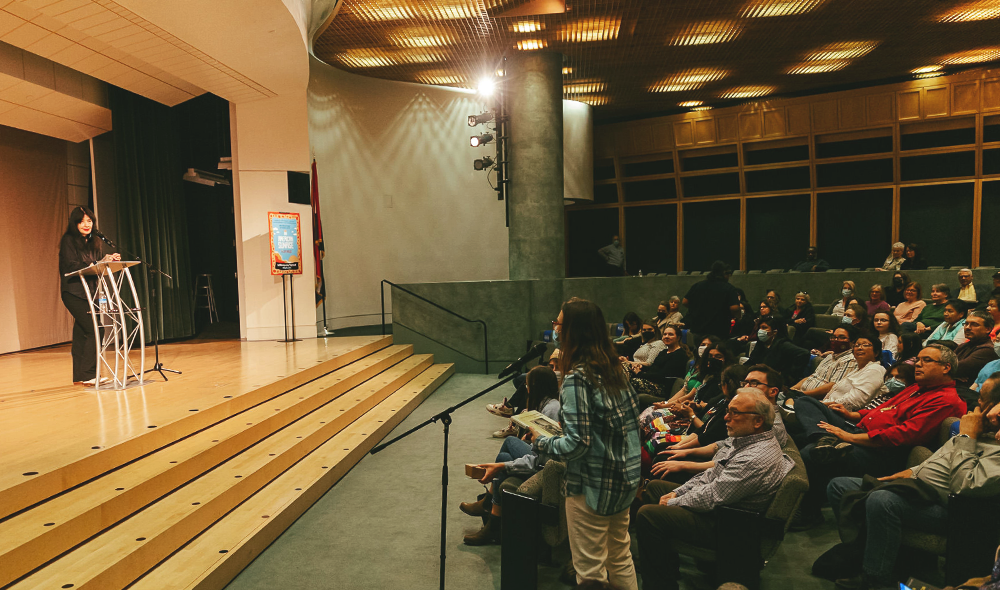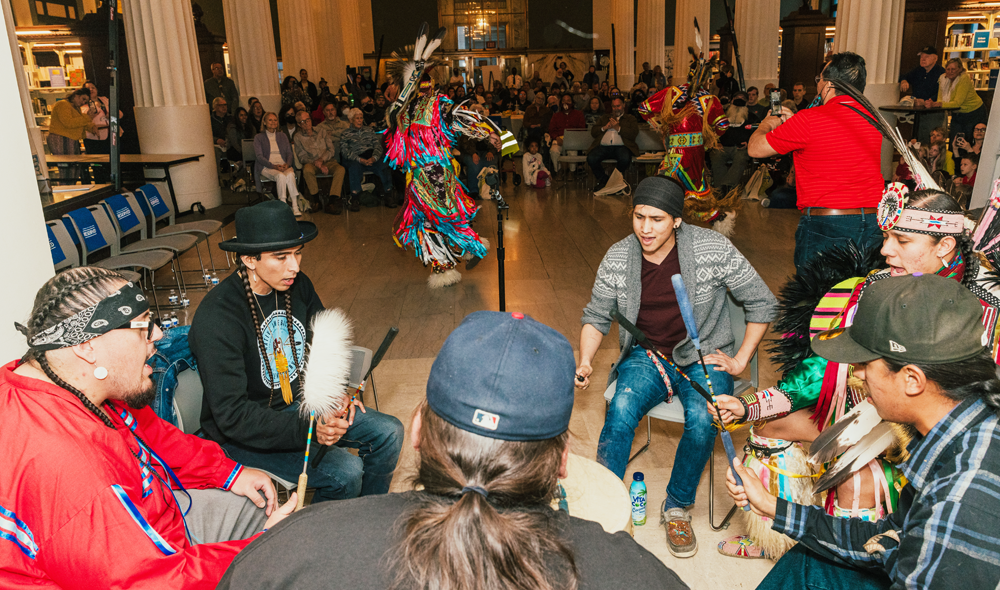 Harjo's presentation headlined the initiative, which revolved around her acclaimed collection of poetry An American Sunrise. Over 1500 Kansas Citians, young and old, engaged in speaking presentations, film screenings, and group discussions of An American Sunrise. Children chose from their own menu of Big Read-related events and resources, from storytimes and Dial-a-Story sessions to make-and-take activity kits.
The Library distributed 700 free copies of Harjo's book.
The Big Read wraps up Sunday, May 29, with the closing of the exhibition The Heart Is a Fist: Contemporary Art From Haskell Indian Nations University at the downtown Central Library. It spotlights contemporary Indigenous artwork touching on the themes of history, culture, justice, and empathy in Harjo's poetry, incorporating passages from An American Sunrise.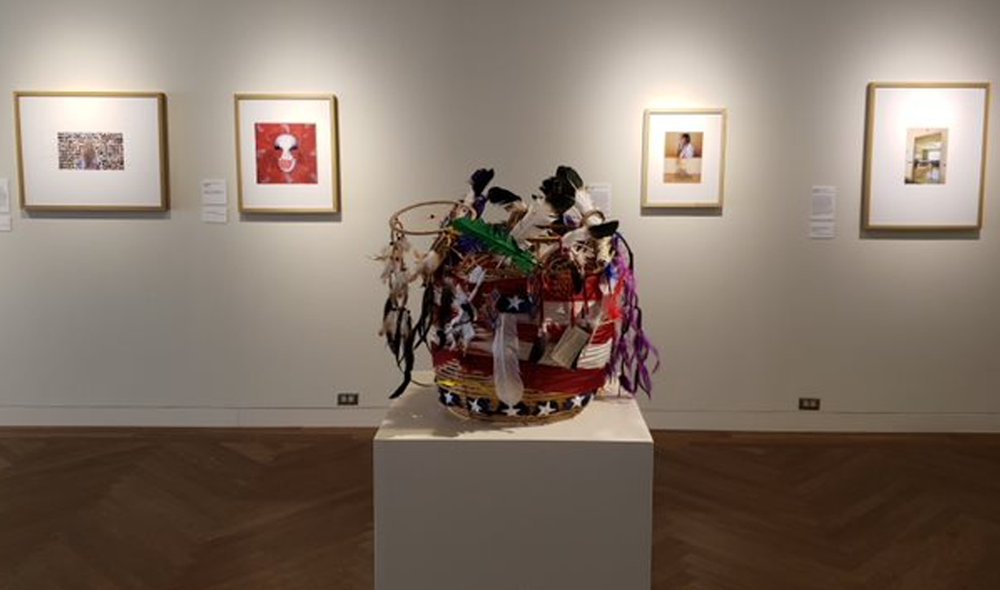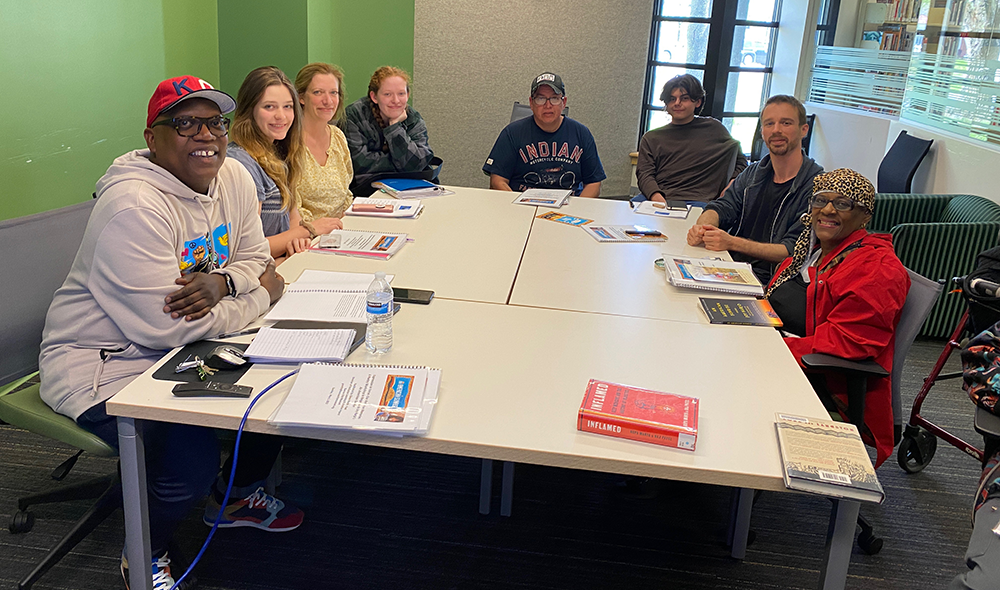 Launching April 1, this Big Read was the seventh staged by the Kansas City Public Library dating to 2007 and the first to feature a work of poetry. The Kansas City Indian Center and Haskell Indian Nations University joined as partners in a program celebrating not only poetry and reading but also Native American literature and culture.
"It has exceeded all expectations," said Kaite Stover, the Library's director of readers' services.
"Kansas City has responded so well to poetry, especially to this work of poetry," she said. "People are finding so much to discuss – so many poems that speak to them and a wide variety of poems, which is a testament to Joy Harjo's role as U.S. poet laureate. She's not just making poetry more accessible by being its national face. Through her own works, she's also letting folks know that poetry is for everyone, that it can capture all the human emotions."
Public enthusiasm was apparent from the start. A crowd of 215 filled main-floor Kirk Hall in the downtown Central Library for the April 6 kickoff celebration, which featured Native American dancers, singers, and drummers. In addition to those who attended Harjo's presentation at the Plaza Branch the following week, an audience of 211 watched via livestream. And more than 1,100 people have since viewed the video of the event on the Library's YouTube channel (it remains available through May 31).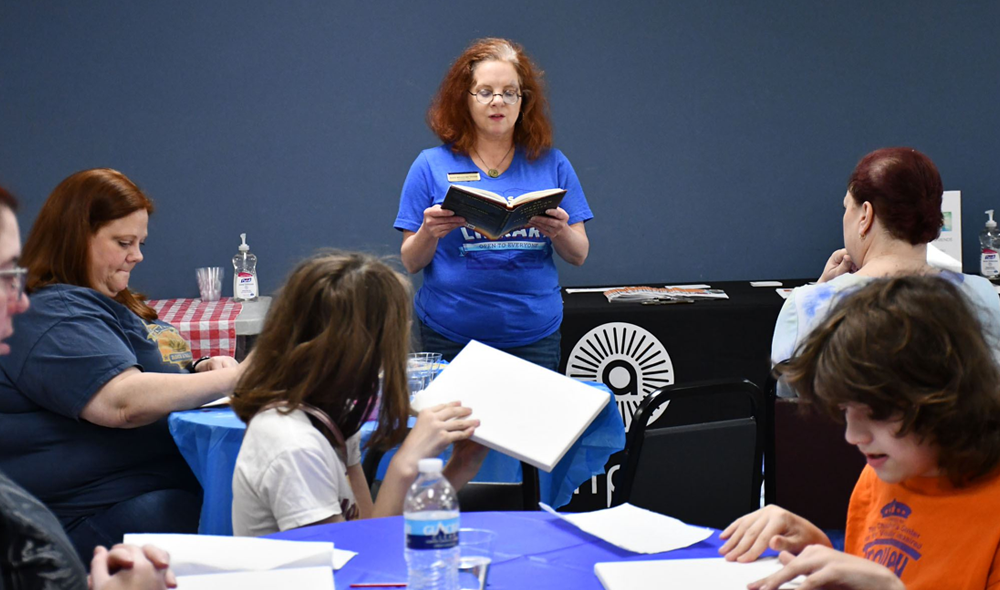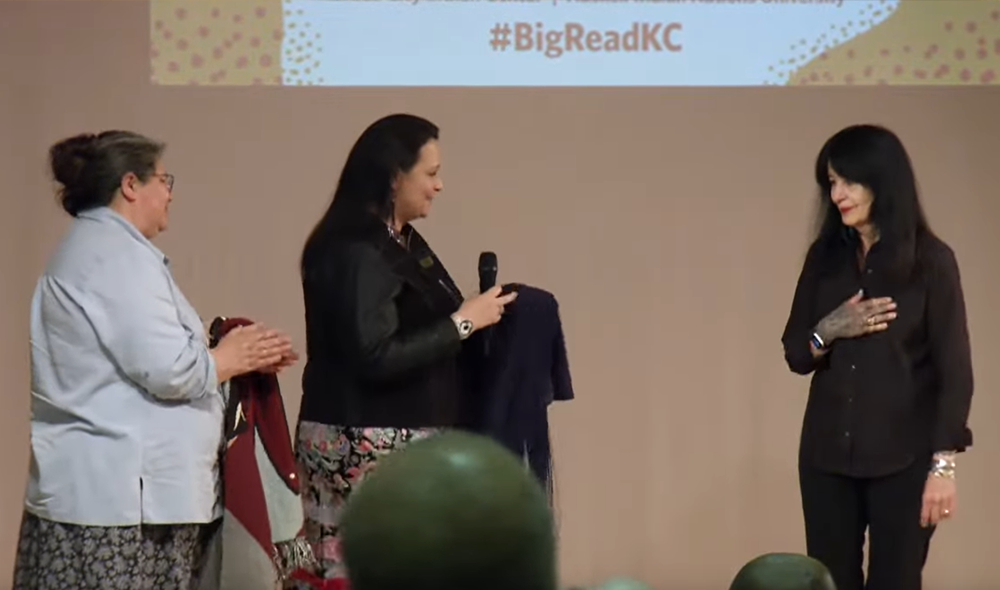 The April lineup also included the screening of five Native- and Indigenous-centric films, with film historian Joanna Hearne discussing the significance and impact of Indigenous moviemaking in a separate event at the end of the month. Glenn North, poet laureate of Kansas City's historic 18th & Vine Jazz District, led a series of poetry writing workshops for teens and adults in May. They then shared their works in an open-mic reading.
Book discussions are at the core of the Big Read, and the Library held 18 of them – one at the nonprofit Alphapointe drawing 22 participants. The Big Read's final signature event, a discussion of the works in the Heart Is a Fist exhibition by several of the artists who created them, was Wednesday, May 25.
The exhibition underscored the popularity of this Big Read. Visitors to the Genevieve Guldner Gallery have signed in from Arizona and New Jersey, from South Dakota and Ohio, from Texas and California – in addition, of course, to scores from Missouri and Kansas. Many were compelled to comment.
"Impactful."
"Wonderfully done. Beautiful yet sad."
"Thought-provoking and an opportunity to … ask forgiveness for atrocities while looking with hope to the future."
Big Reads, underwritten by the National Endowment for the Arts and its partner, the Minneapolis-based Arts Midwest, are designed to showcase a diverse range of voices, themes, and perspectives and inspire community conversation and connection.
Done. And done.