The meeting rooms are empty at the Kansas City Public Library's L.H. Bluford Branch. Nobody is browsing the stacks. There are no children playing with toys or sitting in parents' laps listening to a stories.
But in one corner of the Library, business is picking up.
Librarian Bobby Layton is bouncing between patrons. One is trying to print from a public computer. Another is attempting to fax some documents. A third needs help making photocopies.
In late May, a little more than two months after closing all physical locations amid the COVID-19 pandemic, the Library began offering a limited number of computer sessions and other services at select locations. Hourlong computer sessions are currently being offered at the Central Library and the Bluford, Southeast, and Trails West branches. Those locations also offer free printing and fax services.
As of Tuesday, July 21, the Library had logged 1,758 computer sessions across those four locations.
Nearly 900 of those sessions have been taken place at the Bluford Branch.
"It's been great," said Beth Edson, manager of the Bluford Branch. "It seems like these hour-long sessions give people just enough time do what they need to do. We have people coming in to apply for jobs or check their email or just get in touch with family and friends on Facebook."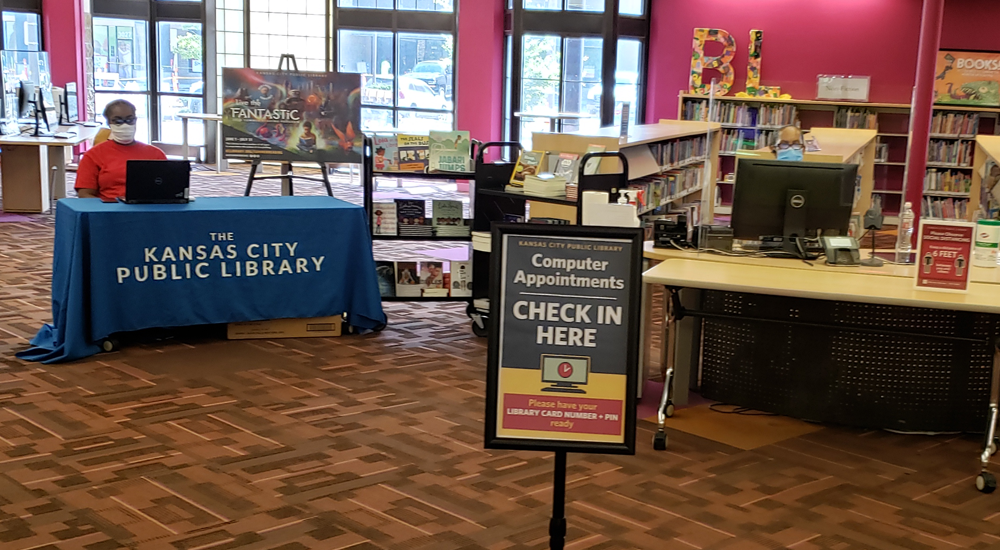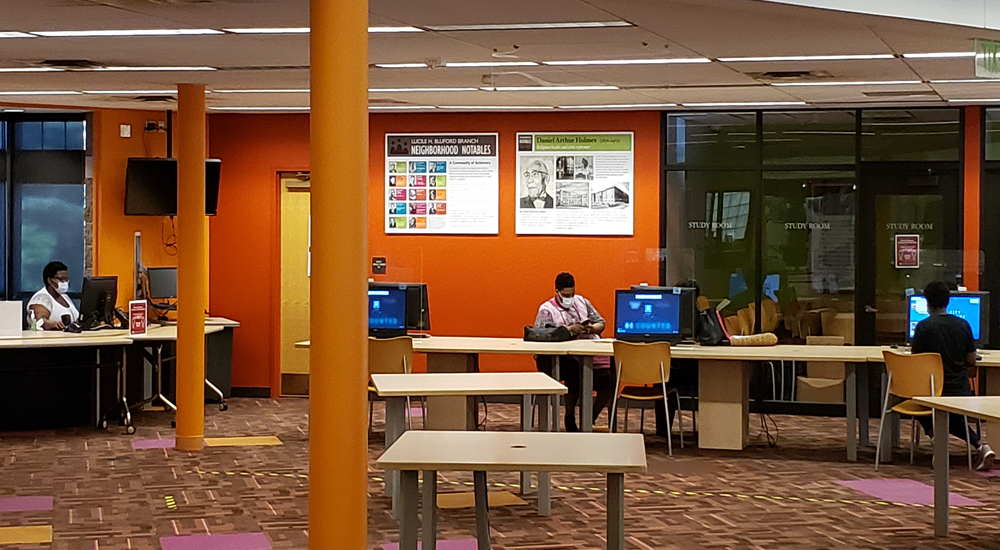 Patrons can make reservations to use public computers at kclibrary.org/computers or by calling 816.701.3400. Walk-in appointments are also available, but the Library cannot guarantee immediate access to a computer.
"Particularly at Bluford, walk-ups are huge," Edson said. "People don't necessarily have access to make an appointment online or even get online to find a phone number. If people walk up and we are in the middle of a session, we will try to determine how much time they are going to need. If they just need to print something off real quick, we can usually go ahead and get them on a computer. But if they are going to need the full hour, they will have to wait for the next session to start."
Tammy was a regular at the Bluford Branch before the Library was forced to close its physical locations. She's excited to once again be able to use the public computers.
"Today, I was looking for a job and printing off my insurance information," she said. "I couldn't have done either without being able to come here to do it. This is a neighborhood library. This neighborhood would be lost without it. We need it open. When we can't come here, we have no way to get access to computers. We can't look for jobs. We can't fill out applications."
Kaylinn was in the Library for the first time to take advantage of the free fax service.
"I needed to fax some papers," she said. "I had no idea if the Library was open, so I just called to check. I was a little surprised they were open, but I'm glad they are. A lot of people don't have a place where they can go to use a fax machine or make copies. And if they can take the proper precautions, it's great to have the Library available."
As the coronavirus threat persists, those precautions are crucial to the process.  Computer stations at each location have been reconfigured to ensure 6 feet of social distancing. Following each patron session, the workspace is thoroughly sanitized using a bleach solution.
"For us, it's important to keep patrons safe," Edson said. "We sanitize after each use of a computer. It doesn't matter if it's a full (hourlong) session or just a quick session by someone who needed to send an email or print something off. With shorter sessions we have cards that we ask patrons to flip over when they are done so, if someone else comes in, they know right away whether or not that station has been sanitized."