Post date:
Thursday, September 14, 2023

This year's celebration of Hispanic Heritage Month carries particular poignance for the Kansas City Public Library.
In conjunction with the monthlong observance, running from September 15 to October 15, the Library annually highlights a collection of book recommendations, film offerings, and other resources that explore a rich array of the experiences and perspectives of Latino Americans. Among those materials are the Hispanic Oral History Collection, a series of recorded interviews of 60 Mexican immigrants and early settlers on Kansas City's West Side.
All but one of the interviews were conducted from 1977 to 1982 by Irene Ruiz, the longtime champion of Kansas City's Hispanic community and namesake of the Library's Irene H. Ruiz Bioblioteca de las Americas. Her husband Francisco Ruiz conducted the other, an interview of Ramon Reyes, a restaurant cook at the time of the interview, who was born in Zacatecas, Mexico, in 1903 and settled in Kansas City as a teenager in 1918.
Irene Ruiz died September 3, 2023, at age 102. Her legacy extends to an extensive collection of bilingual books and other materials at the Ruiz Branch on the heavily Hispanic West Side.
The Hispanic Oral History Collection is held in the Library's Missouri Valley Special Collections but has been digitized and can be accessed online. Some of the interviews were conducted in Spanish; translations of all are in the works.
Suggested Reading
To further help you celebrate Hispanic Heritage Month:
 
Fiction
Nonfiction
FILMS
Watch a selection of cinema celebrating Latino Heritage - documentaries, dramas, comedies, and more - streamed to your computer or mobile device using the Library's free digital service Kanopy.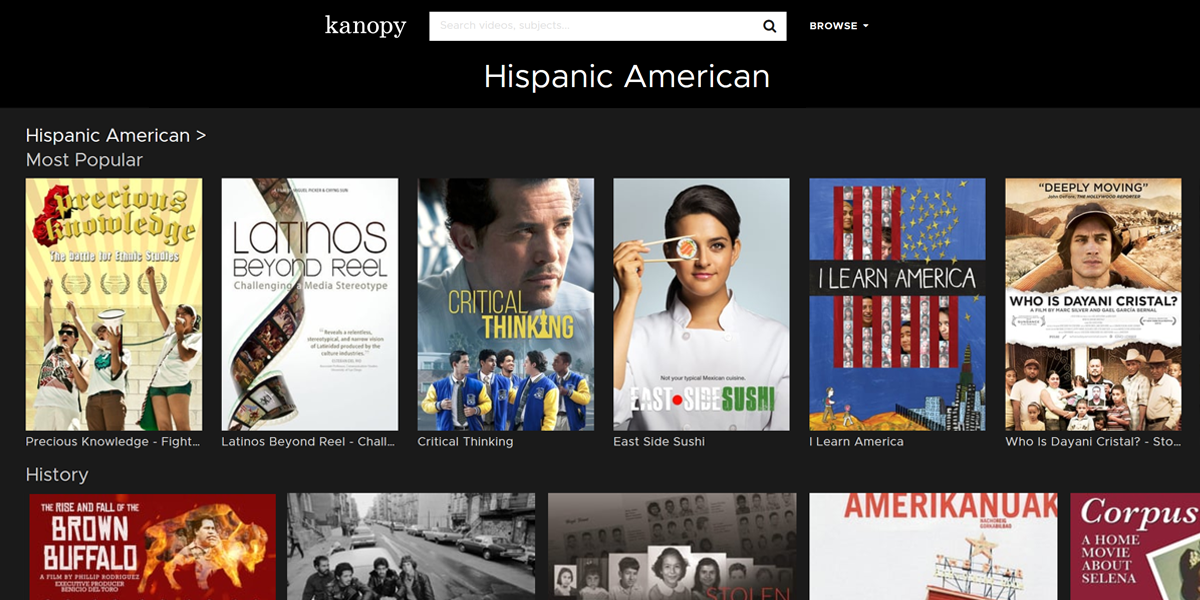 Guadalupe Center Collection
Browse digital photos from the extensive Guadalupe Center Collection on KCHistory.org, the online presence of the Library's Missouri Valley Special Collections.
Established in 1919, the Guadalupe Center originally served as a settlement house and gathering place for the growing community of Mexican immigrants residing on the West Side of Kansas City. The center offered a variety of programs, including medical clinics, classes, music and dance groups, sports teams, and social clubs. The Guadalupe Center Collection contains scrapbooks, photographs, programs, histories, and records that document an early period of the organization's activities.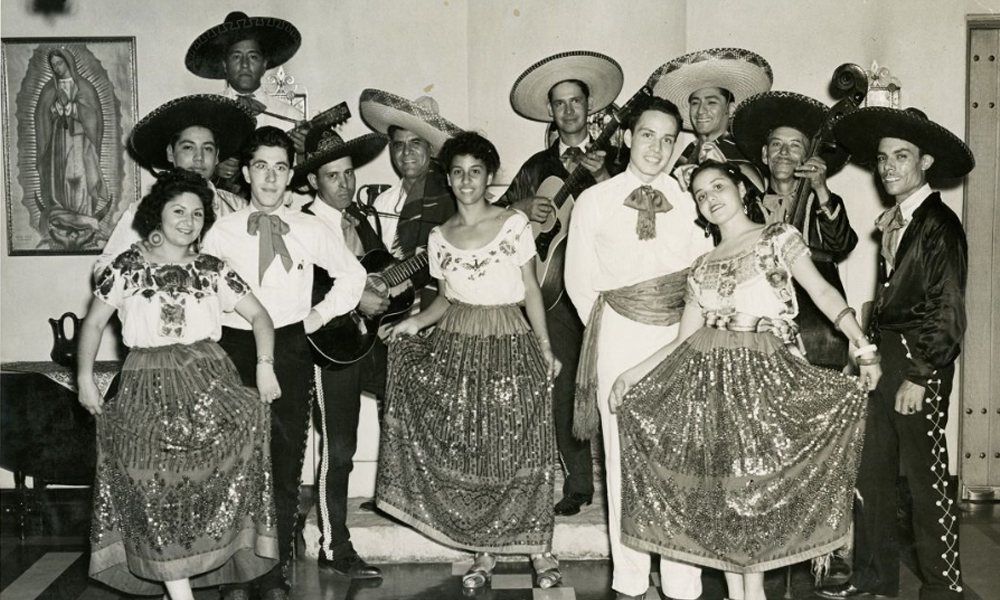 Photograph of dancers in traditional costumes and the Guadalupe Center Orchestra, circa 1941.
Library Resources
The Library also has offered many presentations revolving around Hispanic individuals and events as part of its signature programming. Those available to watch on video (and one to hear via recording):
State of Poetry: The Poets Laureate of Missouri and Kansas
October 4, 2022 | Plaza Branch
Huascar Medina, the first Latino poet laureate of Kansas, joined Missouri Poet Laureate Maryfrances Wagner in discussing their work, the importance of poetry, and what their roles entail.
 
October 2, 2019 | Central Library
Amid a yearlong commemoration of the 100th anniversary of the founding of Guadalupe Centers, Inc. – the longest continuously running Latino-serving organization in the nation – CEO Cris Medina discussed its history, legacy, and impact on Kansas City's still-growing Latino and Hispanic community.
 
The Trouble Ball - Martin Espada
October 22, 2013 | Central Library
Martin Espada, widely recognized as "the Latino poet of his generation," joined Angela Elam from New Letters on the Air for a reading and discussion based on his collection of poems, The Trouble Ball, winner of the Milt Kessler Award, a Massachusetts Book Award, and an International Latino Book Award.
 
October 9, 2013 | Central Library
Artist and educator Christopher Leitch moderated a panel discussion by Kansas City residents who participated in the Bracero Program, which brought 300,000 Mexican laborers to the U.S. to work as farmhands and railroad workers from 1942 to 1964.
A Chicana's Life in Literature
September 5, 2013 | Central Library
Writer Norma Cantú, internationally known scholar of Latino and Chicano literature and studies, read from her book Canicula: Snapshots of a Girlhood en la Frontera, a chronicle of life on the U.S.-Mexico border.
 
A Conversation with Clara Reyes
November 18, 2011 | Central Library
Clara Reyes, the Mexico-born founder of the Kansas City bilingual newspaper Dos Mundos, discussed the award-winning publication's founding, growth, and impact.
 
An Evening with Juan Felipe Herrera
May 27, 2016 | Central Library
[Audio only]
Juan Felipe Herrera, a son of migrant farm workers in California who became the first Latino poet laureate of the United States, discussed his life and poetry and read from his works.