By Katie Bernard, Judy L. Thomas and Rhiannon Johnson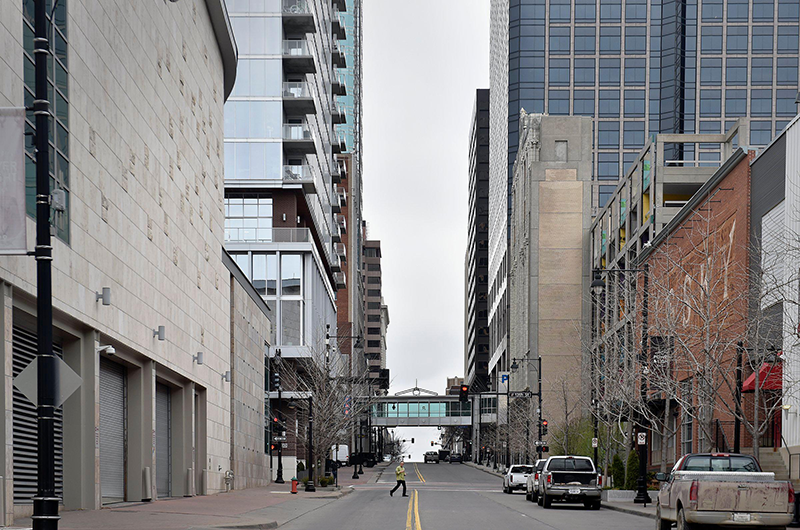 Kansas Citians are living with changes after Mayor Quinton Lucas' emergency declaration was expanded Mar. 16, 2020, to no gatherings of more than 10 people. Since then, he has put in place a stay-at-home order. A pedestrian crosses a quiet downtown street March 17. PHOTO BY Jill Toyoshiba | The Kansas City Star
There's no shortage of coronavirus questions. "What's Your KCQ?" is back to do its part with another round of answers.
The team at The Star and the Kansas City Public Library is staying on top of what you want to know about the pandemic. Keep asking us your questions here, in the module below, or on kansascity.com/kcq.
Can my HOA require condo owners to disclose a positive COVID-19 diagnosis?
Residents of an HOA in an Olathe neighborhood asked the same thing recently when they got a letter from a property management company employed by the HOA. The answer from the Johnson County Department of Health and Environment: no.
"There is no public health recommendation for this action," the department said in an email. "JCDHE does not condone any private or public entity asking individuals for private health information, including results of COVID-19 testing."
If the health department is notified that a person has received a positive COVID-19 test result, the email said, "the health department will begin a contact tracing investigation and will notify the individual's close contacts that they have been exposed to COVID-19."
My driver's license is about to expire, and I'm not qualified to take it online. What's the status?
Kansas and Missouri have each issued extensions for drivers whose licenses expire while declarations of emergency remain in place.
In Missouri, anyone whose license expires between March 1 and April 30 will have an automatic 60 day extension to complete the renewal process.
In Kansas, any driver whose license expires while the declaration of emergency remains in place will have an automatic 60 day extension from the day the emergency declaration is lifted. Drivers in Kansas between the ages of 21 and 50 who fit certain criteria can also renew their license online.
The U.S. Department of Homeland Security has established a new deadline for Real ID: Oct. 21, 2021.
If I am newly laid off, how do I deal with trying to receive unemployment, yet need to job hunt while sheltering at home?
If you have been laid off, furloughed or experienced a reduction in hours as a result of COVID-19 — apply for unemployment. The CARES Act has greatly expanded unemployment, including types of workers that are eligible (independent contractors, gig and part-time workers); expanded the window to receive unemployment; and added $600 per week on top of regular unemployment payments. If in doubt, apply.
According to the Department of Labor, in both Kansas and Missouri, if you are temporarily laid off from work due to COVID-19, you are not required to complete work search activities at this time.
If you'd like to start searching, consider applying for areas that are in higher demand at the moment including gig, temporary and remote work. Flex Jobs is one job board to start your search. You can also look at remote positions on Indeed, or add the term "urgently hiring" to your search. Local postings also have been compiled by KC Career Network.
Make sure to apply directly on the employer's website, tailor your resume and cover letter to the position, and prepare for phone and/or virtual interviews. If applying online is not an option, you might inquire with businesses that are considered essential and currently operating (grocery stores, pharmacies, etc.) to see if they might accept a paper application.
Now is also a great time to reconnect or establish new connections via phone, email or through LinkedIn. Many people are looking for alternative ways to connect with others during these times of physical separation.
Virtual and phone appointments are available from the Kansas City Public Library's Career Resources specialist for assistance with job searching, application documents, and interview preparation and strategies. Online, on-demand resources are also available.
What is the proper way to handle mail and packages delivered to homes?
The United States Postal Service addressed that question in late March and again this week:
"The CDC, the World Health Organization, as well as the Surgeon General have indicated that there is currently no evidence that COVID-19 is being spread through the mail.
"Specifically, according to the World Health Organization, 'the likelihood of an infected person contaminating commercial goods is low and the risk of catching the virus that causes COVID-19 from a package that has been moved, traveled, and been exposed to different conditions and temperature is also low.'"
But that doesn't mean that social distancing rules should be ignored. The post office has modified its process with customer signatures during the pandemic:
"While maintaining a safe, appropriate distance, employees will request the customer's first initial and last name so that the employee can enter the information on the electronic screen or hard copy items. ... For increased safety, employees will politely ask the customer to step back a safe distance or close the screen door/door so that they may leave the item in the mail receptacle or appropriate location by the customer door."
Delivery services like UPS also have changed protocol:
"UPS's Signature Required guidelines are temporarily being adjusted such that consignees will no longer need to sign for UPS Signature Required deliveries. Despite this adjusted process the driver will still need to make contact with the consignee. The consignee must, at the time of delivery, acknowledge that UPS is making a delivery and, if applicable, show government issued photo ID."
"What's your KCQ?" is a partnership between The Star and the Kansas City Public Library. Have a question about how COVID-19 is affecting the Kansas City community? Ask in the module below.