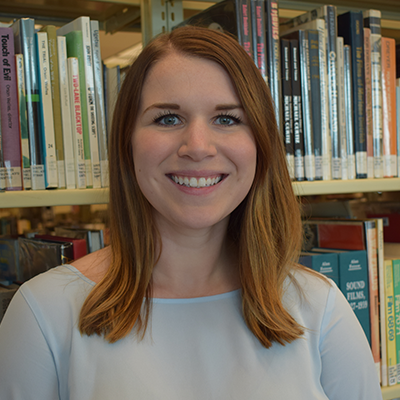 We are here to help you succeed in your career search. Need a computer? Use ours to search and apply for jobs or create a resume. Need to brush up on your business communication skills? Log in to our online resources to help improve your writing and interviewing skills. Visit us on 3rd floor of the Central Library or schedule a one-on-one appointment with our Career Resource Specialist.
Contact: Rhiannon Johnson
Email | Phone: 816.701.3663
Schedule an Appointment
Writing: Resumes and Cover Letters
First impressions count. Resumes and cover letters are often your one chance to impress a hiring manager—in seconds. Learn the latest resume trends and keep yourself updated, not outdated.
Searching: Jobs and Networking
There are so many places to look for jobs. Which are the best ones? Check out our recommendations. Plus: Don't forget it's not always what you know, but who you know. Networking, in-person and online, is critical to help snag jobs that may not even be publicly posted. We have resources that can help you expand your professional contacts.
Job Searching for Special Populations
Everyone brings their own unique skills and abilities to a job. Sometimes portraying what makes you valuable to an employer can be challenging if you're a reentrant, veteran, or have a disability. People changing careers or who have been recently laid-off from a job also have their own obstacles to overcome when finding employment. Review these resources for information on surmounting those challenges and reaching your goals.
Interviewing
You applied for a job and were selected for an interview. Feeling nervous and unprepared? Brush up on your interview skills with an online coach or watch tutorials for tips on how to make a great impression on your big day!
Avoid Job Related Scams
Avoid job scams by becoming knowledgeable about what scams looks like and methods scammers use. The biggest warning signs include: requiring you to pay to get the job, guaranteeing placement in a job, asking you to provide credit card or bank account information, or advertising for "previously undisclosed" government jobs.
Finding a Career
There are jobs. Then there are careers. If you're ready to move to the next level, start with some of our suggestions to help chart your path to career success.
Prepare: Self-Discovery and Research
There are a vast array of career options—which one is right for you? Match your strengths, talents, and skills to your perfect career. Then learn about salaries and the job outlook for your new field.
Education and Training
Get the education or training necessary to work in your chosen career. From high school to college and beyond, we have the tools to help you succeed.
Professional Development
Keep your professional skills and knowledge updated. Impress your boss. And maybe get a promotion or raise while you're at it. Get started with the tools below.