By Steve Wieberg
It has been nearly 20 years since local artist
Dianne Dickerson
took brush and paint to a drab railroad underpass in Kansas City's Historic Northeast, creating what would come to be called the Patriotic Mural. 
She drew it like a coloring book, inviting others in the community to help fill in the ribbon of bright red, white and blue stars and flowing stripes. "I was so pleased at the response … the students and volunteers who worked on it and the reaction of the community," Dickerson says, looking back. 
Drive by the viaduct at Ninth and Hardesty streets today, and you can still admire their work – perhaps the starting point of a proliferation of colorful murals and other public art that has become a distinguishing feature of the richly diverse Northeast area. Some 40-45 paintings now adorn businesses, schools and abandoned buildings that once were eyesores. They pop out in local parks. Along city streets. In tucked-away alleys. 
More than 30 of those images are spotlighted in an exhibit,
Community in Color: Murals of the Historic Northeast
, at the Kansas City Public Library's newly renovated
North-East Branch
. The collection features high-definition, digitally displayed photographs of the murals and other al fresco artwork shot by Kansas City photographer
David Remley
. 
"These artists generally don't get recognition or visibility and never, or almost never, receive the kind of cultural validation that an exhibition like this affords. I think it's wonderful," says
Hector Casanova
, an assistant professor at the Kansas City Art Institute and resident of the Historic Northeast for some 12 years.  
"This is art that isn't commodified. It's decidedly not highbrow – it's for the people. Nobody needs to pay a price of admission," Casanova says. "That democratic aspect, I think, is what makes it vital to our community."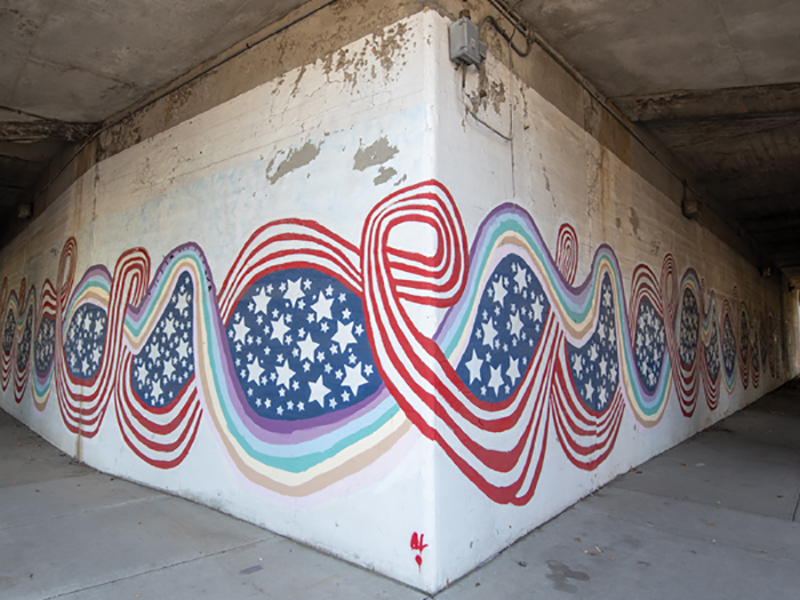 The Historic Northeast's public art movement might have begun in 2001 with Dianne Dickerson's Patriotic Mural on an underpass at Ninth and Hardesty streets. (Photo by David Remley)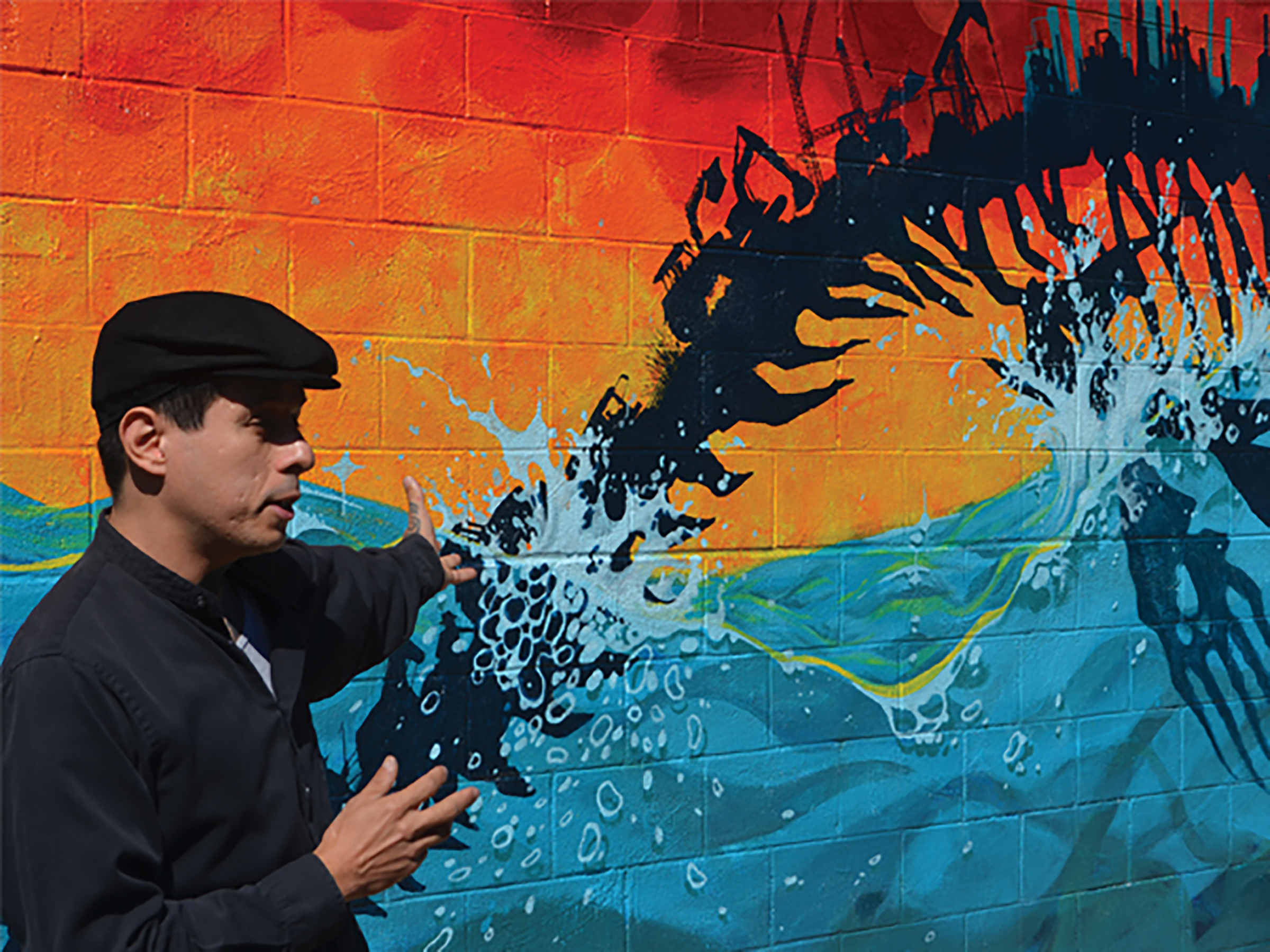 Kansas City Art Institute instructor Hector Casanova, who lives in the Historic Northeast, painted Breach at the Grove Park pool in 2016. (Photo courtesy of Northeast News)
The Library exhibit features everything from large-scale commissioned works to subtler, more graffiti-ish images. 
Dickerson, who's now retired in Farmington, Mo., produced the Patriotic Mural in 2001 and refreshed it two years later. History is hazy, but that might have been the Historic Northeast's initial foray into public art. 
In 2007, Old Northeast, Inc., a community development corporation, received a $10,000 grant through the Kansas City Crime Commission to paint over a proliferation of often gang-related graffiti and produce a mural to deter future tagging. It was an approach used at Northeast High School, where painted flags of Latin American countries adorned an outside wall of the gym. A similar series of flags was painted around the same time on the retaining walls flanking Van Brunt Boulevard south of Ninth Street. 
In subject, color, tenor, and style, the Northeast's murals over the years have followed that multinational theme, reflecting the history and diversity of the area. 
"The obvious (thing) is that they beautify the neighborhood. They add color. They tell stories," says
Rebecca Koop
, a Historic Northeast resident and artist who is a longtime fixture with the Northeast Kansas City Chamber of Commerce. "I think they're quite uplifting." 
She was a catalyst for one of the area's best known works, the House of Cards at Seventh and Indiana. Artists and non-artists alike pitched in to draw images of playing cards on the boards covering windows and doors of the vacant, red-brick apartment building in 2011.  
The aging structure partially collapsed in 2015 and now is gone. But it typified the communitywide aspect of the area's public art movement.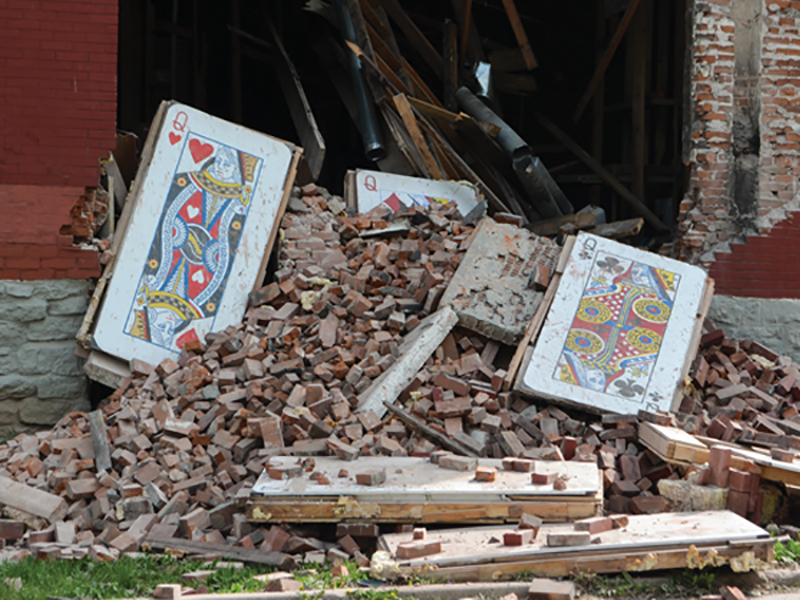 The Historic Northeast's famed House of Cards at Seventh Street and Indiana Avenue partially collapsed in 2015 and since has been razed. (Photo courtesy of Northeast News)
Kansas City Art Institute instructor Hector Casanova worked with his students, the Kansas City School District and residents of the surrounding Historic Northeast neighborhood in illustrating the shuttered Scarritt Elementary School. (Photo by David Remley)
Casanova has added his work to the collection and, over the years, engaged close to 250 of his KCAI students in mural projects. Outsiders contribute, too. The Northeast Chamber and Independence Avenue Community Improvement District now sponsor a summer mural beautification project that enlists artists from the area to create new works. The annual SpraySeeMO festival, which invites street artists from around the country to create murals on buildings in Kansas City, has spilled from the Crossroads Arts District across the city and into the Historic Northeast. 
The Historic Northeast incorporates six distinct, culturally disparate neighborhoods that Casanova says sometimes can seem a bit insular. "I think these murals are … kind of a gateway," he says. "Members of a community can see the diversity of other cultures and groups who share the neighborhood with them. 
"A lot of the murals here are by Latino or Latinx artists. Some are by African American artists. And quite a few, honestly, I couldn't say what the cultural heritages of the artists are. But the fact that we are all kind of collaborating, working together to turn the streets into a gallery that represents all of our voices, provides a backdrop of dialogue and cultural immersion that I think is very healthy for the entire community. It helps to ease tensions and dissolve, or at least soften, any lines that divide us." 
The exhibit at the Library's North-East Branch, he says, is fitting in this era of social reckoning. 
"The art world has been very famously dominated by primarily wealthier white male artists," Casanova says. "Murals are one of the art forms in which there's much greater is much greater diversity. 
"Having an institution like the Library recognize murals and street art as a valid art form, this is the perfect time for that."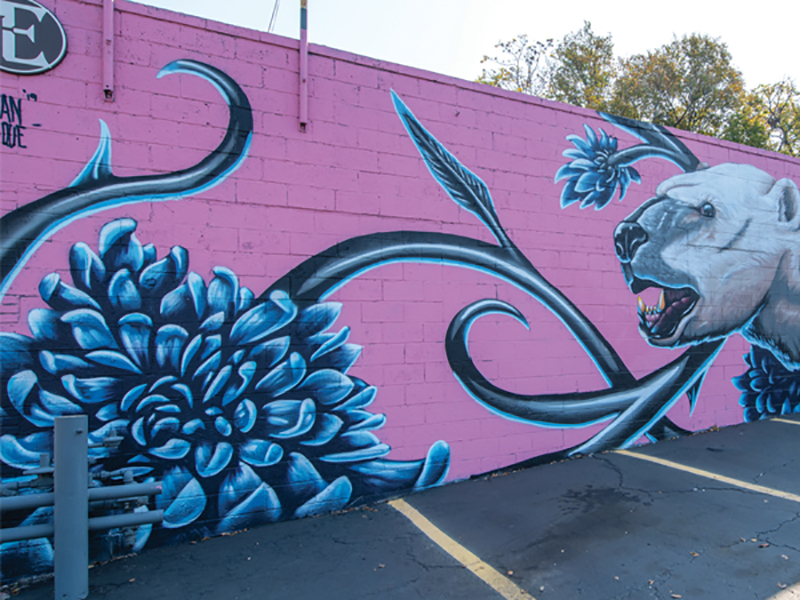 Miami, Florida, artist Ivan Roque speaks to the endangerment of polar bears in his mural Fall of the Arctic King, which he painted at Truman Road and Indiana Avenue as part of Kansas City's 2019 SpraySeeMo Mural Festival. (Photo by David Remley)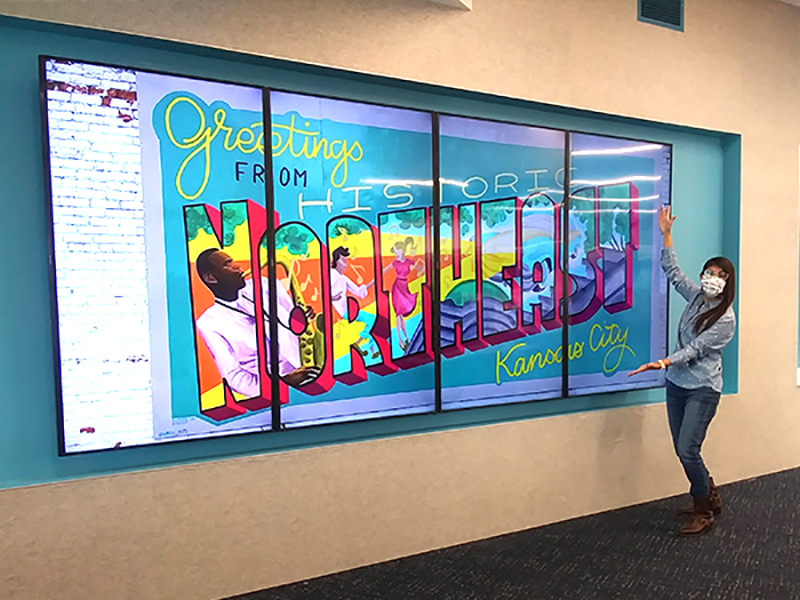 North-East Branch Manager Amanda Barnhart presents the video wall where the digital exhibit can be viewed.
---
A version of this article originally ran in
KC Studio magazine.