Lisa Gutierrez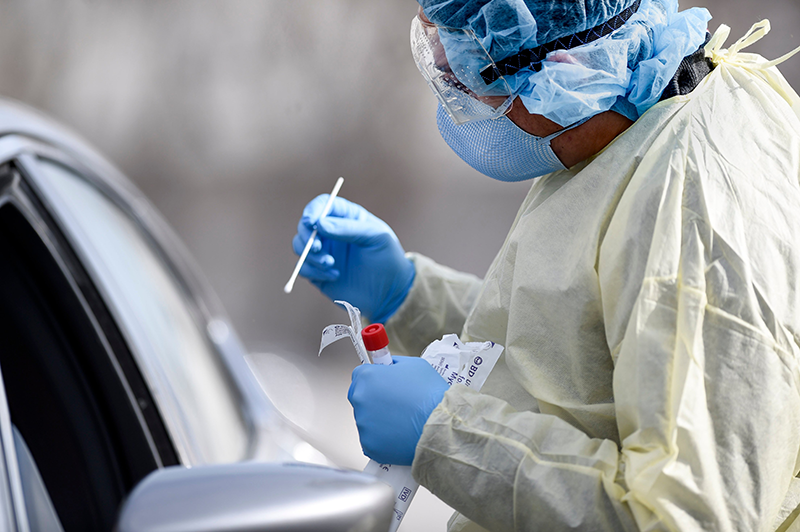 Medical assistant Moises Jimenez uses a swab to take a COVID-19 test on a client in the drive-thru testing site outside the Sharon Lee Family Health Clinic on Friday, March 20, 2020, at 340 Southwest Boulevard in Kansas City, Kansas. Patients have to be referred for testing by their doctors. Tammy Ljungblad | The Kansas City Star
Think about life in Kansas City and what you were doing when March started: Going out with friends and family, making plans for spring break and prepping for March Madness basketball.
And look now: There are stay-at-home orders, crowded hospitals, furloughs and layoffs, and unemployment claims piling up.
The coronavirus pandemic has turned the world upside down over the past four weeks. And this time of uncertainty is filled with many questions.
So the team at The Star and the Kansas City Public Library is using "What's Your KCQ?" to answer some of those questions. We put out a call earlier this week and wanted to get you answers as soon as possible. So here's a KCQ speed round.
As a senior couple, is it safe to continue having your cleaning service still clean your home? We can leave the house while they are here?
The crisis has forced many people to think twice about their cleaning services. Some people have suspended them; others want that expertise level of cleaning and disinfecting right now.
Consider: Health professionals are urging us, for now, to limit people coming in and out of our homes.
"It's a good idea to have no one outside your immediate family in your house if you don't have to," Aline M. Holmes, a clinical associate professor at Rutgers University School of Nursing, told Health magazine.
Also, both the homeowner and cleaning professional risk exposing each other, and some infected people never show symptoms of the virus, she said. "If you can delay a professional cleaning or do it yourself, you should," Holmes said.
If you had some type of flu/cold earlier in 2020, can you get the flu or COVID-19 now?
Yes, it is possible to catch the flu twice in one season because multiple strains can circulate at the same time. But that's pretty rare, health officials say.
There has been no indication that having the flu already will prevent you from being infected with the new coronavirus. There is no vaccine for COVID-19 yet.
Do COVID-19 symptoms come and go?
Health officials have not suggested that symptoms come and go. They have, though, imprinted the list of symptoms on the public psyche: a fever, cough and shortness of breath.
"Some people infected with the virus have no symptoms," says Harvard Medical School. "When the virus does cause symptoms, common ones include low-grade fever, body aches, coughing, nasal congestion, and sore throat.
"However, COVID-19 can occasionally cause more severe symptoms like high fever, severe cough, and shortness of breath, which often indicates pneumonia.
The CDC says those symptoms can appear two to 14 days after you've been exposed. Recent published research, Harvard says, found the incubation period to be five days on average.
I work for a construction company that works for apartment complexes. Can we work or not?
Construction is allowed under Jackson County's stay-at-home order as long as social distancing is implemented and the crew is kept to 10 or less. If construction is inside, staffing must be kept to a minimum.
In Johnson County, construction is also listed as essential.
Can you still go to court dates?
Most stay at home orders allow people to go to required court hearings.
However, there are no in-person court hearings inside Jackson County court buildings, except emergency hearings for child custody, temporary restraining orders, mental health and protective custody as well as any hearings related to the COVID-19 outbreak.
On Monday, Johnson County District Court will begin holding all hearings remotely. This decision, announced Friday, moves even emergency hearings to video or phone. A news release from the district court said only judges and administrative assistants will be allowed in the courtrooms to conduct remote hearings in "as many appearances as possible."
How can takeout or delivery food from restaurants be considered safe?
Nothing is completely foolproof, obviously, but abiding by the rules and regulations make a difference.
A spokeswoman with the Kansas Department of Agriculture said: "Restaurants follow strict food safety guidelines all the time, and are being extra vigilant during this time. Like other viruses, it is possible that the virus that causes COVID-19 can survive on surfaces or objects. For that reason, it is critical to follow the 4 key steps of food safety — clean, separate, cook, and chill. It is important to wash your hands after handling any object and to avoid touching your face with unwashed hands."
Adam Mills of the Kansas Restaurant and Hospitality Association (KRHA) added: "Restaurant owners and employees are pivoting quickly to find solutions. This guidance from the KDA [Kansas Department of Agriculture] is important in helping answer common questions and providing comfort during this time."
That group noted that "currently, there is no indication that takeout or drive-thru food will increase illness. This option is a good risk management choice, especially for high risk and elderly groups because it helps maintain social distancing and reduces the number of touch points."
Keep asking us your top-of-mind questions here, in the module below, or on kansascity.com/kcq.