Last modified:
Wednesday, March 11, 2020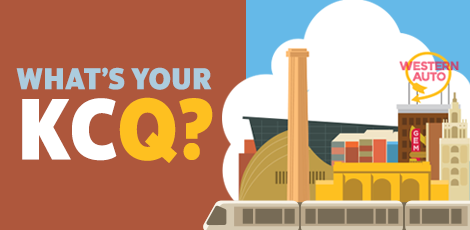 "What's your KC Q" is a joint project of the Kansas City Public Library and The Kansas City Star. Readers submit questions, the public votes on which questions to answer, and our team of librarians and reporters dig deep to uncover the answers.
Have a question you want to ask? Submit it now »
By Randy Mason
Where's the giant chandelier that hung in an old KC-area theater? KCQ wants to find it
This week's "What's your KCQ?" involves something big and bright that hovered above us for many years.
Reader Lewis Jones asked KCQ — a partnership with the Kansas City Public Library — "What happened to the giant chandelier that used to be in the lobby of the Glenwood Theatre?"
We'll need a team effort on this one.
Italy to Overland Park's Glenwood Theatre
We do know the chandelier — 15 feet tall and 15 feet wide — supposedly came to Overland Park from Italy. It hung over the theater's circular concession stand from opening night in 1966 to its final day of operation in 2000, according to the Cinema Treasures website.
Dickinson Theatres built the Glenwood as a space-age showplace at 91st and Metcalf, but sold it in 1999 to Goodrich Quality Theatres in Grand Rapids, Michigan. Today, neither company seems to know where the chandelier went next.
The Fine Arts Group did buy some of the theater's plush red seats and the Sputnik-styled marquee for use at its Glenwood Arts Theater. The arts theater opened in 2002 at the Metcalf South Shopping Center and moved to Ranch Mart in 2015. Naturally, we hoped the answer might lie here.
It didn't. But co-owner Brian Mossman did know of someone who'd been present when the chandelier was dismantled.
Where is the chandelier now?
That was former Dickinson employee David M. Smith. He remembers spending an entire day taking down the glasswork piece by piece. Then he packed it all up, along with a diagram of how to reassemble it. Smith said he thought the chandelier was headed to a warehouse until "a big church out south was ready for it."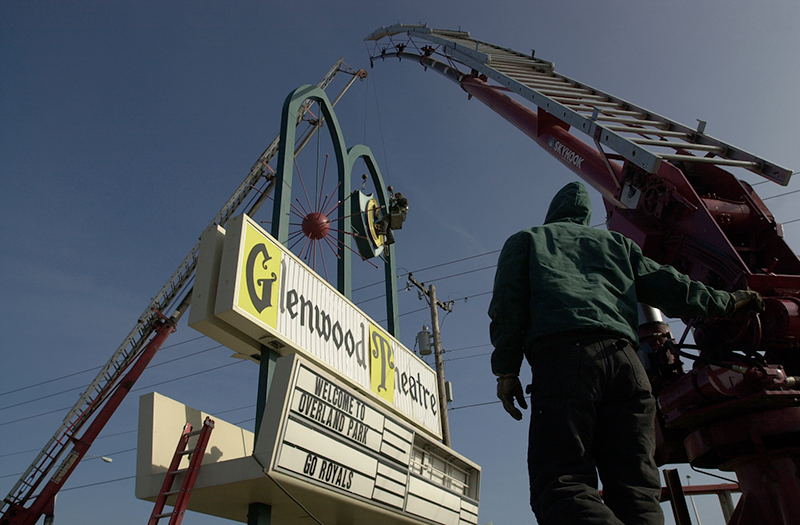 Suspended from a crane, Dave Brunner of the Acme Sign Co. cuts through a metal support on the 'G' in the Glenwood 4 Theatre sign. The theater closed in 2000. Todd Feeback THE KANSAS CITY STAR
One like Leawood's United Methodist Church of the Resurrection, perhaps?
"No," said Cathy Bien, the church's communications director.
Despite occasional rumors to that effect, she said, "We don't have it, and we never did."
Another lead put Overland Park's First Family Church on our "big bling" radar. Early on, the congregation held some services in the Glenwood. By the early 2000s, the fast-growing megachurch boasted a campus of its own at 143rd and Metcalf, with plenty of room for a huge chandelier.
But a series of financial issues forced them into bankruptcy. According to The Star's archives, the church lost the building and all the assets.
Then in 2012, the Blue Valley School District bought the complex to house its Hilltop Learning Center.
In the spirit of great movie detectives, KCQ saw a classic "gotcha" moment in the making! Could the grand chandelier be sitting lonely and forgotten in some (big) conference room closet?
At our request, the school district reviewed its records, searched thoroughly, and concluded there's no chandelier out there either.
So, yet again, another slice of local history that would seem awfully difficult to lose appears to be missing. We don't want this to become a habit here at KCQ, but maybe it's time to ask for a little help. If you've got any ideas where the great Glenwood chandelier could be hiding, please let us know!
Where Is The Glenwood Chandelier?
Do you know where the Glenwood chandelier is? Send us your tips!
Submit a Question
Do you want to ask a question for a future voting round? Kansas City Star reporters and Kansas City Public Library researchers will investigate the question and explain how we got the answer. Enter it below to get started.