Post date:
Thursday, December 6, 2018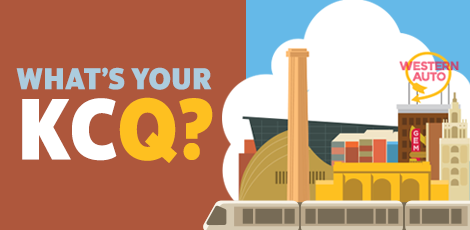 "What's your KC Q" is a joint project of the Kansas City Public Library and The Kansas City Star. The purpose is to help Kansas Citians become more knowledgeable and informed citizens. Readers submit questions, the public votes on which questions to answer, and our team of librarians and reporters dig deep to uncover the answers. The project is powered by Hearken.
Have a question you want to ask? Submit it now »
Question: How did "Union Station" get its name and why do so many other older railroad stations have that name?
By Kate Hill, Senior Archivist in Missouri Valley Special Collections
It's true that Kansas City's Union Station doesn't have a unique name. In fact, I found a similar question had been addressed by The Smithsonian Magazine in November 2017. The author explains that the term "union station" was used in the 19th and 20th centuries to indicate a hub in which multiple railroad companies operated. For example, you could enter a union station via a train on a small regional line and then switch to a larger national line to continue your journey. By today's standards, it would be like changing airlines during a layover at an airport.
So, no, Union Station isn't a very original name. It's not even that original within Kansas City.
Before Union Station existed the main transportation center in town was Union Depot in the West Bottoms. Opened in 1878, the depot was at the bottom of the bluffs on Union Avenue between 9th and 11th streets. A Kansas City Star article from 1954 describes how the depot was the result of a collaboration between the eight single-track railroad companies in the area to combine their resources into a "central station." With its proximity to the Stockyards and related industries, two major rivers, the state line, and the rest of the city a cable car ride away up the bluffs, the location seemed ideal.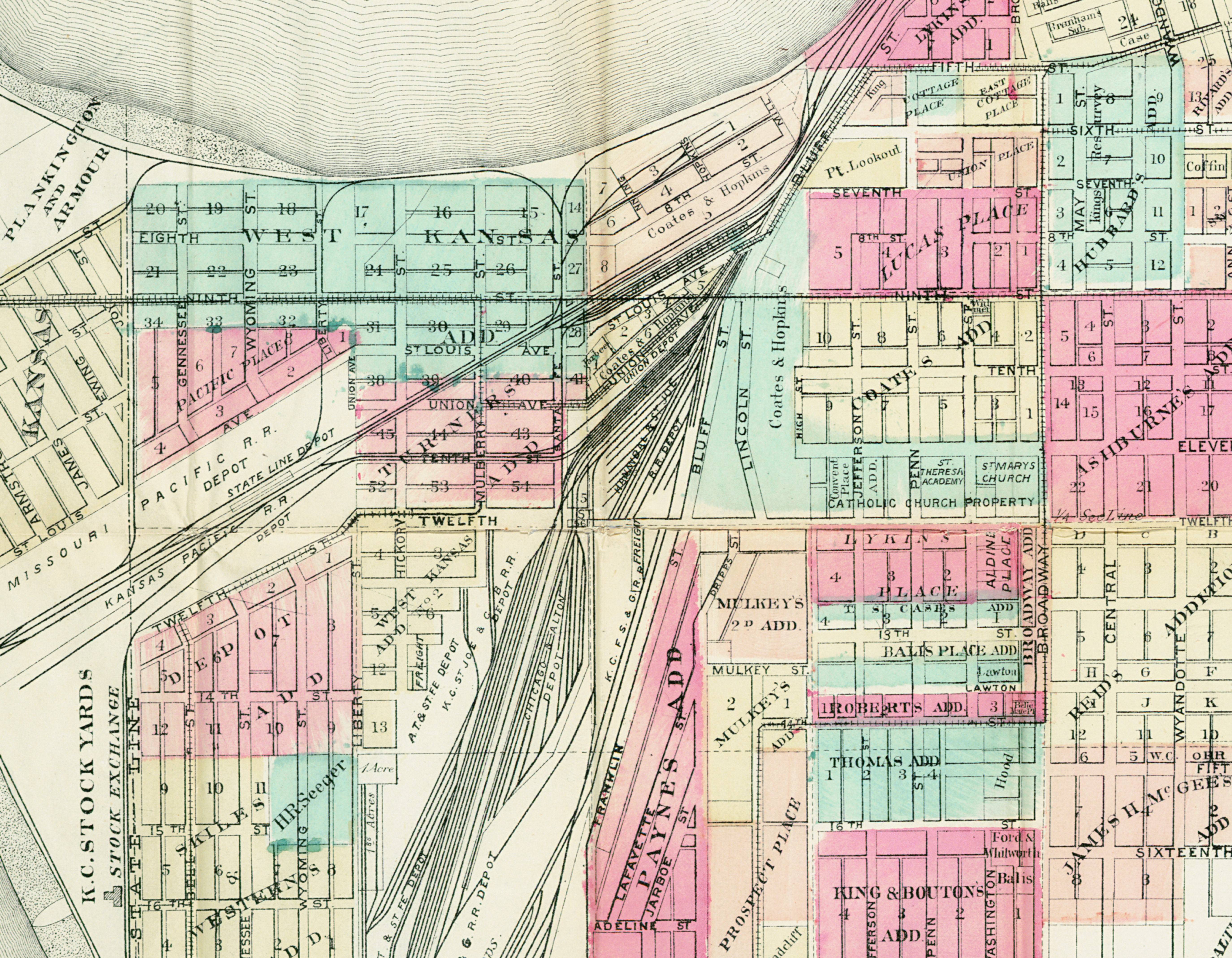 A portion of Wright's Map of Kansas City, Missouri, 1884. Union Depot is between the rail lines in the West Bottoms. From SC117 Map Collection, Missouri Valley Special Collections.
It sounds like no one could decide on which architectural style was used to design Union Depot, but everyone agreed it stood out. Classifications of the ornate, towering building ranged from Italian-Renaissance to French Empire, Gothic, and Victorian. Some said it was the "Pride of Kansas City." Others called it a "monstrosity" and the "Jackson County Insane Asylum," based on the opinion that the city would never grow enough to warrant such a large train station. Within a decade, those doubters would be proved wrong.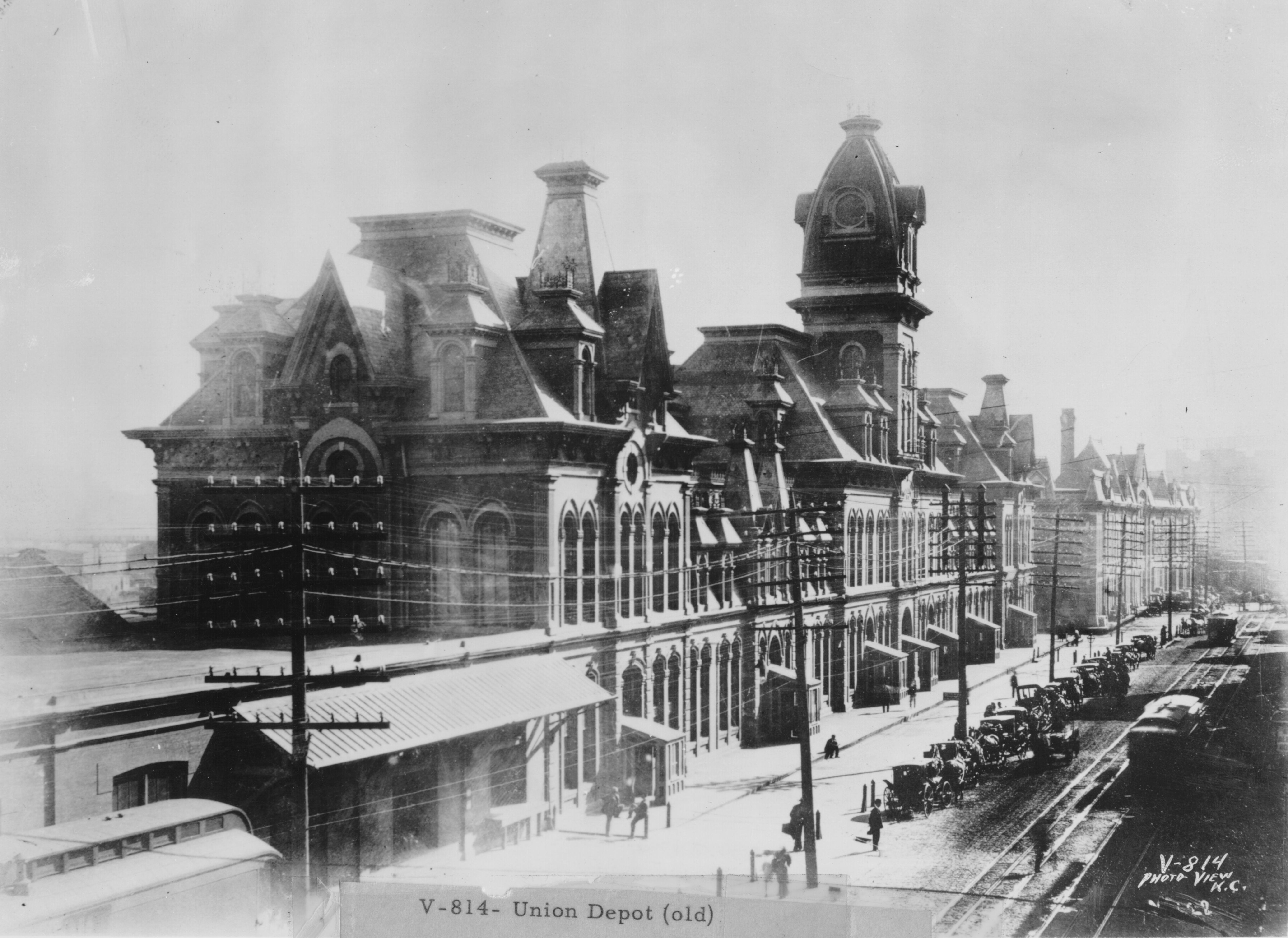 Union Depot as seen from Union Avenue, 1895. From P1 General Photograph Collection, Missouri Valley Special Collections.
As Jeffrey Spivak details in his book, Union Station: Kansas City, Union Depot was originally constructed to accommodate the city's then population of 60,000. No one could have predicted it would balloon to 132,000 by 1890. Complaints about the crowds, filth, and closeness to West Bottoms saloons, cheap hotels, brothels, and the stench of the Stockyards soon began to pour into the newspapers. After the devastating Flood of 1903 forced the closure of the depot for a week – due to the almost seven feet of standing water in the waiting room – Kansas Citians were ready to move on to a larger, modern (and drier) station.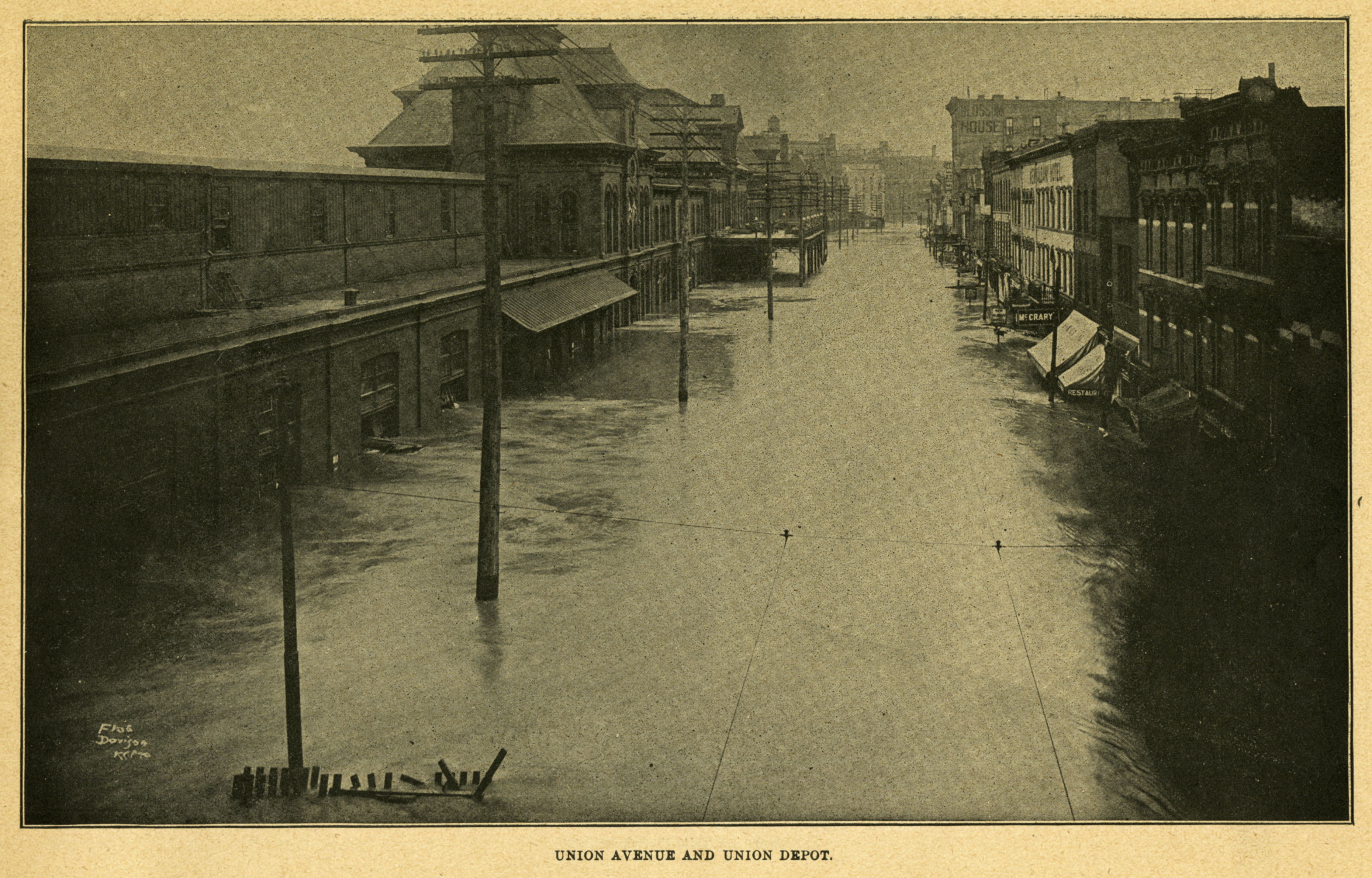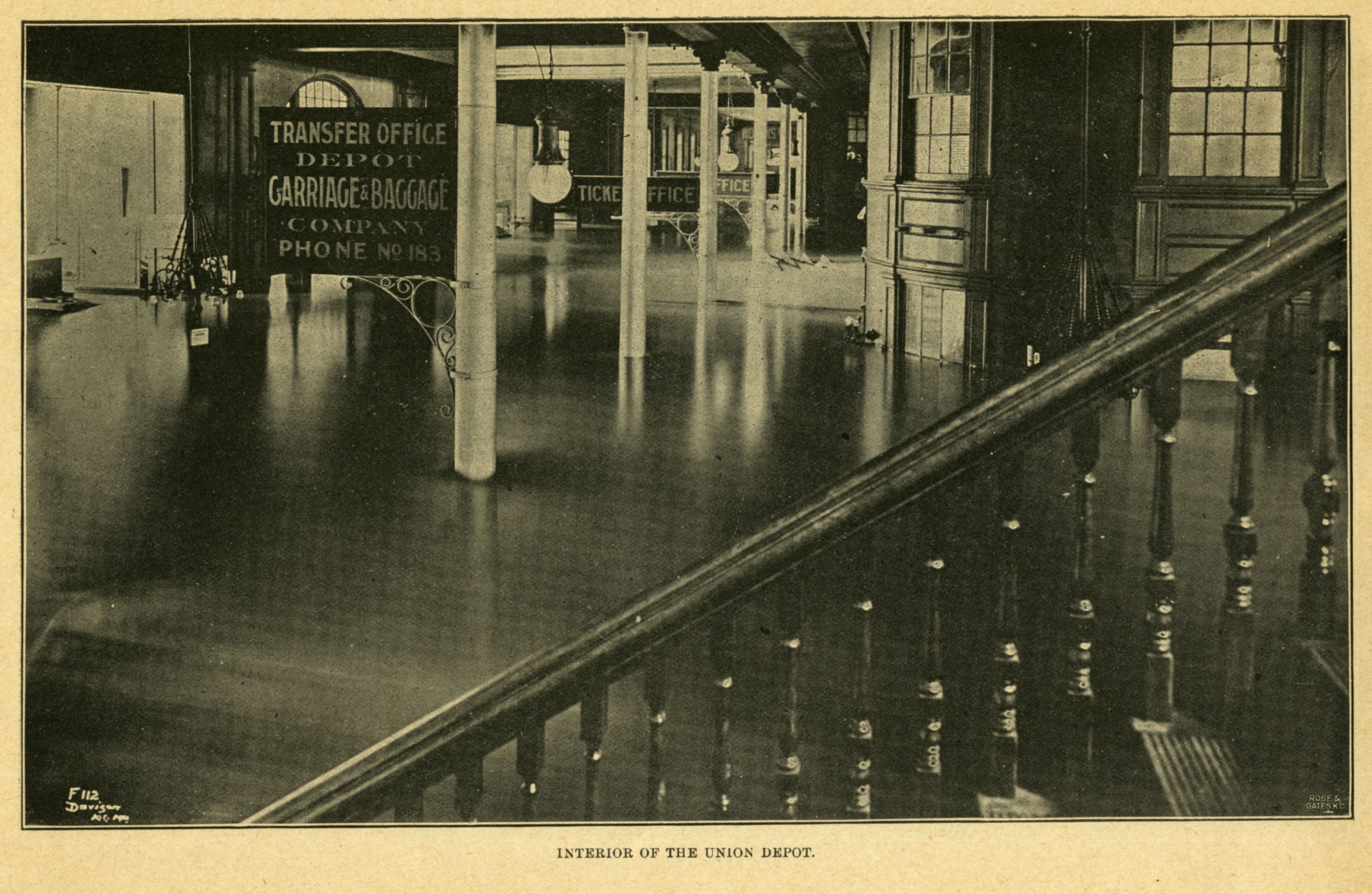 Top: Union Avenue, its businesses, and the depot are overwhelmed by the 1903 Flood. Bottom: The high-water mark in the depot's waiting room reached 6 feet 7 inches. From "The Weekly Implement Trade Journal's Kansas City Flood Souvenir," 1903, Missouri Valley Special Collections.
In February 1906, six railroad companies issued a joint statement from Chicago, informing the public they were working together to create "a new Union Station of sufficient size to accommodate all lines entering Kansas City and to meet future requirements for years to come." The station would be on what was then the southern edge of town, somewhere between Broadway and Grand and 21st and 23rd streets. Work on the site didn't start until 1910, and it needed significant changes before the building could take shape: existing buildings were demolished; streets were vacated; O.K. Creek was diverted and covered; and solid rock was blasted with dynamite and scooped out with steam shovels.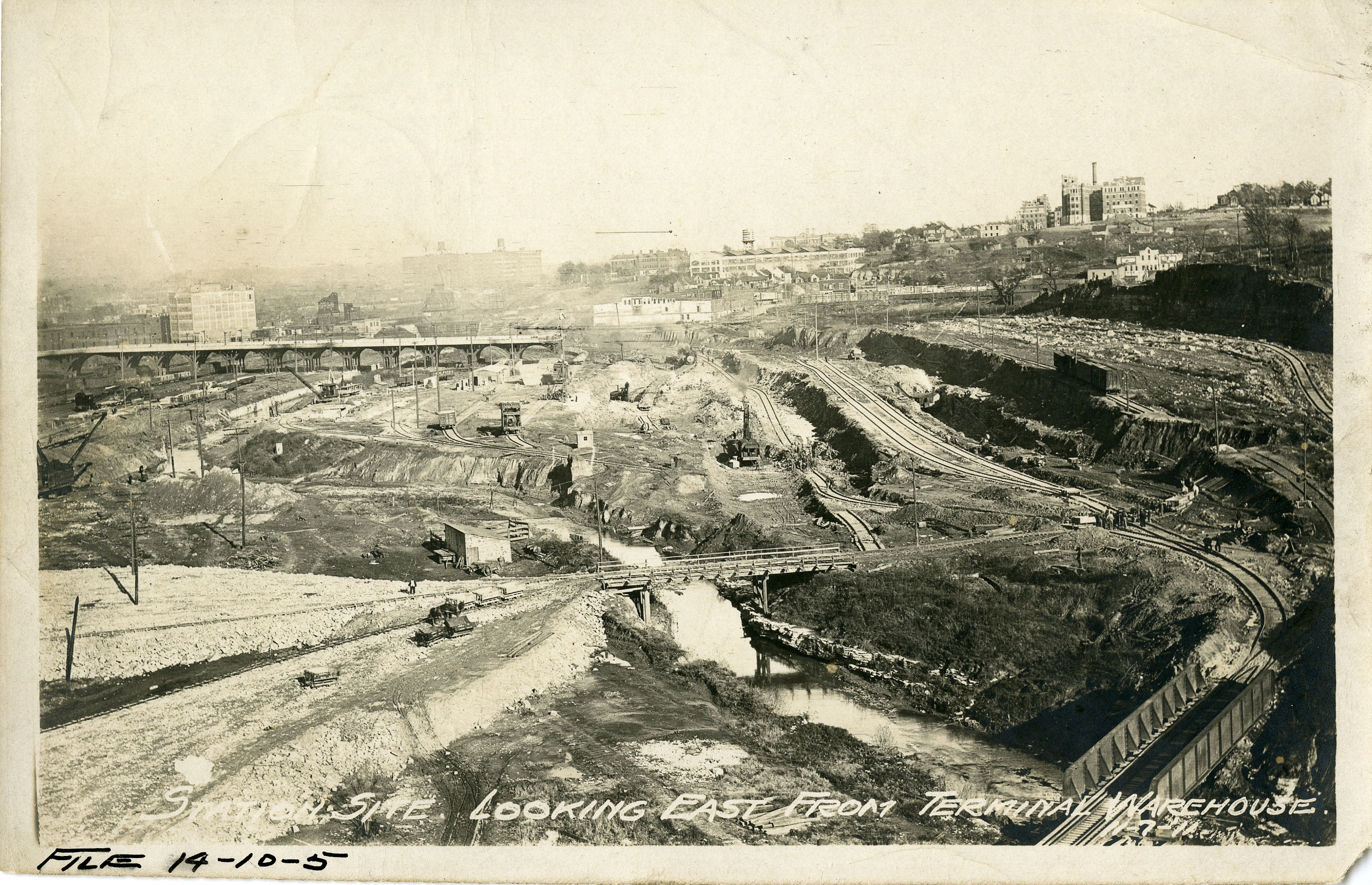 Union Station construction site, looking east from the Terminal Warehouse on Broadway, November 7, 1911. O.K. Creek runs through the middle of the site. From P41 Union Station Construction Photographs, Missouri Valley Special Collections.
Union Station eventually opened to the public on October 30, 1914, in an elaborate ceremony before an estimated crowd of 100,00 people. Union Depot was emptied and boarded up the next day, and the shiny new station with the unoriginal name started playing its role in Kansas City history.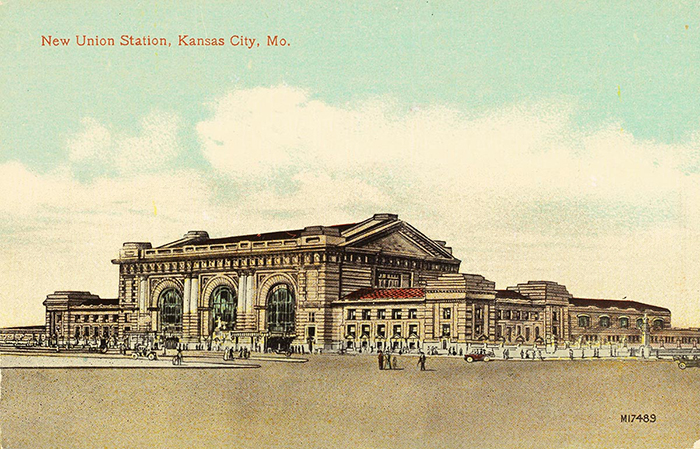 Souvenir postcard given out at Union Station's grand opening on October 30, 1914. From SC58 Mrs. Sam Ray Postcard Collection, Missouri Valley Special Collections.
The Kansas City Public Library has a range of resources on the region's transportation history and built environment. Details for this article were found within the vertical files for Union Depot and Union Avenue, which can be viewed by visiting the Missouri Valley Room on the 5th floor of the Central Library. Images came from the MVR's photograph, postcard, and general collections, which may be viewed online or in person. And Jeffrey Spivak's book is available for check-out at any KCPL branch.
Submit a Question
Do you want to ask a question for a future voting round? Kansas City Star reporters and Kansas City Public Library researchers will investigate the question and explain how we got the answer. Enter it below to get started.