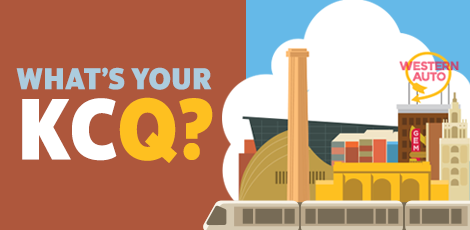 "What's your KC Q" is a joint project of the Kansas City Public Library and The Kansas City Star. Readers submit questions, the public votes on which questions to answer, and our team of librarians and reporters dig deep to uncover the answers.
Have a question you want to ask? Submit it now »
by Michael Wells
Imagine for a moment that you're enjoying a pleasant day at the Kansas City Zoo. You've seen lions, tigers and even a swimming polar bear. You notice a path leading away from the main trail and what looks like a bridge straight out of Jurassic Park.
As you cross, taking in the muddy water of the Blue River, the undisturbed forest covering its banks, and maybe even noises from some unseen critters down below, the span gently sways. Suddenly, a mass of rowdy sixth-grade field trippers joins your crossing and seems to be jumping – jumping! – in unison. That gentle swing becomes steady waves of motion. Retreat impossible, you grasp for a handrail and make a beeline for the opposite side.
Just as you start to question that double order of Dippin' Dots a little earlier, your feet find sold ground.
It might have been an experience like that that lead What's Your KC Q? reader Teresa Peck to ask, "What is the history behind the swinging bridge in Swope Park? Is it still there?"
The second part of the question is easy enough to answer – the bridge is still there. The first part took some digging.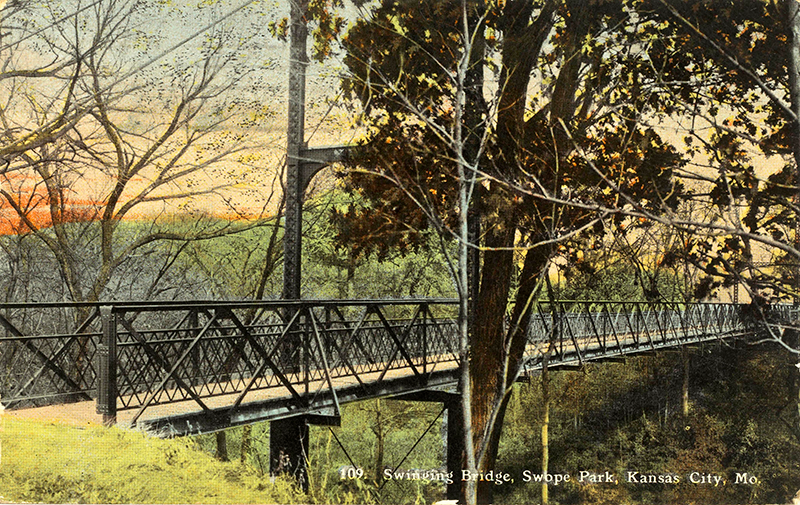 Postcard showing the Swope Park Swinging Bridge, circa 1910.
Kansas City Public Library, Missouri Valley Special Collections - Mrs. Sam Ray Postcard Collection (SC58).
The origin of the bridge goes back to the founding of the Kansas City Parks Department. Landscape architect George Kessler's 1893 plan for the city's parks and boulevards system called for "great outer parks" away from the city center, offering residents a retreat from urban life. The idea would have been difficult to implement if not for a generous donation from wealthy land developer and philanthropist Thomas H. Swope.
In 1896, Swope gifted the city 1,334 acres of land along the Blue River south of city limits. In return, he asked that the land forever remain a public park and always bear his name. The city enthusiastically agreed, naming Swope Park's dedication day on June 25, 1898, a municipal holiday.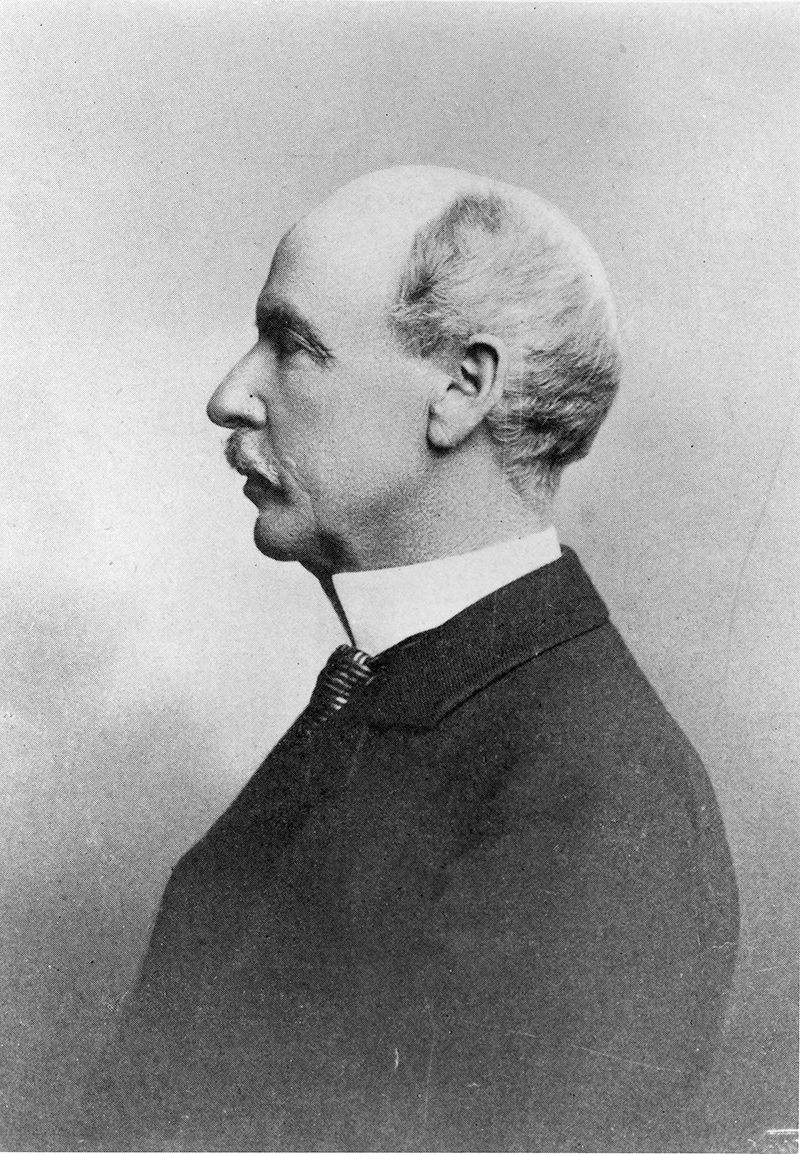 Portrait of Thomas H. Swope, donor of the land that became Swope Park, circa 1905.
Kansas City Public Library, Missouri Valley Special Collections - General Collection (P1).
Work on the site began, and by 1906 the park's first shelter buildings, the Sunken Garden, the Grand Entrance and a nine-hole golf course were completed. To utilize more of Swope's land, planners wanted bridges across the river and railroad tracks that divided the park. When plans for athletic fields on the east bank of the river were added, a bridge became a must.
In 1907, the Parks Department issued a contract to the Midland Bridge Company to construct a suspension footbridge connecting the park to the new fields at a cost of $6,000. Opened in October of that year, the new bridge was 227 feet long, 8 feet wide, approximately 94 feet above the river, and suspended by 1.5-inch galvanized steel cables.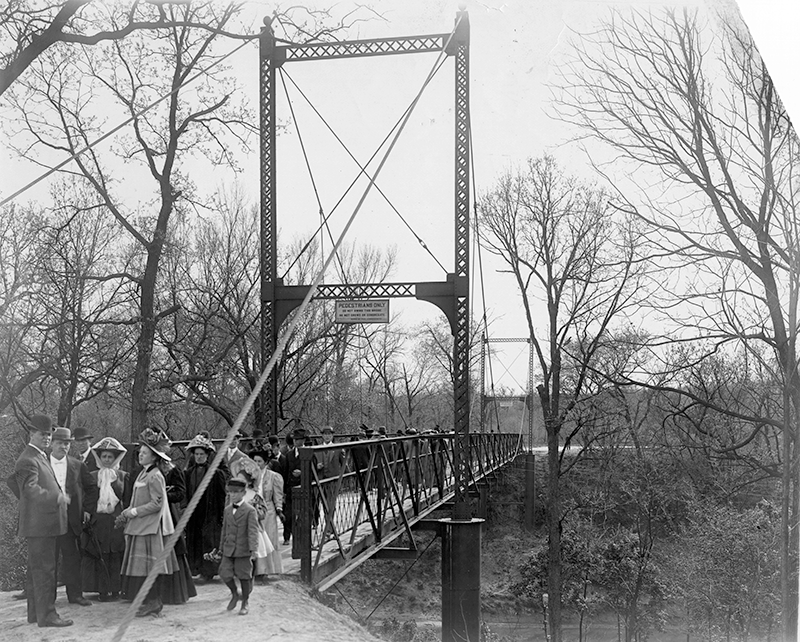 A crowd assembled at the Swinging Bridge near the time of its completion, circa 1907.
Kansas City Public Library, Missouri Valley Special Collections - General Collection (P1).
First designed for golf, tennis and baseball, the athletic fields saw varied use over time. By 1925, a Kansas City street atlas marked the area as a polo field. A 1941 illustrated map of Swope Park depicts baseball game being played. Finally, a map published in 1977 labels the ground as a rugby field.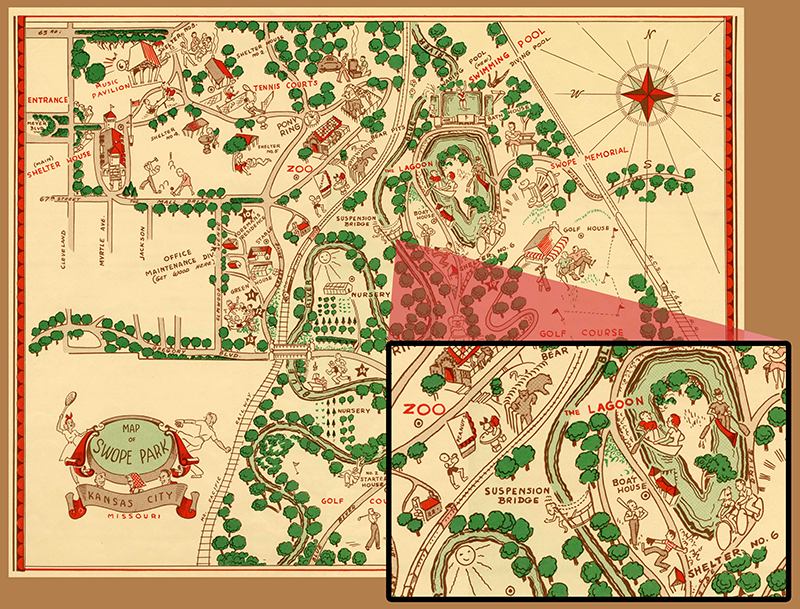 Illustrated map of Swope Park showing baseball being played on the athletic field east of the bridge, 1941.
Kansas City Public Library, Missouri Valley Special Collections - SC117, Series 3-5: Kansas City, Missouri - Parks & Public Transportation #4.
In the 1990s, the old Swope Park athletic field became part of an ambitious Kansas City Zoo expansion and modernization project. The bridge was temporarily closed while repairs and upgrades were made, then reopened to foot traffic, when the new and improved zoo debuted June 17, 1995. The bridge now leads zoogoers to a new, 95-acre Africa exhibit with imagined Kenyan, Tanzanian, and Ugandan habitats. Where golf, baseball, polo, and rugby once were played, warthogs, lemurs, chimpanzees, a cheetah, and other creatures now roam.
What we find on the other side of the old Swinging Bridge may have changed over time, but there it remains – getting parkgoers from one side of the river to the other since 1907.
Submit a Question
Do you want to ask a question for a future voting round? Kansas City Star reporters and Kansas City Public Library researchers will investigate the question and explain how we got the answer. Enter it below to get started.