Even as the Kansas City Public Library's 10 physical locations were closing back in March, just ahead of a city stay-at-home order forced by the COVID-19 pandemic, the Library's leadership team was plotting a path to reopening – gradually restoring services as health and safety guidelines and concerns permitted.
Computer access was an immediate focus.
"We know that, for many people, those are vital services, whether it's for accessing email or social media, applying for benefits or jobs, or getting things done for school," says Joel Jones, the Library's deputy director for library services. "We knew it was crucial."
Through daily and sometimes twice-daily meetings via Zoom, and with the backing of a resourceful frontline staff, Jones, interim Director Debbie Siragusa and the rest of the leadership team have overseen an unprecedented reliance on digital offerings in the wake of the temporary building closings. And they've navigated a virus-altered landscape to nudge the Library's brick-and-mortar locations back to life.
Because of the complexities of allowing patrons back into its buildings, computer availability wasn't the first step in opening Library doors. Starting in May, the contact-free Pop In / Pick Up service permitted pickups of books and other physical materials that had been placed on hold. Patrons needed only to step just inside the doors.
In mid-June, the Library finally was able to launch limited, socially distanced, appointment-only computer and internet use at its L.H. Bluford and Southeast branches. That service was extended to the downtown Central Library in late June, will begin at the Trails West Branch on Thursday, July 9, and is targeted to reach more Library locations in the near future.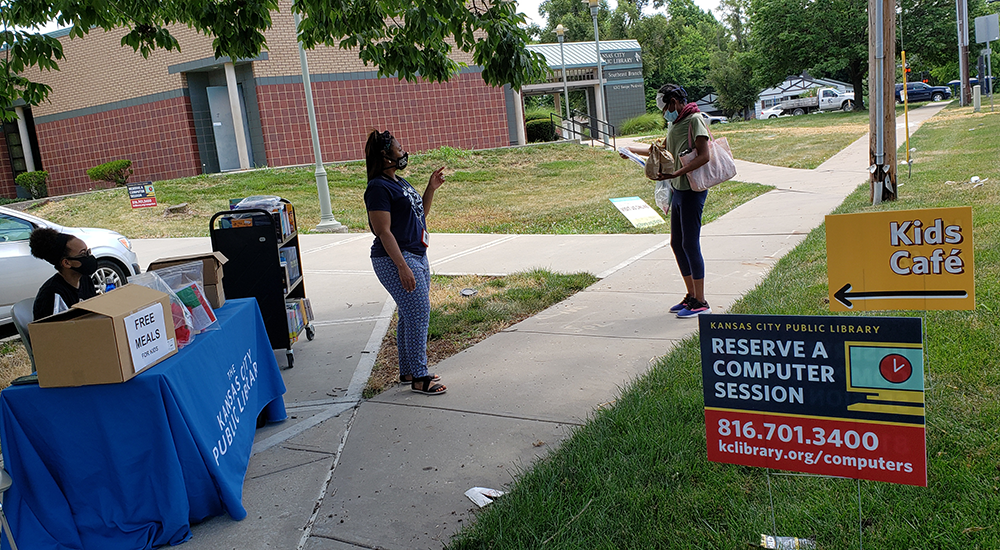 Library staff are finding new ways to connect patrons to resources outside our buildings. Here, the Southeast Branch is providing Harvesters' Kids Café meals to go, signing up both kids and adults for the Summer Reading program, giving away free books, and promoting computer appointments.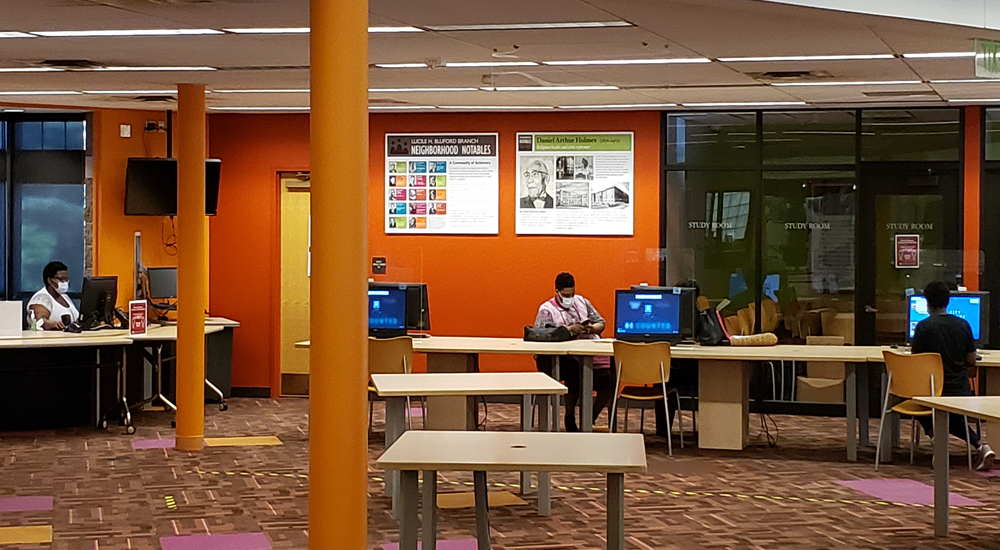 Computer services are now available by appointment at several Library locations, including the Bluford Branch. Library staff have rearranged the interior to allow proper social distancing between computers, and stations are thoroughly cleaned in between each session.
 
More reopening steps are in the works. Jones says the Library is looking to set up what he calls "community connecters" — informally, "Zoom rooms" — by the end of July. Individuals who make appointments will be able to sit down to a computer in a private area and consult via teleconference with the Library's community resources or community reference teams, or with outside social agencies, on such things as applying for benefits or starting or strengthening small businesses.
The Library's Missouri Valley Special Collections, home to its local and regional history archives, is planning to open the Central Library's fifth-floor Missouri Valley room to researchers in mid-July. Again, short sessions will be available by appointment.
That sounds simple enough – short sessions by appointment – but very little in these times is truly simple. For MVSC Manager Jeremy Drouin, the research sessions entail working with a variety of other departments on everything from online appointment-making to efficiently getting visitors from the first to the fifth floor of a facility in which movement still is limited. How many do you admit at a time? Which days? What times?
Health and safety remain paramount.
"You think, 'Oh yeah, we'll start offering this service and people can contact us. But I realized it needs to be more systematic than that," Drouin says.
The payoff, in part, is a return to some semblance of normalcy. "My staff had been trickling in, first 12 and then 24 hours a week in staggered shifts, and last week really was the first that we've had full-time staff in for 40 hours," Drouin says. "The next step, obviously, in getting back to a normal routine is getting researchers back into the room."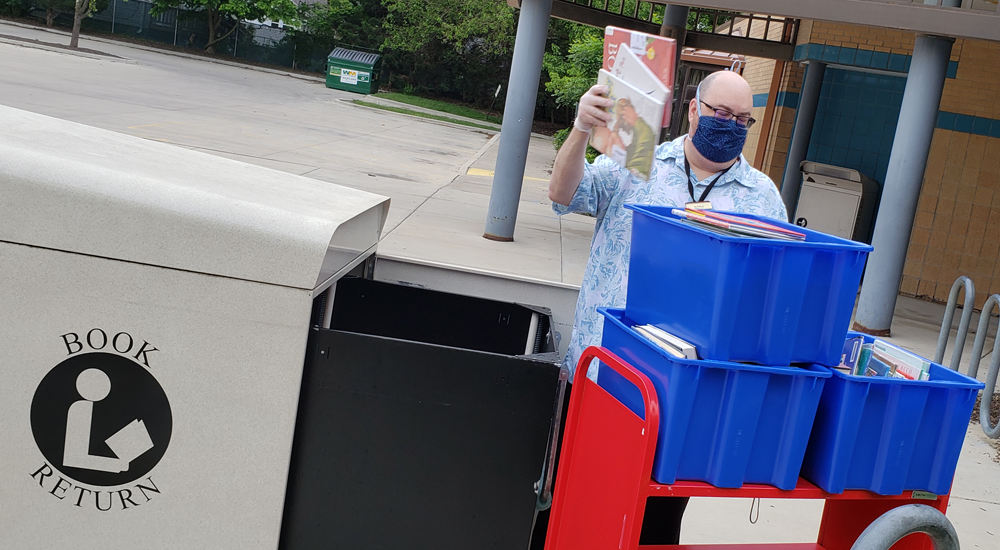 Safety precautions have been implemented for all handling of Library materials. Here at the Waldo Branch, books, DVDs, and CDs are taken directly from outdoor book return boxes to quarantine areas, where they sit untouched for at least 72 hours before additional processing.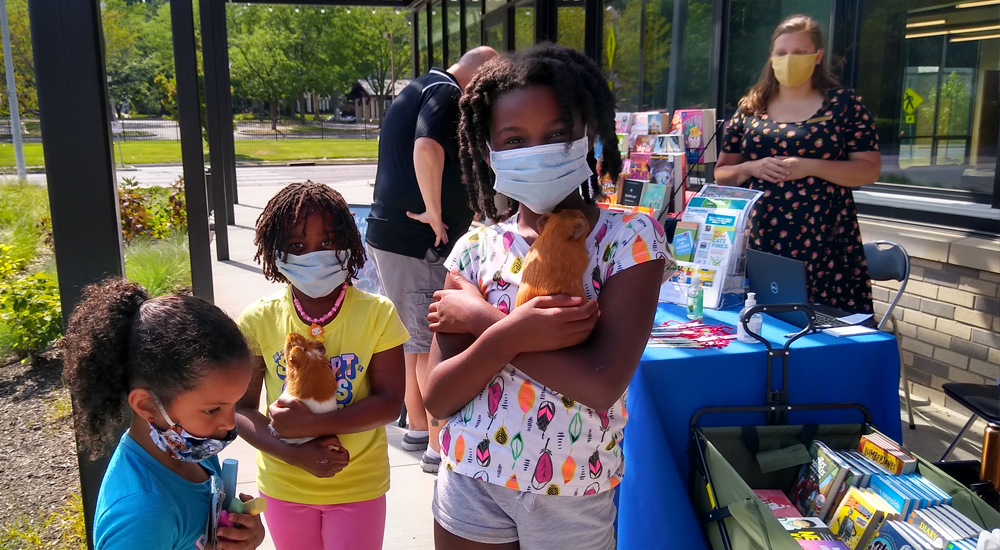 The Library is hitting the streets (and parks) to reach the public. Our Youth & Family Engagement team is visiting parks and community partners throughout KC to promote Summer Reading and connect families with resources (note that guinea pigs are not an official Library resource),  and our Community Reference team is holding Census and voter registration pop-up events.
 
In truth, these haven't been normal times for the Library since late January, when longtime Director Crosby Kemper III left to accept a presidential appointment to head the federal Institute of Museum and Library Sciences. Former University of Missouri-Kansas City dean and professor John Herron took over as his successor on Monday, July 6.
For 166 days in between — encompassing the onset of the pandemic, the wrenching decision to close physical locations starting March 24, and the cautious beginning of their phased-in reopening — the Library was steered by Siragusa and her team of department heads. 
They and their staffs explored, participating in teleconferences, webinars, and other information-sharing sessions with libraries and library organizations nationwide. "We listened to what other people were doing," Jones says. And they adapted. 
Like others around the country, the Library beefed up its collection of eBooks and array of other digital resources. Its Outreach and Community Reference teams launched a series of initiatives, including the creation of a coronavirus/COVID-19 "street sheet" with information and leads on available resources for more vulnerable populations. It's posted on the windows of all Library locations and distributed throughout the city.
The Library's Tech Access team took its technology assistance online, offering a series of webinars beginning with a how-to on making video calls and shopping online for essentials. Other programming went virtual, from children's storytimes and Friday Night Family Fun events on Facebook Live to informational sessions for small business owners and the Library's award-winning signature evening speaking presentations.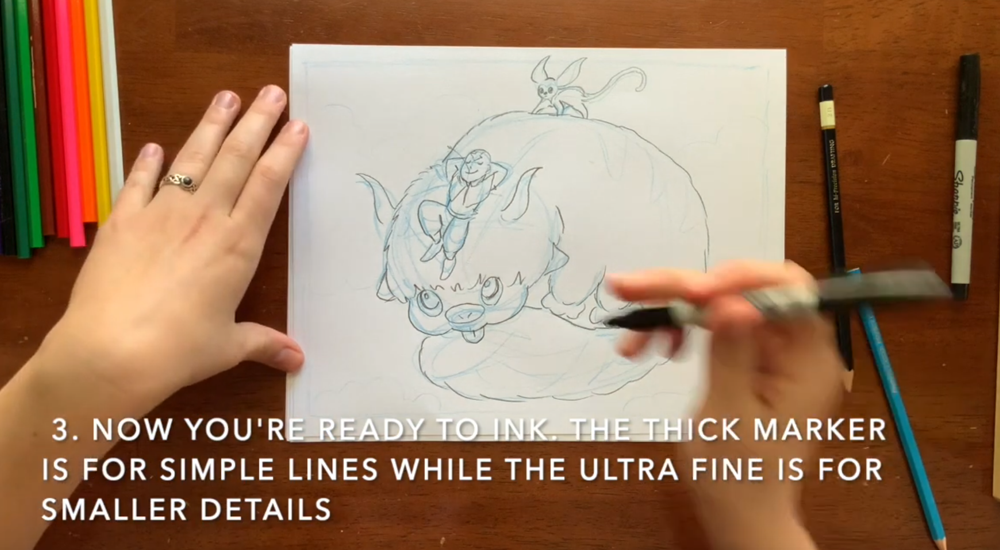 The Library's Teen Cosplay Ball went virtual this year with a series of how-to videos on making costumes and drawing fan art, plus online contests for young creators.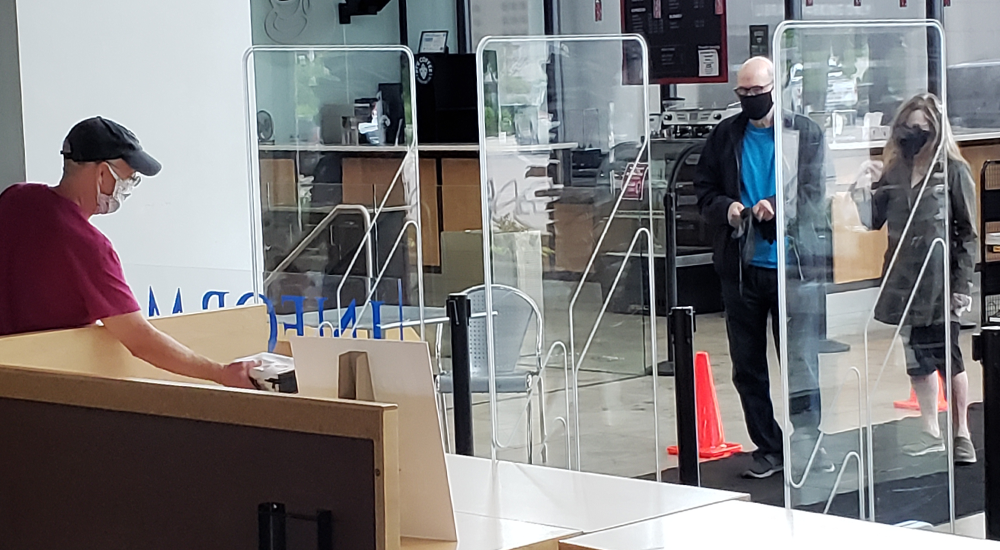 The Pop In / Pick Up holds service has proven popular with patrons, providing a safe and socially distant way to get physical books, DVDs, and CDs.
Steve Woolfolk, the Library's director of programming and marketing, worked out a system for the online signature programming that uses Zoom as a base platform and livestreams the presentations via YouTube. Several have focused on life in the COVID-19 era.
"Our programs are so integral to the Library's work in public engagement. It's hard not to have them in person," says Carrie Coogan, the Library's deputy director for public affairs and community engagement. "But we were able to covert them to a virtual format pretty quickly (beginning in mid-April), and they've remained popular both live and archived on the Library's YouTube channel."
Eleven virtual events had had drawn nearly 6,000 YouTube views by July 1. The number continues to rise.
As the pandemic endures and health experts speculate that its impact could stretch on for years, even with a vaccine, some of the Library innovations born of the crisis are looking more long term than temporary. In some cases, permanent. "I think Pop In / Pick Up is going to be with us forever," Jones says.
"This is a gradual changing of the library service model, adjusting to a world where social distancing is part of our lives," he says. "Yes, we're eventually going bring people in (to our buildings) to browse our materials. But there's really a rethinking of the way we're going to provide services in the COVID era going forward. I think this is a model that's going to be with us for months and years and not just weeks and months."
In the meantime, he and his colleagues struggle to stay patient. 
"We can talk about access to computers and restoring vital services," Jones says. "But many of the people in One North (the Central Library's first-floor technology center) are just there to watch videos or otherwise pass the time, to be someplace. If they need to be there for shelter or they want to be with other people, that's still a vital part of what we offer. To me, that's the saddest thing that's still missing.
"I sure would like to be (fully) open. I understand why we can't be … but it's the most stressful time of my whole career, I've got to tell you that." 
Featured SERVICES AND RESOURCES
► Pop In / Pick Up Holds Service
► Computer use by appointment
► Pop In at the Park
► Tech Access
► Digital Branch
► Youth & Family activities
► Kids Café
► Signature Events
► Outreach Services
► Community Reference
► Missouri Valley Special Collections
► Teen Cosplay Ball