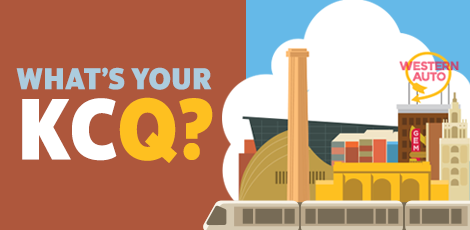 "What's your KC Q" is a joint project of the Kansas City Public Library and The Kansas City Star. Readers submit questions, the public votes on which questions to answer, and our team of librarians and reporters dig deep to uncover the answers.
Have a question you want to ask? Submit it now »
Kara Evans Flinn
Many Kansas Citians recall with fondness when downtown was a premier shopping destination for clothes, shoes, jewelry, housewares, and many other types of goods. While iconic stores such as Harzfeld's; The Jones Store; and Emery, Bird, Thayer have long since closed, nostalgia for them remains.
Charles Ballew reached out to KCQ about another of those fondly remembered retailers: "What can you tell your readers about the former John Taylor's Department Store that was in the 1000 block of Main Street?"
The John Taylor Dry Goods Company was established in 1881, when business partners John Taylor and George Sinclair moved from Columbus, Ohio, to Kansas City. Taylor had many years of experience in the dry goods business, having worked at his uncle's store at age 16 and entered his first business partnership at 21.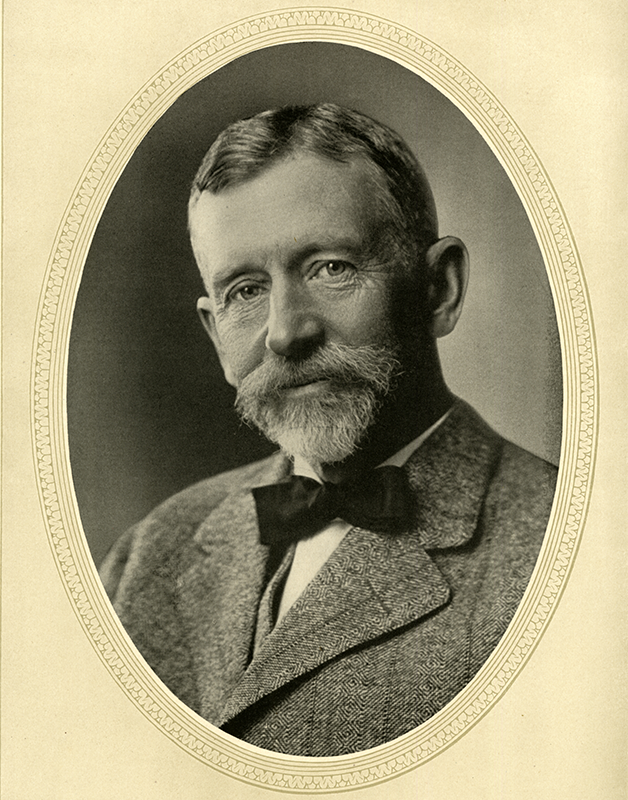 Portrait of John Taylor in Kansas City and Its One Hundred Foremost Men, 1924.
Taylor and Sinclair saw great opportunity in a burgeoning Kansas City, which was in the midst of an economic boom and described by Taylor as the "best advertised town in the United States." The partners rented a first-floor space in the newly constructed Ridge Building at 1038-40 Main Street and opened with 10 employees.
Although the store was only four blocks from downtown's retail center at Seventh and Main streets, Taylor described the location, adjacent to two lumber yards, as "out in the woods." But it turned out to be ideally situated – at the foot of the section of 11th Street that would become fashionable Petticoat Lane.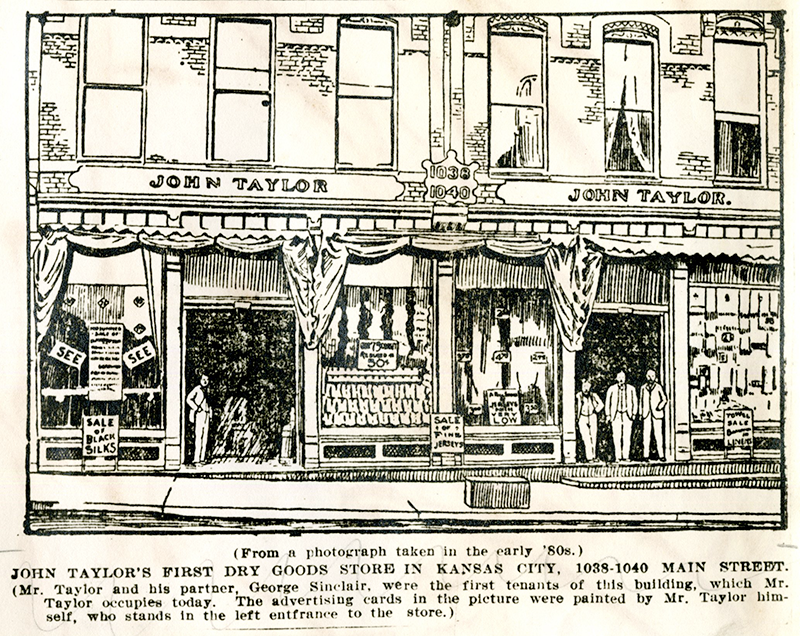 Illustration of John Taylor's first dry goods store in Kansas City as it looked in the 1880s. The Kansas City Star, October 19, 1913.
Within a year of opening the store, Sinclair sold his interest to Taylor and returned to Ohio.
Despite his partner's departure, Taylor's dry goods store increased sales in each of its first five years in business.
Taylor attributed his early success to carrying the highest quality merchandise and operating on a cash-only basis. His store was also unique in that only dry goods were sold, from ready-to-wear clothing such as suits, corsets, stockings, gloves, and scarves to curtains, bags, and blankets.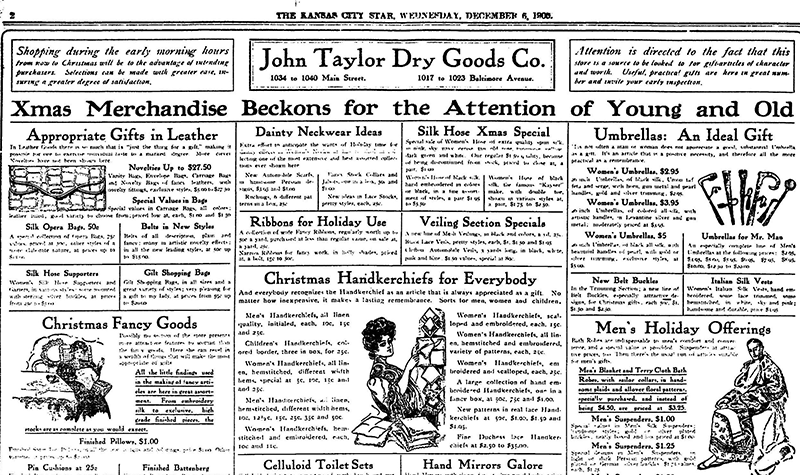 John Taylor Dry Goods Company ad for Christmas merchandise. The Kansas City Star, December 5, 1905.
The store grew rapidly, doubling in size by 1896 and doubling again when Taylor built a five-story addition in 1904. Designed by the architectural firm of Root and Siemens, the new space extended the business from Main Street to Baltimore Avenue, with frontages on both streets.
The building featured a modern heating and cooling system that "washed" the outside air with water before raising or lowering the temperature and forcing the filtered air into the building. This kept the air fresh and free of dust, adding to the comfort and attractiveness of the shopping experience. Other customer conveniences included wide aisles, large mahogany fitting rooms, easy chairs, and elevators.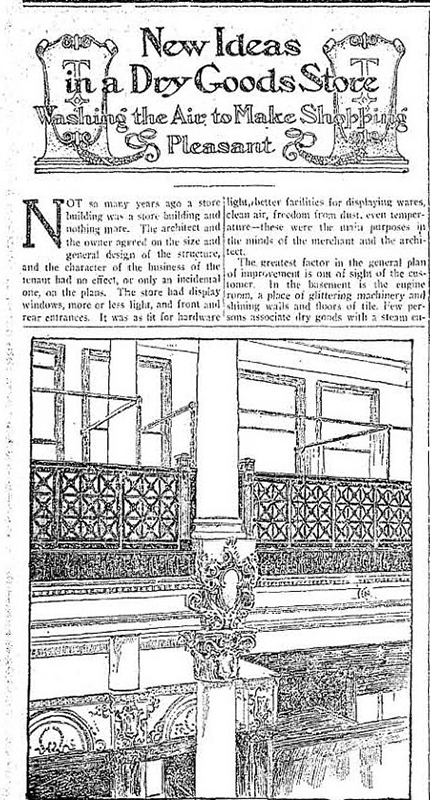 Article touting the air purification system in the new John Taylor Dry Goods store. The Kansas City Star, October 23, 1904.
Taylor continued to expand and modernize. In 1910, he purchased part of a three-story building on Main Street that he had been leasing since 1881. Shortly after, plans were made to replace the original Ridge Building with a new, more modern store. Taylor hired the architectural firm of Holabird and Roche, which had designed three large department stores in Chicago and later would draw up the Muehlebach Hotel in Kansas City.
The old leased building was razed in 1914 and work began on a new, six-story structure with fireproof steel framing that could support additional floors whenever they became needed. Despite a brief steel workers strike, the building was completed by the end of the year.
The once-modest dry goods store now had nearly four acres of floor space, making it one of the largest dry goods houses in the West.
Though he was in poor health for several years, Taylor remained president of the company until his death in 1919. In his will, he bequeathed $500 to every employee who had worked for him for at least 15 years. Taylor's sons, John Jr. and Albert, took over the business and followed their father's principles – with one notable exception. They eventually had to accept customer credit.
John Taylor Dry Goods was bought out by Macy's in 1947. The giant, New York-based retailer expanded and renovated the building, a $7 million project that more than doubled the space, and made it the first Macy's outlet in Kansas City.
In 1986, Dillard Department Stores Inc., bought the 10 Macy's stores then operating in the Kansas City area. The downtown location was razed in 1996 to make room for the new Town Pavilion parking garage.
How we found it:
Information on the John Taylor Dry Goods Company came from a search of newspapers, city directories, and maps in the Library's Missouri Valley Special Collections. The photographs and postcards are part of the Library's digital collections and accessible at www.KCHistory.org.
Submit a Question
Do you want to ask a question for a future voting round? Kansas City Star reporters and Kansas City Public Library researchers will investigate the question and explain how we got the answer. Enter it below to get started.