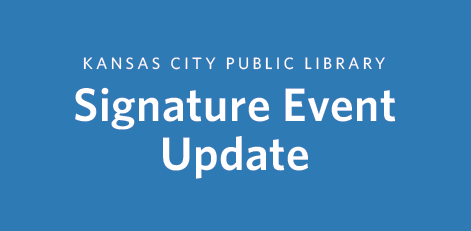 Due to rising COVID-19 case numbers locally and nationally, the Library
has suspended its return to in-person Signature Events
. Many January events have been postponed or will now take place
virtually
. See the list below for details.
Tuesday, January 11
Molière's Continuing Inspiration - VIRTUAL  

POSTPONED




(updated January 9)
Details
Friday, January 14
21 Pillars Heartland Tour -

POSTPONED
Details
Wednesday, January 19
Work in the (Post) COVID-19 Era -

VIRTUAL
Details
|
RSVP
Thursday, January 20
An Artist at Home in America -

POSTPONED
Details
Sunday, January 23
Missouri Valley Sunday: Mount Washington Cemetery-

POSTPONED
Details
Monday, January 24
Hollywood vs. History: The Man Who Would Be King-

VIRTUAL
Details
Since the outset of the COVID-19 pandemic, the Library has kept patron, staff, and community safety as a primary goal. We were one of the first public-facing organizations to close its doors and find innovative ways to continue to meet the needs of those we serve. And, if you have visited us since our reopening in June 2021, you also know that we've never dropped our mask mandate.
In light of this track record, it will probably come as no surprise that we've decided to further delay in-person programming. Though we are anxious to fill our spaces for signature events, even with capacity limits and masking, the constant and unpredictable mutation of the coronavirus is a clear signal for us to remain patient.
We continue to offer our signature programming digitally –
livestreaming over our YouTube channel
– but hope you'll enjoy a change we're making to some events. 
In an effort to progress toward in-person programming, some of our guest speakers will appear on our stage for a live interview with Library staff, as was the case when Lemony Snicket was in town in December. This alternative type of presentation will feel less "Zoomy" and reflects our investment in a safe return to the programming we all miss.
The library remains open to the public to check out books and computers. Please check our website often for updates on in-person programming and possible closures due to staff shortages: visit
kclibrary.org/covid
.