Throughout November, discover the rich history, ceremonies, and storytelling traditions of the Indigenous peoples of North America as part of Native American Heritage Month. 
Jump to a section:
Reading Recommendations
Learn about the rich and diverse heritage of Native fiction, nonfiction, history, poetry, memoir, and more with these resources.
VIEW FULL LIST
Earlier this year the Library hosted its seventh
Big Read
with a celebration of
An American Sunrise
by Joy Harjo, U.S. Poet Laureate. The community-wide reading initiative offered ways for our community to explore poetry, history, and Native American literature and culture; this collection of books provides further reading and learning opportunities.
VIEW FULL LIST
  | 
About Big Read 2022
Get immediate access to eBooks featuring Native literature and history through hoopla.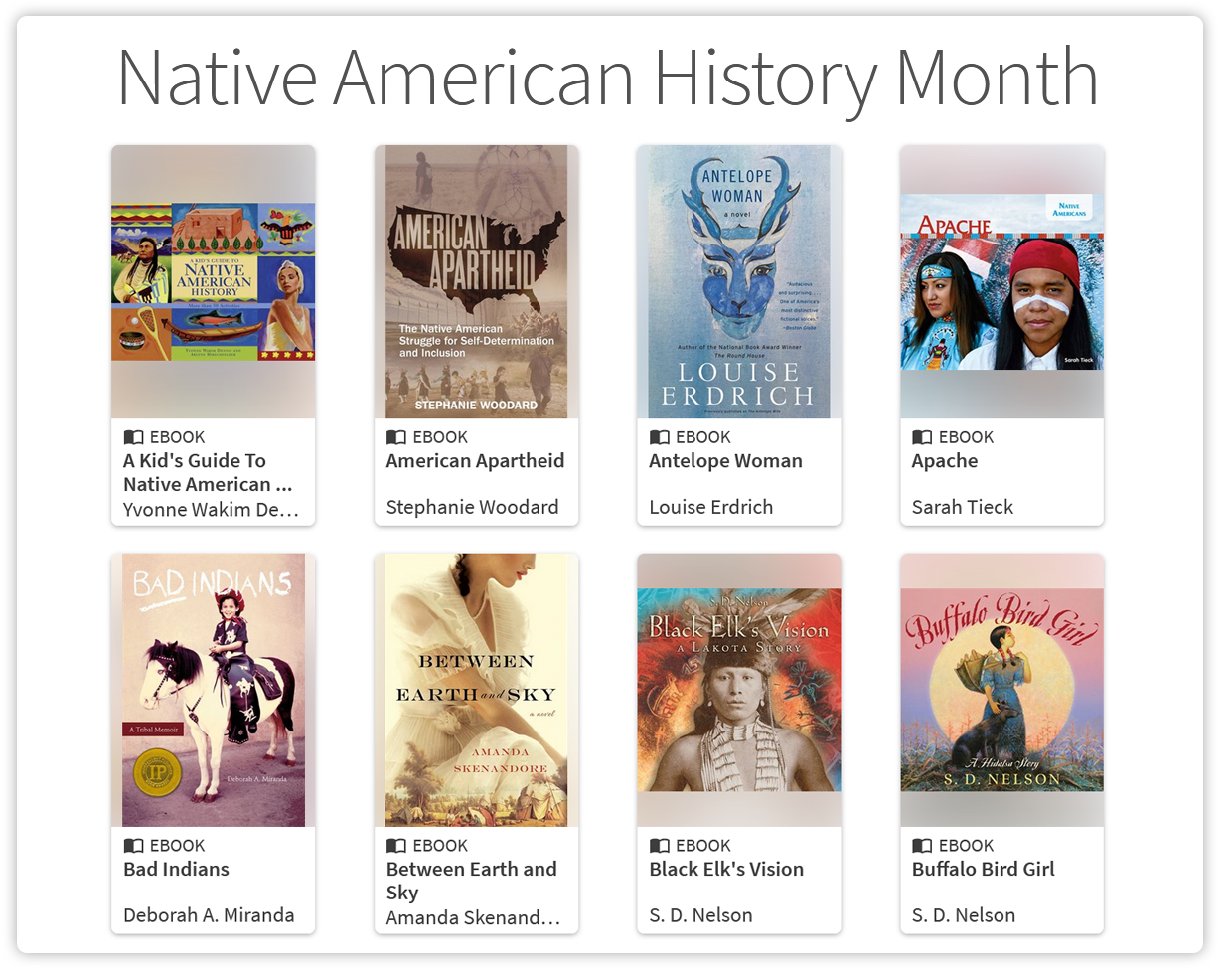 FILMS
Watch documentaries about Indigenous experiences and voices available through our streaming video service Kanopy.

EVENT VIDEOS
Presented in conjunction with the Library's Big Read 2022 this past spring, Indigenous artists featured in the Library exhibition The Heart Is a Fist spoke about their inspirations and techniques in a May 25, 2022 panel discussion moderated by Kreshaun McKinney, the Kemper Museum of Contemporary Art's director of learning and engagement.

WATCH VIDEO  |  Event details
---
One of the first two Native American women elected to the U.S. House of Representatives, and the first openly LGBTQ representative from Kansas, Rep.
Sharice Davis
discussed
her new picture-book autobiography
in an online program hosted by the Library on October 11, 2021, in observance of Indigenous Peoples Day.
Davids,  a member of Wisconsin's Ho-Chunk Nation, was joined in conversation by her two collaborators on her book. Illustrator 
Joshua Mangeshig Pawis-Steckley
, a member of Wasauksing First Nation, is an Ojibwe Woodland-style artist from Barrie, Ontario, and co-writer
Nancy K. Mays
is an adjunct professor of journalism at the University of Kansas whose writing has been published in 
Ploughshares
, the 
Colorado Review
, and 
Mid-American Review
, among other publications.  
WATCH VIDEO
  | 
Event details
---
In an online discussion of his book Red Alert! hosted by the Library on March 10, 2021, Haskell Indian Nations University's Daniel Wildcat offered an avenue of response to climate change: Apply Native American wisdom and nature-centered beliefs to the strategy for rescuing our ecologically distressed planet. Wildcat, a Yuchi member of the Muscogee Nation of Oklahoma, is a professor in the Indigenous & American Indian Studies program at Haskell in Lawrence, Kansas. He is also co-founder and co-director of the Haskell Environmental Research Studies Center and co-author of two other books, including Power and Place: Indian Education in America. 

Research Resources
Spanning four centuries and covering North and Central America, American Indian Histories and Cultures presents unique materials from one of the finest archival collections on American Indian history and culture available – the Edward E. Ayer Collection at the Newberry Library in Chicago. From early contacts between European settlers and American Indians and the subsequent political, social and cultural effects of those encounters on American Indian life, these materials tell both the historical and the personal stories of the colonization of the Americas.