Post date:
Wednesday, February 23, 2022
A version of this article, written by the Library's Steve Wieberg, appeared in The Kansas City Star. 
How, exactly, do you define American cuisine? 
There are nearly 150,000 free-standing, sit-down restaurants in the U.S., their fare ranging from burgers, fries and shakes to haute dishes with international flavors and inspiration. What we whip up and eat in this country, culinary historian Sara Lohman says, is "the most complex and diverse cuisine on the planet." 
It defies a simple, single characterization. 
In his new book Taste Makers: Seven Immigrant Women Who Revolutionized Food in America, James Beard Award-winning food writer Mayukh Sen explores that rich diversity of flavor in American cuisine and technique and profiles a handful of extraordinary individuals who furthered it. Spanning in era from World War II to today, they are cooks, cookbook authors and cooking teachers who came from China and Mexico, from France and Italy, from Iran and India and Jamaica. Some had followings. Others weren't as well known. 
All, upon arriving in the U.S., "used food to construct an identity outside their home country," Sen writes. All, too, had to navigate challenges from an American food establishment rife with racism and xenophobia. They met discrimination and pressure to fudge on the authenticity of their native dishes to accommodate American palates. 
"I am working off the presumption that there are going to be a lot of readers who pick up this book and wonder: How did America become this sort of melting pot of cultures and cuisines from around the world?" Sen says. "I want them to understand there was a lot of struggle involved. 
"You see some of it, just a fraction of it, in the stories of these seven women." 
Taste Makers, released in November, is the Kansas City Public Library's latest "book of the moment" FYI Book Club selection. Drawing wide interest and acclaim, it appears to have struck a chord amid today's handwringing over immigration and what many see as attendant injustices. 
 
NPR named it one of the best books of 2021. The New York Times said it was "unquestionably timely, an opportunity to reflect on America's complicated history with immigrants and their food, and to ask the question: How did we fail to acknowledge the impact of these accomplished foreign-born cooks, even as we devoured the meals that they introduced to our tables?" 
Among Sen's subjects is Iranian-born Najmieh Batmanglij, who took up exile in the U.S. in the wake of the Iranian Revolution of 1979. When publishers showed little interest in her first cookbook, she and her husband Mohammad started their own publishing company to get it into print. Her "Food of Life: A Book of Ancient Persian and Modern Iranian Cooking and Ceremonies" became the definitive Iranian cookbook. 
Batmanglij released seven more and emerged as "effectively a one-woman industry, the lone diplomat of Iranian cooking in America," Sen writes. 
China's Chao Yang Buwei, who came a generation earlier, introduced our country to stir-frying in her ground-breaking cookbook "How to Cook and Eat in Chinese." India's Julie Sahni, now 76 and one of two subjects in the book still living (with the 74-year-old Batmanglij), shattered stereotypes about Indian cuisine. Mexico's Elena Zelayeta was 11 when her family relocated to San Francisco in the early 1900s and "made no apologies about her desire to live and cook as an American woman," melding Mexican recipes with the tastes of her adoptive home.  
Zelayeta lost her sight in her mid-30s, resumed cooking despite her blindness and dictated recipes for an authoritative cookbook, "Elena's Famous Mexican and Spanish Recipes." She would go on to host a weekly 15-minute cooking show on a Bay Area television station and write more cookbooks, publishing the last in 1967 when she was 70.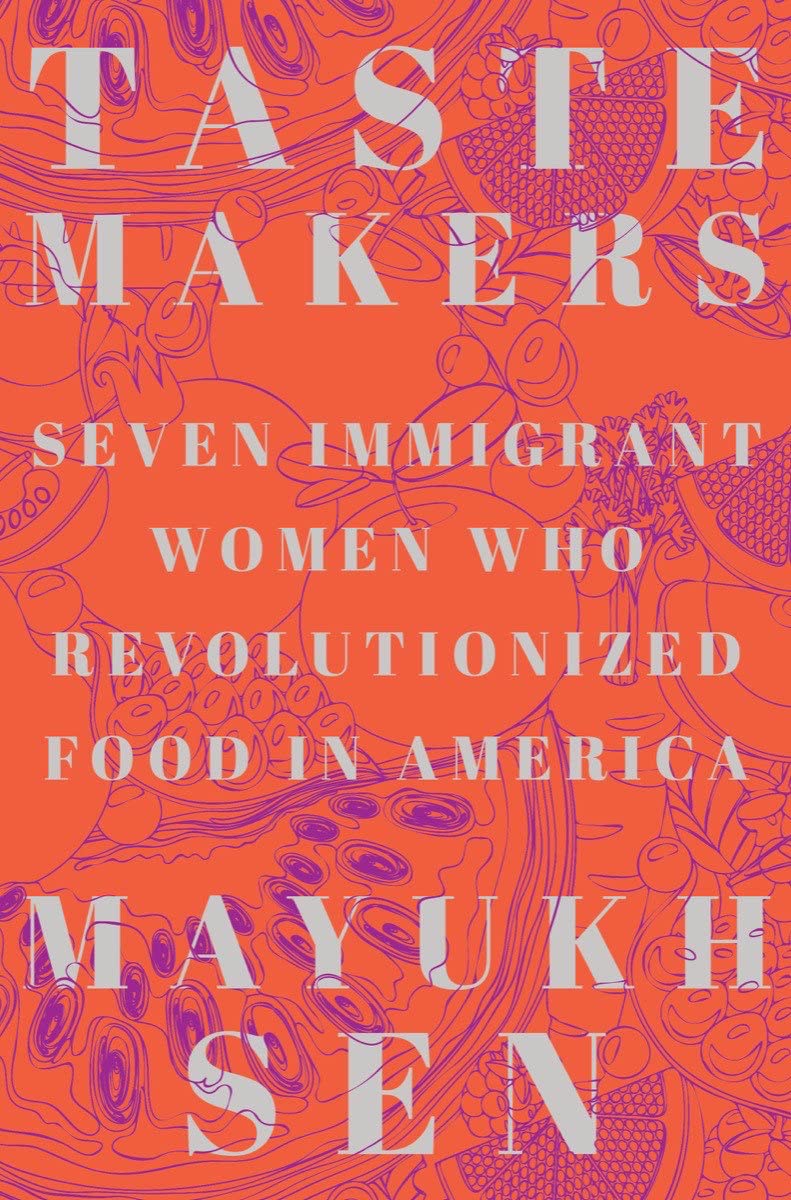 Sen writes that he wanted to tell the story of immigration in American through the prism of food. But he wound up going further, examining "what success looks like for immigrants under American capitalism, using food as my lens of narrative inquiry." He elected to focus on women, many of whom were doubly marginalized – because of gender and ethnicity – and vulnerable to "cultural deletion." 
He asks us to "question which immigrant stories our American culture values versus those it tosses aside." 
It's not random subject matter for Sen, a self-described queer child of Bengali immigrants who says he felt an "acute sense of alienation" when he began writing about food almost six years ago with no grounding in the field (or even proficiency in his own kitchen).  
He was 26 when he won a James Beard Award in 2018 for a profile on prominent soul food restaurateur Pamela Strobel, known as Princess Pamela, who disappeared from New York City when she was in her late 60s. Even with that recognition, Sen says his outspokenness about the industry's foibles has kept him from being fully embraced by it. 
"Writing these stories taught me a lot about how to deal with struggle," he says. "I identified with all of these women." 
Sen, who lives in Brooklyn and teaches food writing as an adjunct assistant professor at Columbia University's School of the Arts, recently spoke with The Star about Taste Makers, the immigrant women it features and the challenges they – and he – confronted. Excerpts are edited for length.  
---
Q: What led you to the book? 
A: I first came up with the idea in 2017. I was a 25-year-old staff writer for a website, Food52, writing many stories about figures from marginalized communities. They were often women of color, queer people, queer people of color, immigrants, immigrant women, immigrant of color – all those permutations. And they were often figures whom I felt had not been sufficiently honored; they hadn't quite made their way into this sort of canonical history of being American in the same way that someone like Julia Child or James Beard has. I was writing against the impulse of erasure that I found around me. One of my friends looked at that body of work and was, like, "Maybe there's a book in here about immigration." 
I sat on the idea for about a year, then revisited it. Over the course of just that year, I'd seen so many food publications and prominent food personalities share talking points along the lines of "immigrants get the job done" or "immigrants feed America." I want to be charitable here and say they were well intentioned, yet they seemed to inadvertently reinforce the idea that the measure and value of immigrant lives in America should be based on one's productivity. That's so unfair and may ignore their creative impulses and desires. I wanted to write against that sort of trend. 
Q: You joke about your limited cooking skills. Is that common, or uncommon, for food writers? 
A: It's certainly uncommon. I already have begun to shy away from self-identifying as a food writer. I am not more than a barely competent cook, nor am I the best person to go to for restaurant recommendations. And I certainly don't develop recipes of my own. I sort of ended up in this industry by total accident. I grew up wanting to be a film critic. After about a year and a half of being a freelancer, writing on film and television and music – basically every aspect of culture except food – I was offered a job by Food52 to cover culture through the lens of food. I thought it would be an interesting challenge.  
In the over five years that I've been in this industry, I haven't exactly become (masterful) in the kitchen. But that's fine. I don't want to betray my sensibility and who I am. I knew that I wanted to write for people like myself growing up who weren't necessary consumers of the food media or food writing but did care about food in some way.  
Q: What was the learning curve? 
A: It was a humbling experience in so many ways to realize just how little I knew. Of course, I was familiar with Julia Child, having watched Julie & Julia and reruns on PBS of her various cooking shows. But my knowledge of culinary history in America did not extend very far beyond her. I spoke earlier about the sorts of stories I was writing for Food52 about figures from marginalized communities. And I think, looking back, the reason why I gravitated to them was that I felt as though I needed to educate myself and really read up on my history in a very public way. Writing these stories in Taste Makers was the same deal.  
Q: What difference did the James Beard Award make? 
A: There was certainly a shift I detected after I'd gotten that institutional recognition. All of a sudden, all of these people who never would have given me the time of day started treating me like a human being. I will say I naively assumed that winning … would dampen the discrimination I had faced before. That wasn't quite the case. I felt at times after 2018 that some people in power in food media were very annoyed with me, sometimes publicly, about the fact I was so critical of our industry. It was quite hurtful to know that people I otherwise respected felt so little about me. I tried to take those experience and that pain and the hurt and the struggle and funnel it into the way I was telling the stories of these women. 
One, in particular, whose story really resonated with me was Madeleine Kamman of France. She was often criticized by the food establishment as being, quote unquote, difficult and abrasive and arrogant. Essentially, her immense talents as a cookbook author, as a teacher, as a restaurant chef, as a television host, was reduced to this perception that she was some sort of agitator who dared to question the supremacy of figures like Julia Child. It seemed to me that she really paid the price for being outspoken about her beliefs, which were unapologetically feminist. She was such an enormously gifted figure that everyone should know her name. Yet not everyone does, and that's what I was trying to write against in this book. 
Q: You devote a short interlude to Child, who was American-born. Is her presence just inescapable? 
A: Definitely. The "Julia Child of …" phrase is applied to so many women. Marcella Hazan has been called the Julia Child of Italy, Julie Sahni the Julia Child of India, Norma Shirley the Julia Child of Jamaica and Julia Child of the Caribbean. She became the sort of gold standard, the measure for greatness in this industry … a sort of ghost who hovers in each of these chapters. 
I hope my readers understand that I have tremendous affection for Julia Child. And a lot of respect. I've gotten emails from readers who feel I'm a Julia Child hater. 
Q: Were there any epiphanies, or at least discoveries, for you in reporting and writing this book? 
A: I've seen some criticism of figures who have blended cuisines of their origin countries or their ancestral homes with American flavors or American cooking techniques. Some of that sort of closed-minded, judgmental thinking seeped into my head as I began writing this book. Yet what I found as I was crafting each of these stories, especially Elena Zelayeta's story, is that … I'm in no place to judge these women for the creative decisions they made, especially given the challenges they were probably facing at the time. Because they faced those challenges, I don't have to face them decades later. They've paved the way for people like myself, and I should honor that struggle instead of lazily and immaturely passing someone off as some sort of sellout or traitor to their community. That was the biggest epiphany. 
Q: You win a James Beard Award at 26, awfully young to reach a pinnacle. Where do you look next? 
A: Yeah, it's all downhill from here (laughing). I don't know. When I first entered this industry, I really was – no pun intended – hungry for that sort of recognition because I felt like such a fraud, someone with subzero culinary knowledge who just kind of waltzed into the industry by accident. As a result, I really put pressure on myself to get that recognition and prove to myself and others that I did belong in some way. That's why I was fortunate to receive it so early in my career. I was kind of freed of that kind of careerist ambition and burden and could finally focus on telling stories I truly care about and doing work that I really care about. It would have been horrible if I'd been working with that naked, awful ambition into my 30s.  
I think winning that award taught me a lesson. You should not create in pursuit of recognition; you should create because you care about the work itself and you find satisfaction in the work. Writing this book taught me that. 
Q: Do you have a favorite cuisine? 
A: I really love Ethiopian food, I think because some of its flavors remind me of Indian cooking and the flavors of the subcontinent that I grew up eating at home. It was kind of shame that I couldn't devote a chapter to the Eritrean chef Desta Bairu, who I mention in the afterward. She was the chef of the first Ethiopian restaurant in Washington, D.C., Mamma Desta, starting in the late 1970s. But I faced certain challenges that did not me to tell her story in as full-bodied a way as I wanted to. 
Q: Your favorite dish? 
A: I'm looking at a menu right now: Misir Wot. It's basically warm red lentils cooked with spicy berbere sauce. I'm someone who can't handle too much spice, which I think surprises a lot of folks because of my ancestral background. But the treatments of that dish that I've had are just spicy enough to not obliterate my tongue. 
Steve Wieberg, a former reporter for USA Today, is a senior writer and editor for the Kansas City Public Library.