Kansas City is a community of makers, dreamers, storytellers, performers, visionaries, and changemakers – the arts are an essential part of our city's culture and character. From our mural-adorned streets to the illustrated book covers on your Library's shelves, art is everywhere. This year's Summer Reading Program, Art Starts at Your Library, celebrates the power of creativity, ideas, and expression.

Here's how it takes shape: Read any five books between June 1 and August 15, 2022. Everyone in the family can enjoy titles in their favorite format, log them online, and earn a reward. Our librarians are putting together a palette of page-turners for readers of all ages to peruse, but you can read ANY five books to hit your Summer Reading goals.

Looking for more artistic inspiration? We're gathering a gallery of free Library resources that can help ignite (or further fuel) your creative spark: enjoy online courses on design software, dive into DIY tutorial videos, or take a class with other curious creators. Visit your Library – in person or online – for the tools to develop your voice and make your mark.

Through the arts, we explore ideas and ask questions. Art offers ways for children to discover and learn about their world. We take pleasure in scribbling, sketching, sculpting, stitching, scrawling, scrolling, singing, skipping, and spraying. We use color and shape and light and texture in the service of telling stories. Stories themselves are an art form used to engage, entertain, and inform – and there's no better place to find them than at your library.

Art starts by unleashing your imagination. Art starts conversations and challenges our views and beliefs. Art starts moving us toward empathy and understanding. Art starts creating connections. And whatever your creative practice may be, no matter your skills, art starts at your Library.
"Practice any art, music, singing, dancing, acting, drawing, painting, sculpting, poetry, fiction, essays, reportage, no matter how well or badly, not to get money and fame, but to experience becoming, to find out what's inside you, to make your soul grow." - Kurt Vonnegut
START YOUR SUMMER READING!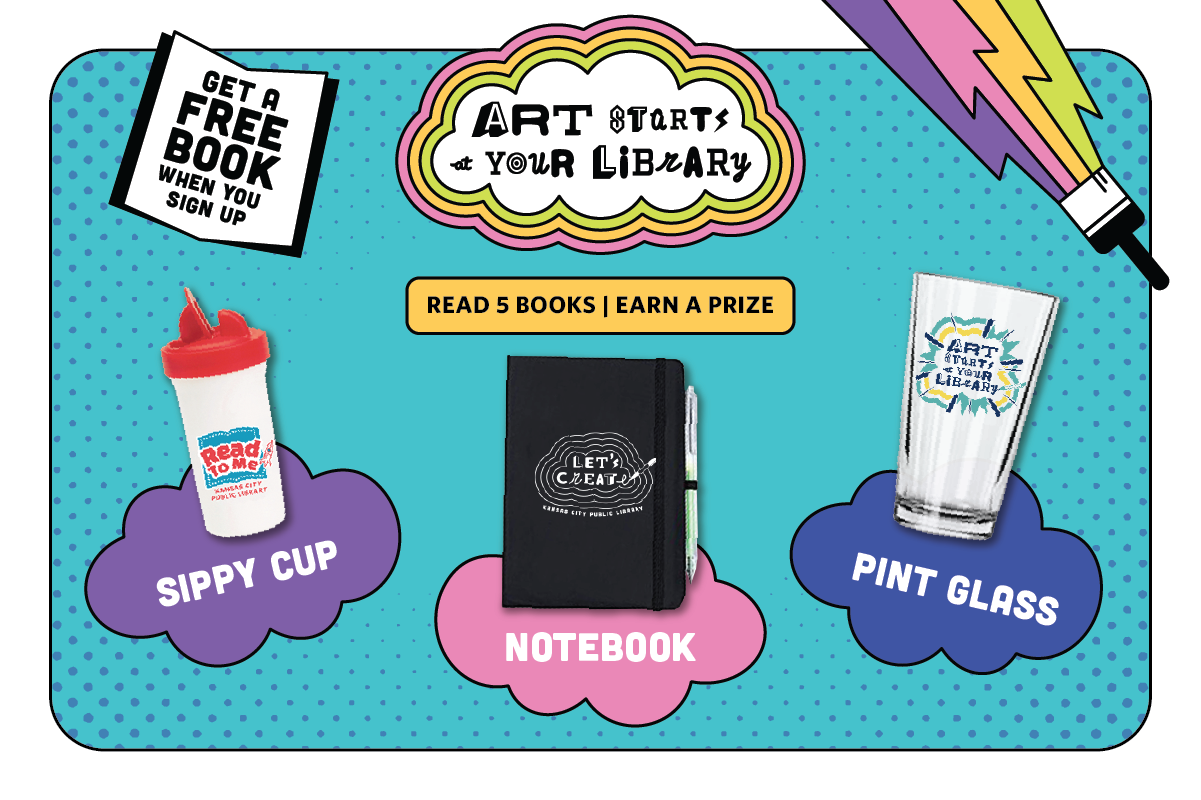 About Summer Reading:
Earn a FREE BOOK just for signing up!
Read five books between June 1 and August 15. Titles can be official Suggested Reading picks for youth, teens, or adults, but you can read any five books in any format – hardcover, audiobook, eBooks, graphic novels. Everything counts!
Log your five reads online using Beanstack or the Beanstack Tracker mobile app.
Earn a prize:

Sippy cup (babies and toddlers)
Creative journal and pens (kids and teens)
Pint glass (adults)

Be sure to share your Summer Reading experiences on social media! Follow the Library's accounts, and tag your posts with

#kcSummerReads

.