The Kansas City Public Library is widening its digital literacy efforts, creating a new Digital Corps aimed at helping thousands of members of the community in the next two years to access and use vital digital resources.
A team of 10 tech-proficient Digital Corps members, drawn from the AmeriCorps State and National service program, is expected to be in place by October 3, 2022. They'll work as "digital guides," offering training and assisting individuals in navigating the digital landscape, including help in accessing employment, governmental, and other online resources.
The program, open to adult digital literacy learners, is underwritten by a $124,125 grant from AmeriCorps through the Missouri Community Service Commission.
The projected impact: 2,000 digital learning "interactions" through class instruction, one-on-one assistance, or other outreach and connections by 600 participants with government and social service benefits – all in the first year. The program runs through early October 2024.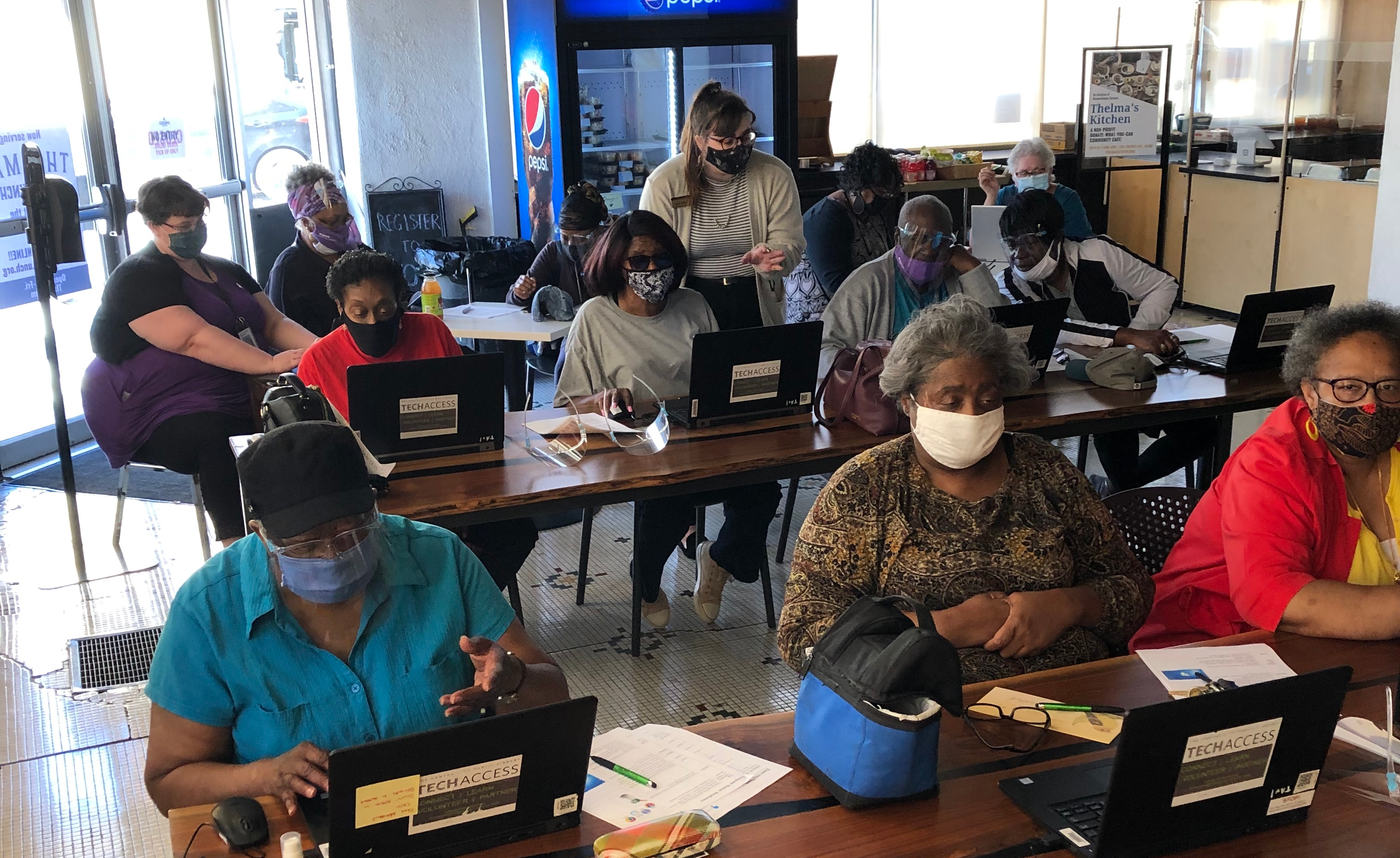 "AmeriCorps service provides the chance to connect people passionate about making a difference in their community with opportunities to do just that," says Beccah Rendall, the Library's AmeriCorps programs manager. "It embraces the hashtag #GettingThingsDone, and we cannot wait to bring that same energy to our patrons at the Library."
A federal agency created in 1993, AmeriCorps engages tens of thousands of volunteers annually in national and community service. Five AmeriCorps members currently serve at the Library, with another 14 having recently completed summer assignments.
The Library is accepting applications for its new Digital Corps through September 16, 2022.
The initiative is the Kansas City Public Library's latest step in addressing the city's pronounced digital divide – the economic, educational, and social inequity between those who have computers and online access and those, often from disadvantaged populations, who do not. Its Tech Access department works with partnering agencies to provide digital skills training and troubleshooting for anyone from beginners to more advanced users. The Library also offers Chromebooks and Wi-Fi hotspots via free checkout.
Its Digital Corps program will share AmeriCorps' focus on educational opportunity and economic mobility for communities experiencing persistent unemployment or underemployment and students experiencing homelessness or those in foster care.
"Understanding and addressing the digital divide is complex because there are so many people at varying levels of digital literacy skills, a variety of devices, and varied depth of services and accessibility both at home and on mobile devices," says Carrie Coogan, who as deputy director for public affairs and community engagement is instrumental in the Library's digital literacy outreach. "The Library continues to be a welcoming and trusted place to help people meet their digital needs – where they are – and make sure they have all the information they need to be a part of our community and a participant digitally in every way possible.
"The Digital Corps," she says, "is just another way to continue to reach out and support more people."