Post date:
Wednesday, November 3, 2021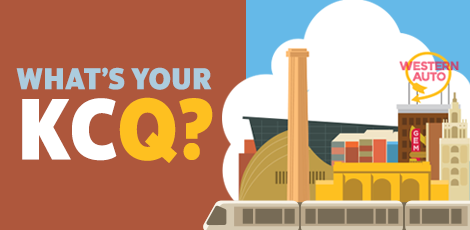 "What's your KC Q" is a joint project of the Kansas City Public Library and The Kansas City Star. Readers submit questions, the public votes on which questions to answer, and our team of librarians and reporters dig deep to uncover the answers.
Have a question you want to ask? Submit it now »
---
By Randy Mason, The Kansas City Star | tvdrmason@gmail.com
A good ghost story is a treat any time. But especially around Halloween.
This week, "What's Your KCQ?" has one to share, thanks to a reader who asks, "Is it true that the beautiful Midland Theatre downtown is haunted?"
Well, whether it's spooked up or not, this classic movie palace looks like it should be.
Originally named the Loew's Midland, the 3,200-seat theatre is still a feast for the senses. Dark wood, statuary and chandeliers, elegant staircases and an ornate ceiling.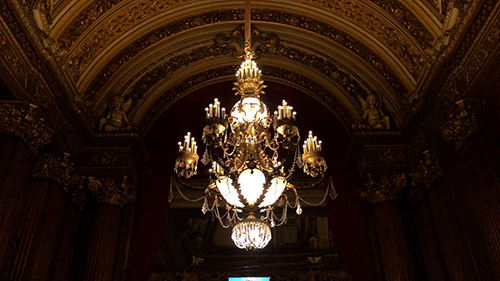 Chandeliers and other ornate decor still adorn The Midland. Monty Davis | Monty Davis
When it opened in 1927, silent movies and vaudeville shows were on the marquee. These days, concerts and special events keep crowds coming to what is now officially called the Arvest Bank Theatre at the Midland.
Sammy Jo Gibson, the theatre's marketing manager, says, yes, people have noticed strange phenomena inside the hall.
In fact, the resident ghost even has a name: Frank. And he has a truly tragic origin story.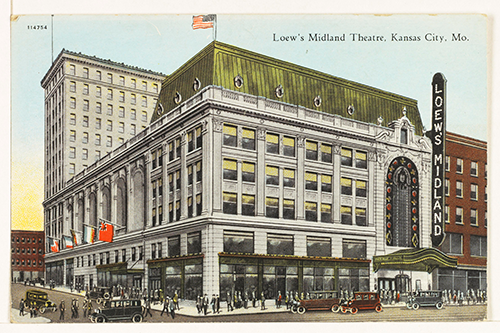 Missouri Valley Special Collections, Kansas City Public Library
On the night of Jan. 11, 1932, an explosion rocked the young theatre. The next day, the Kansas City Times reported that Frank Alexander, "a 25-year-old Negro janitor," had been cleaning up in the balcony just minutes after the end of the show.
The article says Alexander found something beneath a seat that he thought was "trash or a package left by someone." He was carrying it downstairs when the dynamite inside it exploded. Alexander was killed, and the lobby--which had just emptied out--suffered significant damage.
You can still see small indentations from the blast on the wall along the north staircase.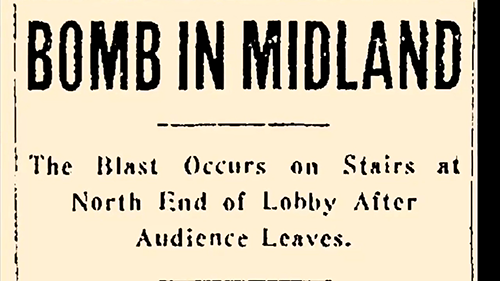 Archival photo from The Kansas City Times, Jan. 12, 1932
But why attack a movie house?
The answer, amazingly enough, was feuding projectionists. In the 1930s, two different labor unions handled the business of playing films on Kansas City screens.
For months, there had been incidents, threats and even small explosives detonated at theatres around town. The Midland blast, intended to intimidate, turned deadlier than planned.
The three men responsible for Alexander's death, two who built the bomb and one who planted it, were quickly apprehended and sentenced to life in prison.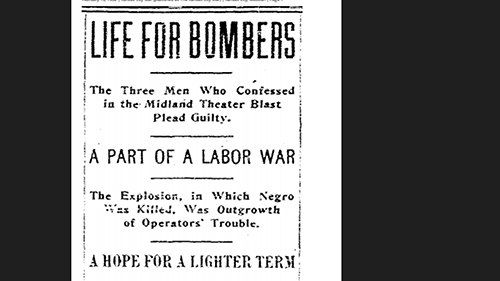 Archival photo from The Kansas City Star, Feb. 13, 1932.
Since then, sightings of a solemn, solitary figure have occurred most often in or near the men's room on The Midland's loge level.
Katie Schillare, the theatre's director of special events, recalls a time when a guest at a wedding was startled by a man in clothing he described as "dated and disheveled." When he looked again, the man was gone. Security was summoned, but they couldn't find anyone matching that description.
Schillare said theatre patrons "who haven't heard the stories before" sometimes tell her they "sensed something" in the theatre that gave them chills.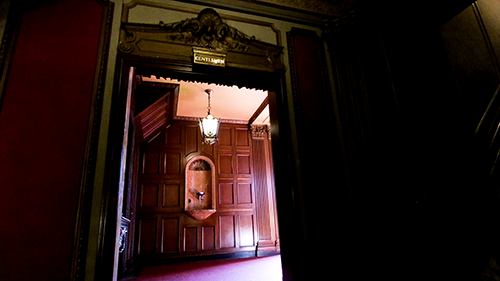 The loge level of The Midland is where people say they've seen a solemn figure, perhaps the ghost, Frank. | Monty Davis
She's experienced one of those moments herself.
"I felt someone enter the room behind me… a sound, a movement of air," she said. "But when I turned to say hello, no one was there. It felt very real."
That was in the Midland's basement lobby, a site of several other spooky encounters. In recent years, both a caterer and a security guard reported seeing a young girl standing alone down there.
The guard, Schillare says, was so disturbed by the experience that he asked to be reassigned.
Like theatres since the days of Shakespeare, the Midland keeps a "ghost light" constantly burning on its stage. In part as a safety measure to ensure that workers don't take a tumble, but also to help appease any spirits with bad intentions.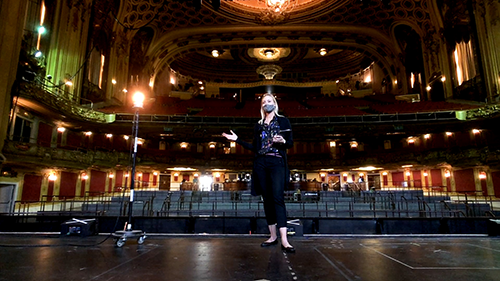 Katie Schillare, director of special events at the Midland Theatre, shows the ghost light
that remained on all throughout the pandemic shutdown. | Monty Davis
Schillare, for one, isn't worried about trouble with the paranormal. In fact, just the opposite.
"I believe Frank is here keeping an eye on the building," she says. "So it feels like a really friendly presence."
But the Midland may not be the only haunted historical theatre downtown. Let's make this a double feature.
A haunting double feature
The Folly Theater is sometimes called "the grand old lady of 12th Street." She's 121 to be exact. The Standard Theater, as it was originally known, opened in 1900.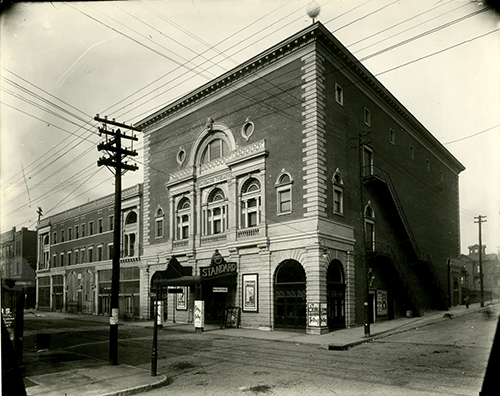 Missouri Valley Special Collections, Kansas City Public Library
Vaudeville and burlesque thrived there in those early days, as did boxing matches, circus acts and theatre too.
Gale Tallis has been the Folly Theater's Executive Director since 2007.
"I'm here at all hours and hear lots of strange sounds," she said. "But I haven't seen any ghosts. Darn it."
But other people have.
A former stage manager told her of mysterious knocks on his office door one night after everyone had left. He didn't stick around to investigate.
Earlier this month, staff members working in the lobby were surprised to hear piano music coming from somewhere in the building. The music continued for several minutes. Tallis said they eventually peeked into the theater and saw the piano on stage, with no one at the keyboard.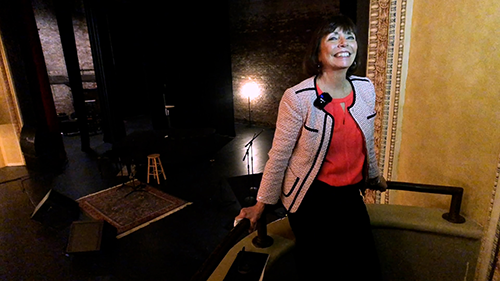 Gale Tallis, executive director of the Folly Theater, recounted spooky incidents in the theater. | Monty Davis
But her favorite story goes like this. "Shortly after I started, we got a letter from a Kansas City police officer. He said he was off duty, passing by the theatre late at night and noticed a strange glow coming from the area behind the bar next door. He got out to investigate, and when he did, he saw a man dressed in white tails and a top hat standing behind it. He wanted to tell me what he'd seen, and that he wasn't crazy."
Strange as that sighting may sound, it gets even stranger when Tallis points out that Joe Donegan, the Century Theater's first stage manager who died in 1930, was known for wearing just such an outfit.
The bar at Edward Hotel next door to the theatre was a prime gathering spot for actors and entertainers. There's even a door that connects the hotel to the costume room of the theatre.
Donegan was quite the showman, with lots of political and showbiz connections. He also happened to manage the Edward Cabaret on the hotel's lower level—so he probably passed through that vintage door many times.
Of course, ghosts don't need doors.
Tallis, like her counterparts at the Midland, isn't so much frightened as she is intrigued by all this.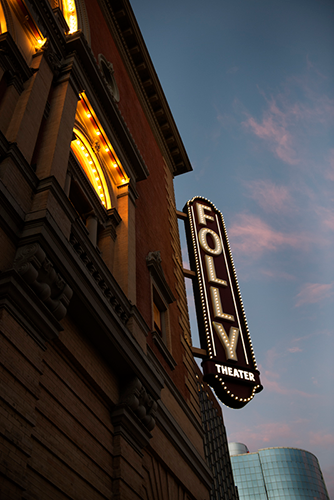 Courtesy of The Folly Theater | Luke LeTourneau
She says artists like Rosanne Cash and Oleta Adams have remarked on sensing the presence of those who've played at the Folly before them. And how they've used that "energy" to fuel their own performances.
"We take traditions seriously in the theatre," Tallis observed, as she rolls the Folly's ghost light back into position. It, like the Midland's, remained lit throughout the entire COVID shutdown.
A somber watchman, a drink-mixing bon vivant… KCQ can't help but hope that more spirits from Kansas City's colorful past will continue to emerge. We'll keep you posted.
Submit a Question
Do you want to ask a question for a future voting round? Kansas City Star reporters and Kansas City Public Library researchers will investigate the question and explain how we got the answer. Enter it below to get started.