Last modified:
Wednesday, January 22, 2020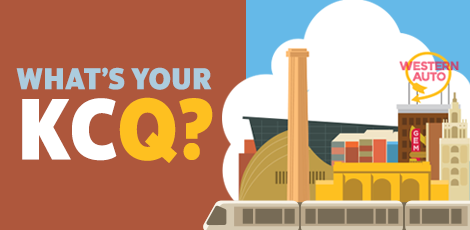 "What's your KC Q" is a joint project of the Kansas City Public Library and The Kansas City Star. Readers submit questions, the public votes on which questions to answer, and our team of librarians and reporters dig deep to uncover the answers.
Have a question you want to ask? Submit it now »
By Jeremy Drouin
School closings are a reality of our educational system. As populations shift, it becomes necessary to consolidate schools, open new ones, and close others. It is as true for parochial schools as it is for public institutions.
Jeanette Hacker Hale attended Bishop Lillis High School in Kansas City from 1950-52. Now residing in Massachusetts, she reached out to KCQ to find out what happened to Lillis.
First, some history about the school and its namesake.
In 1940, the Diocese of Kansas City purchased land on the west side of Forest Avenue, between 37th Street and Manheim Road, for a new high school – part of a nearly a quarter-million-dollar initiative to expand Catholic educational facilities. The school would serve Kansas City's urban center and be run by the Benedictine Sisters of Mount Saint Scholastica, who had previously established Guardian Angels School in Westport.
Construction of the building was completed in the spring of 1941. It contained 16 classrooms, an auditorium, gym, and chapel.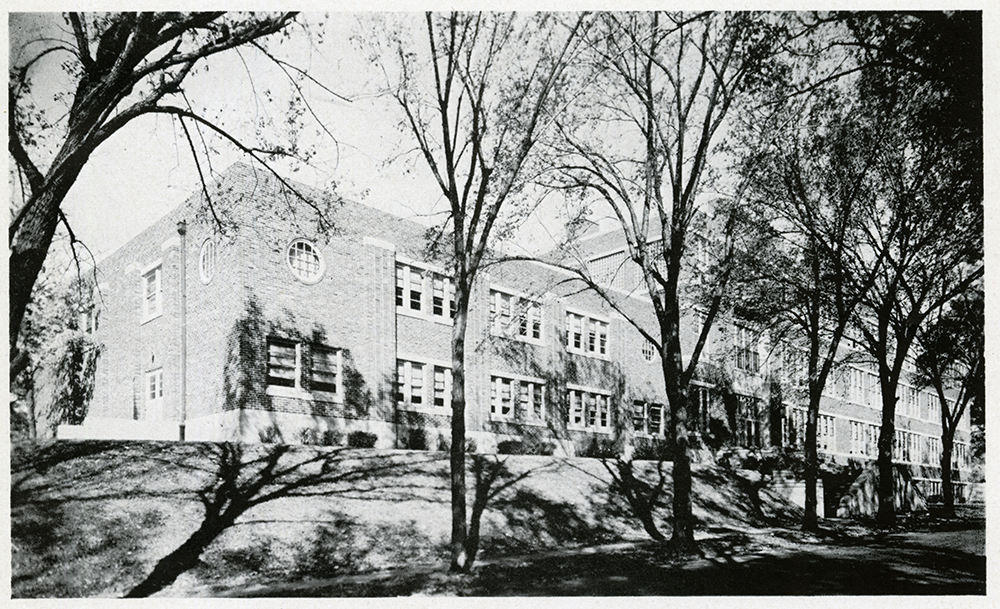 Bishop Lillis High School, 3740 Forest Street. 1949 Lillislog yearbook, Missouri Valley Special Collections, Kansas City Public Library
The school was named in honor of Thomas F. Lillis, who served as Bishop of Kansas City from 1913-38 and was instrumental in the growth of the diocese.
Born in Lexington, Missouri, in 1861, Lillis studied philosophy at St. Benedict's College in Atchison, Kansas, and then theology at St. Meinrad Seminary in Indiana. He was ordained in 1885 and two years later named pastor of St. Patrick's Church in Kansas City.
While vacationing in Wyoming in 1904, Lillis learned he had been appointed Bishop of Leavenworth, Kansas, by Pope Pius X. Six years later, in 1910, he was a named coadjutor to the Bishop of Kansas City, John Hogan.
Lillis succeeded Hogan following the latter's death in 1913, becoming only the second Bishop of Kansas City. Under his direction for the next 25 years, the diocese expanded its footprint by establishing parishes in new districts and gaining thousands of new members.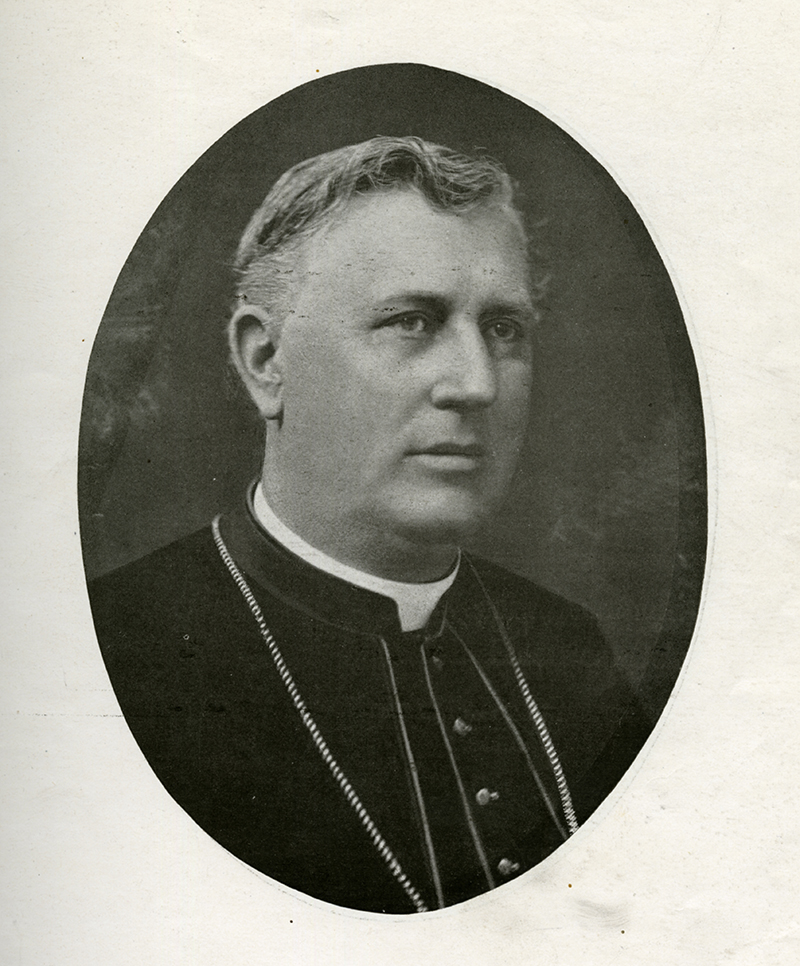 Bishop Thomas F. Lillis, pictured in Catholic Churches and Institutions in the Diocese of Kansas City and Leavenworth (1923).
So respected was Lillis that an overflowing crowd packed the Kansas City Convention Hall on September 22, 1935, to celebrate his golden jubilee (50 years in the priesthood).
Lillis died in 1938 at age 77. His successor, Bishop Edwin O'Hara, named the soon-to-be-constructed Catholic high school in his honor (another new school on East Meyer Boulevard was named for Bishop John Hogan). Its motto and guiding philosophy was Ut in omnibus glorificetur Deus – "In all things may God be glorified."
Lillis High School opened in April 1941 with a freshmen enrollment of 130.
Two years later, a third floor was added for new classrooms and a small theater. Adjacent lots were purchased in 1959 to expand the athletic field, and in 1963, a new convent was built across the street. A final addition in 1971, on the building's west side, accommodated business classes.
Enrollment at Lillis reached a peak of nearly 700 students in the mid-1940s. But a gradual decline would follow in the coming decades as more families moved out of the inner city.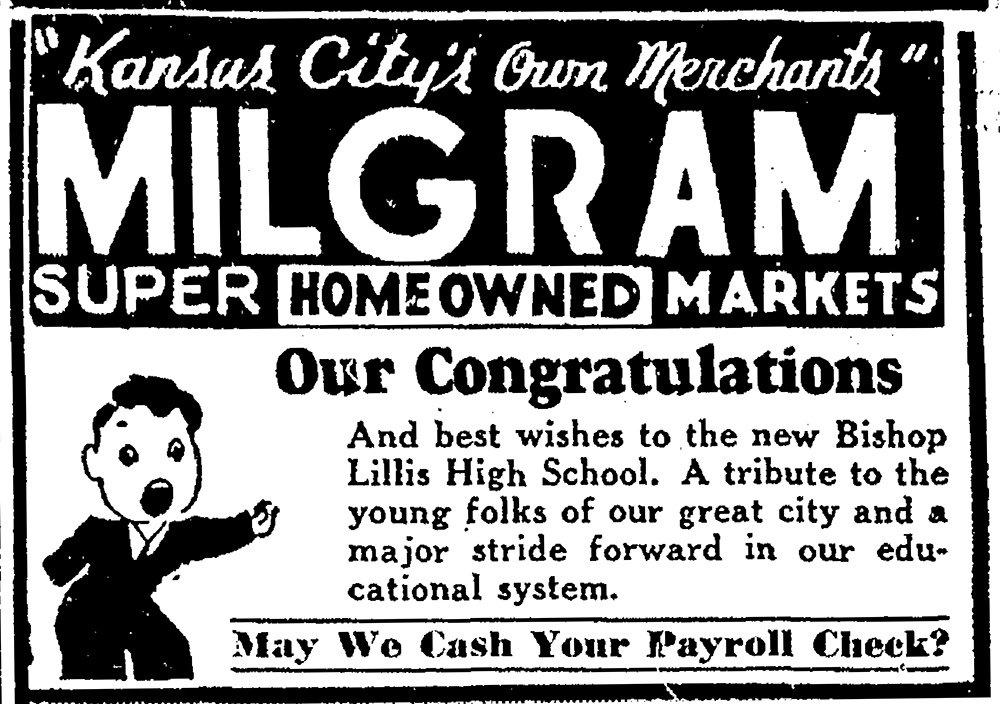 Milgram ad in the April 15, 1941, Kansas City Times recognizing the opening of Bishop Lillis High School.
Lillis was one of the more successfully integrated schools in the city during the post-civil rights era, with roughly equal numbers of African American, Hispanic, and white students enrolled in its final decade. That was attributed, in part, to being the last Catholic high school serving the city's urban core and to institutional efforts to cultivate an appreciation for the cultures and viewpoints of a diverse student body.
As feeder schools closed or consolidated in the late 1970s, Lillis' enrollment dwindled to under 300.
In 1978, a diocesan task force was appointed to study the future of the school and recruit students. However, when eighth-grade placement tests showed fewer than 40 students were interested in attending Lillis the next year, the decision was made to close the school effective May 1979.

Headline in the Feb. 1, 1979, Kansas City Star
The building was rented and eventually sold to the DeLaSalle alternative school. Since 1979 it has been home to the DeLaSalle Education Center.
How We Found It
Information about Bishop Thomas Lillis and Lillis High School was found in This Far by Faith: A Popular History of the Catholic People of West and Northwest Missouri and Catholic Churches and Institutions in the Diocese of Kansas City and Leavenworth, as well as in Kansas City Star and Times articles accessed electronically or found in the files of the Library's Missouri Valley Special Collections.
Former students of Lillis High School can relive memories of their time there by visiting the Kansas City Public Library's online collection of high school yearbooks: kchistory.org/yearbooks.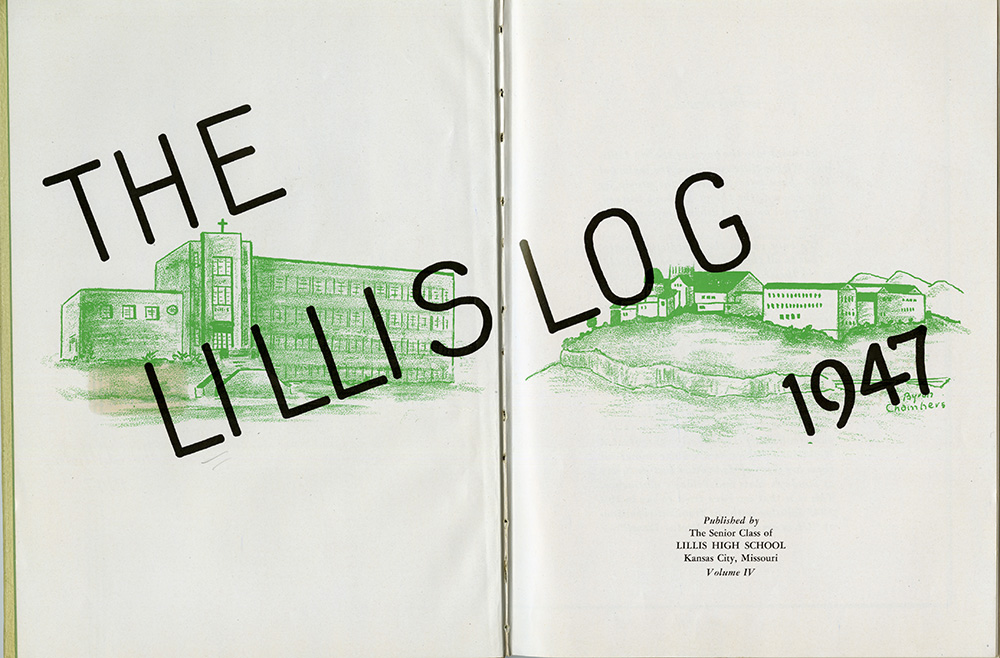 1947 Lillislog yearbook, Missouri Valley Special Collections, Kansas City Public Library.
Submit a Question
Do you want to ask a question for a future voting round? Kansas City Star reporters and Kansas City Public Library researchers will investigate the question and explain how we got the answer. Enter it below to get started.