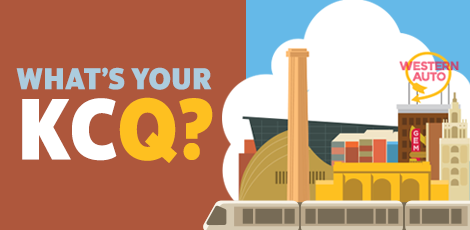 "What's your KC Q" is a joint project of the Kansas City Public Library and The Kansas City Star. Readers submit questions, the public votes on which questions to answer, and our team of librarians and reporters dig deep to uncover the answers.
Have a question you want to ask? Submit it now »
By Randy Mason
"What are those things anyway?"
That's one category of questions we tackle at "What's Your KCQ?," a partnership with the Kansas City Public Library.
Christopher Hope phrased his query far more precisely. He told us that a few years ago he noticed a pair of giant basins — each made with different materials — along the south side of I-470 near the exit for Raytown Road.
Hope had lived in the area near Longview Lake long enough to remember that a water treatment plant operated on the site decades ago. Now, he wonders, what exactly is going on out there?
Chris has the right idea. Kansas City, Missouri, does own that tract of land. In fact, it's home to one of its Leaf and Brush Drop-off locations.
But it also leases a large parcel to the Little Blue Valley Sewer District, which serves over 400,000 customers in 13 cities on the north and east sides of the metro.
As a result, travelers on that stretch of highway have been getting a glimpse of the district's new EFHB. That is, an Excess Flow Holding Basin. All 25 acres of it!
What happens in those basins?
Lisa O'Dell, assistant director for the Little Blue Valley Sewer District, explains it this way: When a big rain event maxes out the system's capacity, the district (from its headquarters in Atherton, Missouri) sends millions of gallons of storm and wastewater through an "interceptor" to the EFHB off Raytown Road.
It flows into the first cell, the one lined with concrete. There, as she puts it, "we capture as much of the solids and floatables as possible" so that the cleaner water can be "flushed back into the interceptor" and sent on to the wastewater plant for treatment.
In the meantime, water that flows beyond a large baffle at the east end empties into the far larger earthen basin.
Though this only happens an average of four times a year, a super soggy 2019 saw a dozen such occurrences. And every time, the post-rain cleanup in cell one is not for the faint of heart. Especially on a summer day with a south wind.
On go the rubber boots, gloves and masks. Out come the huge hoses, water cannons (!) and even a small tractor that make it possible for the crew to de-muck a stadium-sized concrete floor in less than a day.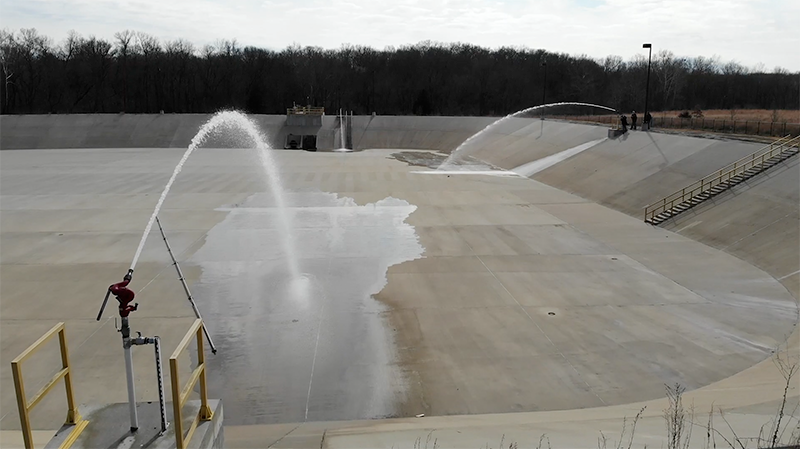 Kent Parrish, a conveyance tech for the district, said that other than the occasional dead animal he encounters, the process has largely become routine. But "visually it's gross…and that's the cleanest way to say it."
As for odor at the EFHB, O'Dell said that thanks to the speed of the cleaning crew, there've been few, if any, complaints.
"It's nasty, and everybody out here has stories," she said. "But it's important work. We're glad to let you guys flush and not worry about it. If that's the case, everybody here is doing their job."
And those of us at "What's Your KCQ?" promise to appreciate this job even more!
Submit a Question
Do you want to ask a question for a future voting round? Kansas City Star reporters and Kansas City Public Library researchers will investigate the question and explain how we got the answer. Enter it below to get started.