Last modified:
Monday, September 21, 2020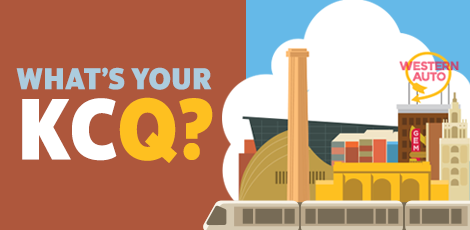 "What's your KC Q" is a joint project of the Kansas City Public Library and The Kansas City Star. Readers submit questions, the public votes on which questions to answer, and our team of librarians and reporters dig deep to uncover the answers.
Have a question you want to ask? Submit it now »
Joanna Marsh
New York City had Coney Island. Kansas City, Kansas, once had Carnival Park.
Carolyn Coulter discovered the bygone amusement park through some vintage postcards she owns, and reached out to What's Your KC Q. "I know about Electric Park but have never heard of this one," she wrote.
You're not alone, Carolyn. While many Kansas Citians are familiar with Electric Park on the Missouri side, its short-lived competitor across the state line is widely forgotten. To 20th-century visitors, however, Carnival Park might have been just as impressive. Both attractions were often compared to Coney Island and, while Carnival Park would only last for five seasons, it certainly gained its share of fanfare.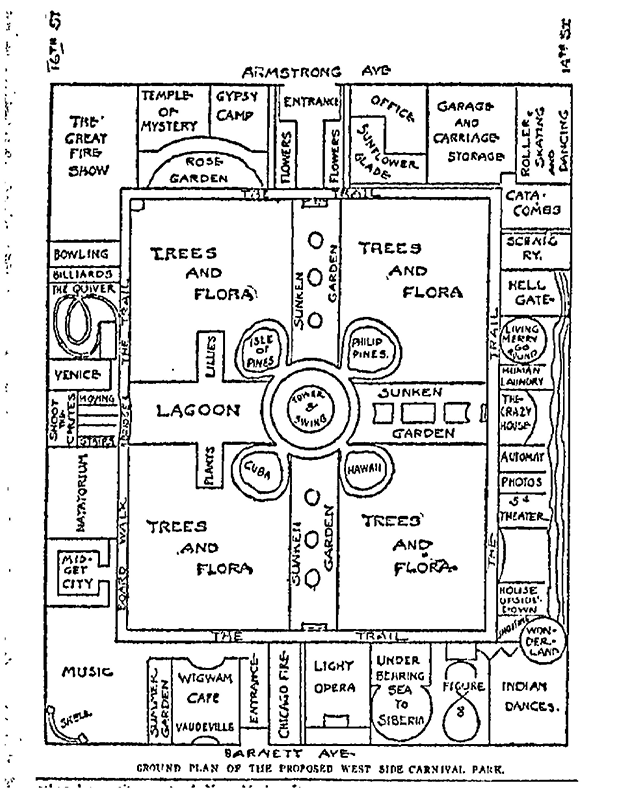 Plans for Carnival Park, The Kansas City Star, December 9, 1906
Amid demand for an amusement park in Wyandotte County, Carnival Park's board of directors intended to create a high-class establishment that would draw national attention to the area. After sending committee members to other famous parks for inspiration, the board decided to emulate Chicago's White City amusement park. The project would span a reported 13.5 acres, with the park itself occupying land from 14th to 16th streets between Armstrong and Barnett Avenue.
Designed by architect John H. Stem, Carnival Park was to be an elaborate "amusement garden" with construction costing up to $250,000. A Kansas City Star article described the park's overall aesthetic, which drew from the area's Wyandotte Nation heritage and "utilize(d) largely the Indian style of architecture, decoration and nomenclature." The entrance featured a 21-foot-high, Ionic colonnade "surmounted by an heroic figure of an American Indian, with large eagles on either side." The park also boasted 40,000 electric lights – 8,000 of them adorning a 150-foot tower intended to be visible from anywhere in Kansas City.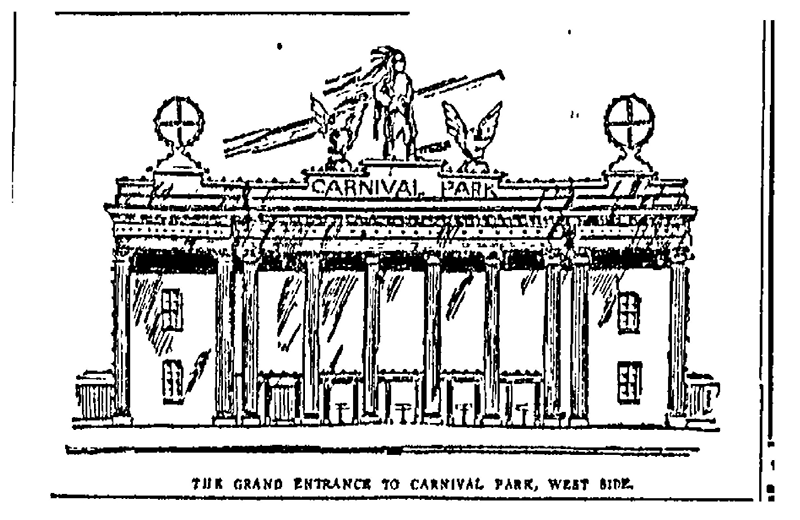 Grand Entrance to Carnival Park, West Side, The Kansas City Star, February 8, 1907
After relatively quick construction, Carnival Park opened May 25, 1907, with an estimated 20,000 people in attendance. The Metropolitan Street Railway Company, which had rebuilt its Minnesota Avenue line to accommodate the park, handled the transportation of visitors. During the evening ceremony, John C. Horton, president of the Carnival Park Association, introduced KCK Mayor D.E. Cornell, who gave the opening address. Visitors were treated to the sounds of Lambiase's Royal Venetian band, which played every afternoon and evening for the first two weeks. They also enjoyed free vaudeville performances and an exhibition by the Meier Family High Diving Children, the first of many traveling acts.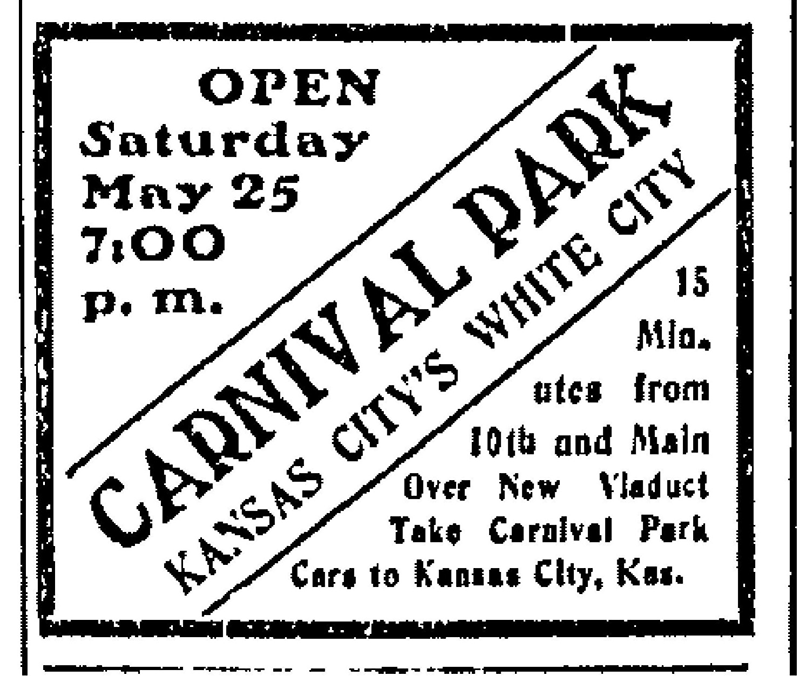 Advertisement from The Kansas City Star, May 21, 1907
Carnival Park's many other attractions made for a successful opening season. One of the most prominent was the Shoot the Chutes water ride, rising as high as 50 feet. Kids and adults could further enjoy a scenic railway, Ferris wheel, carousel, and a roller skating rink touted as the largest west of the Mississippi River. Oddities included a fun house, moving stairway, and a baffling ride called "Human Laundry." There were also dramatic panoramas and a visitor-operated moving picture machine.
Visitors strolling the boardwalk, called "The Trail," could admire sunken gardens, lily ponds, aquatic plants, and large sections of trees and flora. The Star reported that, twice a month, the park would host a "genuine Southern carnival time, when confetti and flowers, reasonable license, and fun will mingle." Each season would close in September with the bustle of the Merchants' and Manufacturers' Fair.
Despite its appeal, Carnival Park had only a brief run. A newspaper advertisement suggests the property was up for sale as early as June 1909, barely two years after its gates opened. The park's contents eventually were sold in the fall of 1911 to the Bargain Lumber and Salvage Company for a mere $5,000.
Though little about its closure was reported, a Kansas City Times article on November 11, 1911, claimed the owners were unable to profit from the park and the property was heavily mortgaged. Since Carnival Park was located in a dry state, others speculate that a lack of liquor contributed to its demise, while Electric Park – originally conceived to lure customers to the Heim Brewing Company – thrived in Missouri.
Eventually, the land that once contained Carnival Park was acquired by the Rev. Francis Johannes, who converted the property into the Bishop Ward High School athletic grounds in 1932.The school's playing fields remain there to this day, showing no trace of the "White City of the West" that once was.
Submit a Question
Do you want to ask a question for a future voting round? Kansas City Star reporters and Kansas City Public Library researchers will investigate the question and explain how we got the answer. Enter it below to get started.