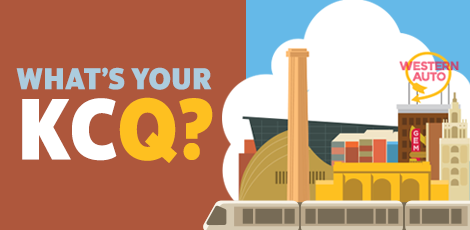 "What's your KC Q" is a joint project of the Kansas City Public Library and The Kansas City Star. Readers submit questions, the public votes on which questions to answer, and our team of librarians and reporters dig deep to uncover the answers.
Have a question you want to ask? Submit it now »
---
By The Kansas City Star
When Ed Asner died in August at the age of 91, he was hailed as a hometown hero.
And rightfully so.
Asner worked at his father's scrapyard in the West Bottoms and played football for Wyandotte High School. After graduation, he set off on an acting career that spanned 70 years and netted him seven Emmy Awards.
Ed's passing spurred reader Chris Martin to recall another Asner—Ben, who ran a successful record store in Kansas City several decades ago. Chris asked if "What's Your KCQ?" could tell the backstory of this notable fixture on the KC music scene.
So here goes…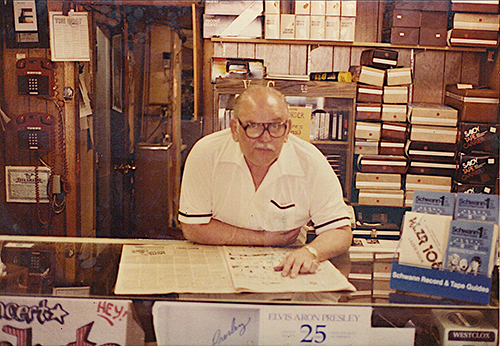 Ben Asner at the counter at Capers Corner in 1981. | Mike Webber
Benjamin Asner, born 14 years before his brother Ed, was apparently nothing if not gruff. In his autobiography, "Son of a Junkman," Ed credits Ben (and his middle brother Labe) as the inspiration for Lou Grant, a character who made surliness fun.
The store that Asner owned and operated from the late 1960s until the mid-1980s was Capers Corner at 4620 Mission Road—near where Taco Republic stands now. It was a mecca for music fans in search of LPs, tapes, concert tickets and what were euphemistically known as "smoking accessories."
"I always thought of Ed as Ben's brother, not the other way around," Jay Plumb says with a laugh. Much of Plumb's disposable income was spent on music at Capers Corner in his teens, adding that "I knew Ben must be the boss because he was yelling at everybody."
But Asner's path to record store royalty was far from typical in those hippie-dippy days.
Nicolette Larson greeting fans during an in-store appearance at Capers Corner. | Mike Webber
In 1941, after what Ed Asner's book describes as "some trouble with the law," Ben Asner joined the Navy, ferrying boats for the war effort. In 1946 he opened a building supplies business at Fourth & State Avenue in Kansas City, Kansas, not far from the train yards.
Asner Block & Building Materials lasted for 20 years. But along the way Asner discovered the retail potential in what railroads called "damaged freight." The shipments of all manner of goods that had just enough flaws to be sold at greatly reduced rates.
Asner would buy the goods, load up his car, and hawk them at construction sites, at factory parking lots around the metro and at his home on Mission Road in Roeland Park, he later told the Kansas City Star.
Don Mayberger, a Shawnee Mission East High School student at the time, also worked at the Fine Arts Theatre in Fairway. He recalls accompanying his boss to Asner's house one day "to check out some suits."
While the clothes didn't interest him, the records and 8 track tapes he saw there definitely did. Soon, Mayberger (Ben liked to call him "cousin") was hauling off loads of vinyl to sell in the dorms at the University of Kansas.
In 1969, convinced that nothing sold better than records, Asner decided to make it official. He set up shop just north of the Wyandotte County line, and named the new store in honor of Caper, his prized Dalmatian.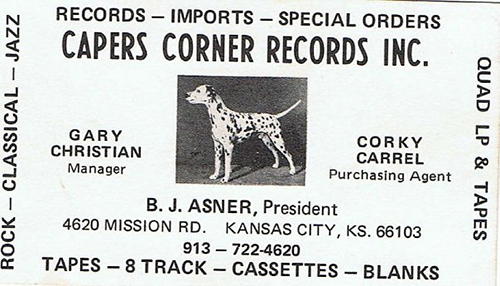 Ben Asner's business card featuring Caper himself. | Mike Webber
Thus, the sign for Capers Corner should have had an apostrophe. But it didn't.
"I don't think Ben was an English major," Mayberger says wryly.
He wasn't an expert on popular music either. Capers Corner employee Mike Webber remembers Asner "mangling" artists' names—for example, "Peter, Paul and Simon."
Asner's genius, according to Darrell Lea, who also worked at Capers Corner in the '70s, was surrounding himself with smart, passionate people who knew the record business. Folks like store manager Gary Christian, buyer Corky Carrel and jazz aficionado Ed Harvey.
The small, spartan storefront was quickly filled to the gills with imports, bootlegs and plenty of the new releases that rock fans hungered to own.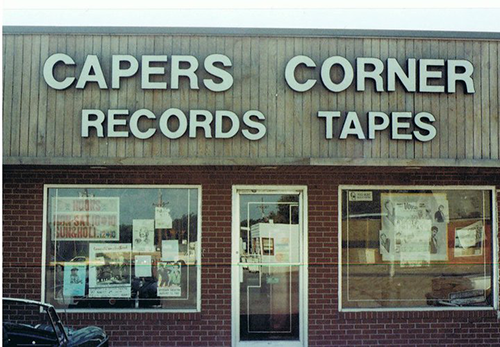 Capers Corner at 4620 Mission Road. | Mike Webber
They also lined up (and sometimes camped out) to buy the era's pre-computerized concert tickets—the best of which Asner held back for his favorite customers. People like Plumb, who bought lots of records!
In 1977, an article in the Kansas City Times titled "Ben Asner: On the Record" reported that the store had already undergone two expansions. He told the paper that "500 people come through the store each day," and that "only one in 10 doesn't buy anything." The 62-year-old also pointed out that "You always stay young in this business."
What the article didn't mention was an incident that made headlines just three years earlier.
On the night of March 13, 1974, Asner was shot and robbed in his Roeland Park driveway shortly after closing the shop. A bullet lodged near his spine, and another ripped through his hand. The assailant escaped with a small amount of money, and Asner was rushed to the hospital in serious condition.
Shortly before that, the store itself had been held up at gunpoint. Naturally, rumors flew—was all this a message from the mob or a vendetta of some kind?
No one was ever charged with the crimes.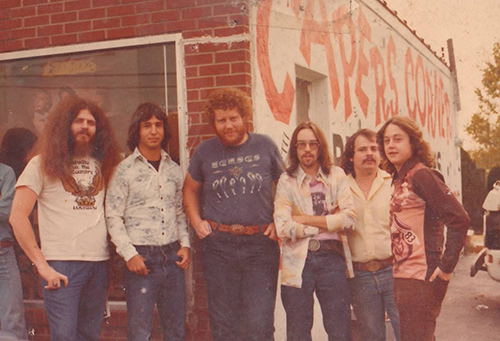 The rock group Kansas making an in-store appearance at Capers Corner. | Roger Jones
Amazingly, Asner recovered from his wounds, but a kinder, gentler man did not emerge. Since he preferred to run the front counter (and watch TV) in the evening, the staff relished the calmer hours that came before it. Around mid-afternoon Darrell Lea says someone was always assigned "to sound the alert— 'he's here!'"
But as bellicose as Ben could be, Lea believes it was really "a bit of a front." Sometimes on Sundays after work, the two would grab a bite at Pumpernik's Deli in Leawood, and the boss's tough guy countenance would soften.
Mike Webber, who started working at the store when he was sixteen, concurs.
He still marvels at how the same guy who trash-talked him so fiercely could offer "a wad of cash" to help him on prom night. Once Ben and his wife Nina even took Webber and co-worker Andy Gershon with them to an Asner family reunion.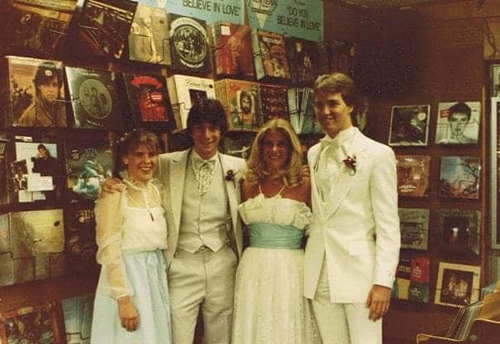 Kelly Burke (now Meagher), Andy Gershon, Dana Paul (now Blum) and Mike Webber
stand at Capers Corner before prom in 1982. | Mike Webber
"Working for Ben Asner at that point in my life was probably the best thing that could have happened to me," Webber says. Business decisions he's faced throughout his career "weren't near as tough as going toe-to-toe with Ben."
As Ed's TV fame continued to grow, the elder Asner often chatted with customers about his "big shot brother." On occasion, Ed would drop by the store to shake some hands and partake in a little good-natured ribbing. Lea still has an 8x10 glossy that Ed signed for his mother.
But by the early 1980s, mom and pop shops like Capers Corner could see the writing on the wall. Big chains were biting into the profits, and record companies didn't seem to care.
To paraphrase Bob Dylan, "the times they were a changin'" and Ben's health was headed downhill too. Complications from diabetes and problems with one of his legs had slowed him considerably.
On March 4, 1986, Ben Asner died at Shawnee Mission Medical Center. He was 71.
Just a few months earlier the doors at Capers Corner were closed for good. "The best record store in the free world," as the ads called it, was music history.
Though Ed and Ben worked in distinctly different corners of the entertainment industry, their final resting place brought them back together. The brothers Asner are buried alongside their parents and siblings at Sheffield Cemetery in Kansas City's Historic Northeast.
Submit a Question
Do you want to ask a question for a future voting round? Kansas City Star reporters and Kansas City Public Library researchers will investigate the question and explain how we got the answer. Enter it below to get started.