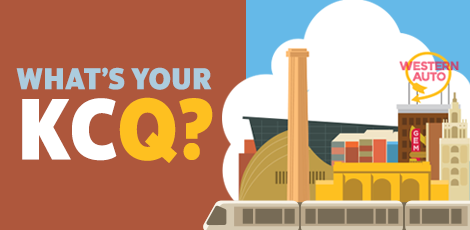 "What's your KC Q" is a joint project of the Kansas City Public Library and The Kansas City Star. Readers submit questions, the public votes on which questions to answer, and our team of librarians and reporters dig deep to uncover the answers.
Have a question you want to ask? Submit it now »
---
by Sara Decaro | LHistory@kclibrary.org
Interest in Kansas City's Swope Park continues to percolate as the weather warms and in the wake of a recent What's Your KCQ? look at the history of the 1,805-acre expanse of green space.
It was 126 years ago that real estate tycoon Thomas H. Swope donated the land to the city. A follow-up KCQ questioner wonders: What inspired his generosity?
The answer is a little complicated and may surprise you.
Born in Kentucky in 1827, Swope, like many others, came to Kansas City to make it big in business. He had a knack for real estate, and a series of smart property investments and frugal living helped him amass a fortune.
By 1893, Swope was a well-established, though somewhat reserved local businessman. The purchase of a 1,334-acre tract of farmland called Mastin's Grove south of the city added to his vast holdings. At the time, he intended to continue using the land for agriculture. In June 1896, however, Swope famously donated it to the city (which eventually would acquire 500 adjacent acres).
To many, Swope's gift looked like pure benevolence — at first.
Swope was reportedly fond of the city that made him wealthy, which seemed to have prompted the gift. At the park's opening jubilee on June 25, 1898, too shy to give a speech but visibly moved by the throngs of people singing his praises, he jotted down a note and handed it to a reporter. The message read, "I have often heard it said that gratitude is a scarce article in this world, but from this time on I shall reject and ignore that pessimistic sentiment."
Historian William H. Wilson has suggested another motive for the donation. His book "The City Beautiful Movement in Kansas City" explores a period when city leaders sought to mask the effects of industrialization with urban beautification projects like tree-lined boulevards, fountains, and of course, parks.
His text informs the following:
The 1893 World's Columbian Exposition in Chicago was a milestone event for urban planning. Designers and architects for the five-month event wanted to present a new vision for urban spaces, with signs of industry hidden away and decay averted. Collectively, the temporary structures built for the fair became known as "The White City." Many city planners and architects who attended were impressed and returned home with big ideas for the future.
Like other Midwestern metropolises, Kansas City had sprung up in a hurry. Booming business and industry along the riverfront and in the West Bottoms had given it a rough exterior. City Beautiful supporters wanted a place that made residents proud. to rebuild a city that could make residents proud. New parks and green spaces would provide opportunities for recreation and help attract new investment.
Kansas City had created a Board of Parks in 1892, and City Beautiful advocate and newspaper publisher William Rockhill Nelson saw that its efforts were covered extensively in The Kansas City Times and Star.
Landscape architect George Kessler, a student of Frederick Law Olmstead, designer of New York City's Central Park, was tasked with designing Kansas City's parks and boulevards system. He appreciated bluffs and natural waterways that gave the city its distinctive terrain and worked them into his designs. This was an ingenious move, but also an expensive one.
To pay for Kessler's plan, property tax increases were necessary. Swope, with his extensive real estate holdings, faced a significant hike. He certainly could have afforded the increase, but higher taxes didn't sit well with him.
Wilson, whose book on the City Beautiful movement was released in 1964, maintained that while it is possible Swope donated the land in part for altruistic reasons, he also may have been motivated by tax avoidance. "He doubtless foresaw that the proposed system of improvements meant heavier taxes on his real estate holdings," Wilson wrote, "and hoped to provide a substitute for planned development with the dramatic donation of a monster park."
In short, if there were to be infrastructure improvements for parks, it was best that they happen in a far-flung corner of the metro area — and be paid for there, outside Kansas City — rather than closer to home.
Swope's activities following the park donation support that conclusion.
An anti-park organization called the Taxpayers League emerged in the late 1890s to protest new taxes for parks and boulevards. Swope was an active member. The activists circulated anti-tax petitions, spoke up at city council meetings, and tried to delay or prevent construction of new parks and boulevards.
Swope's involvement did not go unnoticed. Nelson and his newspapers staunchly supported the city's plan and printed numerous articles in support of Kessler's vision. They also took aim at Swope for his opposition.
A cartoon depicting a man named "Colonel Stope" appeared in the March 24, 1897, issue of The Star. He is addressing a group of "downtrodden millionaires" in top hats and perched on billboards in a water-logged vacant lot. Swope just happened to own a very similar property near The Star's offices.
The accompanying text is also a clear parody of the Taxpayers' League, mocking it for opposing progress. "What use have we for sewers?" Colonel Stope says. "With sewers came unnatural luxuries."
Although the Taxpayers League was active for several more years, most Kansas Citians were in favor of the parks and boulevards system, and organized opposition largely died out after the turn of the century.
Swope died in 1909, ending his attempts to block the city's plans. Today, those efforts are mostly forgotten, and he is remembered best for the vast park enjoyed by generations of Kansas Citians that bears his name.
Submit a Question
Do you want to ask a question for a future voting round? Kansas City Star reporters and Kansas City Public Library researchers will investigate the question and explain how we got the answer. Enter it below to get started.