Juneteenth marks the emancipation of enslaved African-Americans following the end of the Civil War. On June 19, 1865, Union soldiers arrived in Galveston, Texas, delivering the news that the war, and slavery itself in the United States, had come to an end — two months after the surrender of Confederate forces, and nearly 2 1/2 years after the Emancipation Proclamation freed slaves in the South.  This milestone in America's history came to be known as Juneteenth — combining "June" and "Nineteenth" — and is observed annually, providing a chance for the nation to celebrate and explore the meaning of freedom, then and now.
Just in time for 2021's Juneteenth, Congress passed long-discussed legislation making the date a federal holiday — the 12th in U.S. history. President Joe Biden signed the bill into law on June 17.
In celebration of the new official holiday, the Library offers a number of book recommendations, films, and a special event that highlight the history of the Black experience in America.
On Juneteenth
Annette Gordon-Reed
Monday, June 28, 2021  |  6:30 p.m.
Online Event - watch at YouTube.com/kclibrary
Pulitzer Prize-winning historian Annette Gordon-Reed discusses her new book On Juneteenth, in which she weaves American history, dramatic family chronicle, and searing episodes of memoir into a series of essays on our "long road" to the effective end of slavery on June 19, 1865.
Explore suggested reading and resources in these catalog lists prepared by Library staff. Browse books, find podcasts, and visit other digital collections.
Juneteenth: History of Emancipation
In commemoration of the Juneteenth holiday, June 19, 1865, the day slavery officially ended in the United States, the city of Kansas City, Missouri declared a city-wide holiday to encourage citizens to participate in a day of service. Learn more about the history of the holiday in this list of resources from the Kansas City Public Library.
Celebrate Juneteenth!
A list of books for the celebration of Jubilee, Emancipation, Freedom, and Liberation Day.

Juneteenth Youth Picks
Young readers can explore the history of Juneteenth with these titles.
Watch a selection of cinema celebrating Juneteenth - documentaries, dramas, comedies, and more - streamed to your computer or mobile device using the Library's free digital services such as Kanopy.
Juneteenth films on Kanopy
About Kanopy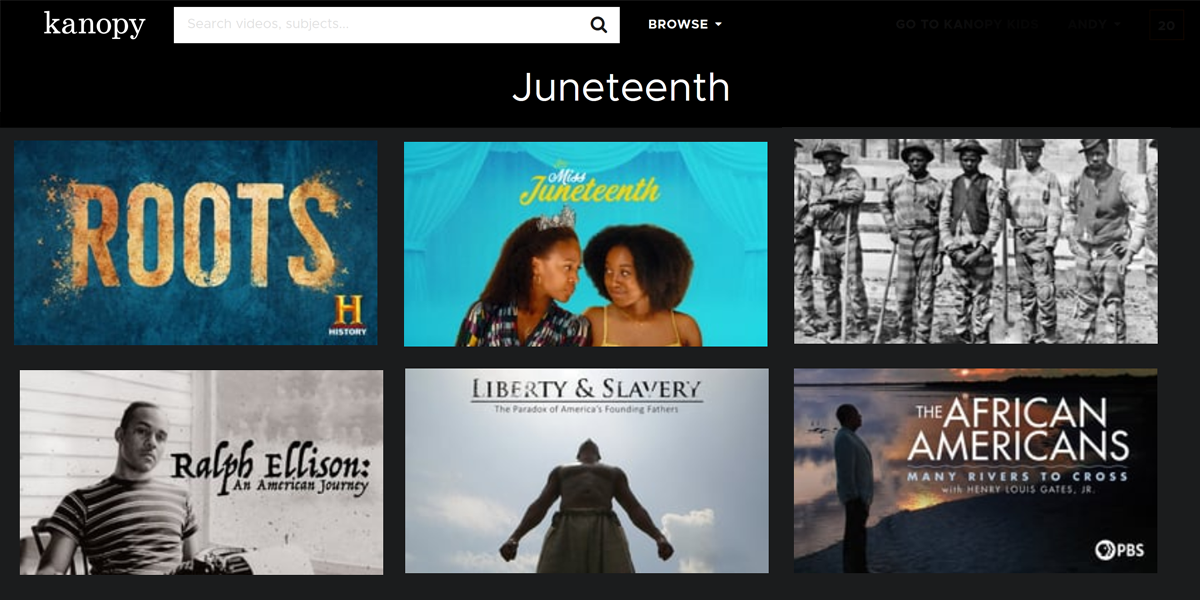 RESEARCH AND DATABASES
Black Thought and Culture
is a  digital collection of approximately 100,000 pages of non-fiction writings by major American Black leaders—teachers, artists, politicians, religious leaders, athletes, war veterans, entertainers, and other figures—covering 250 years of history. In addition to the most familiar works, the resource presents a great deal of previously inaccessible material, including letters, speeches, prefatory essays, political leaflets, interviews, periodicals, and trial transcripts. The ideas of over 1,000 authors present an evolving and complex view of what it is to be Black in America.
Library card required to access from home.
(Need one?
Get an eCard immediately
!)