Borrow a Library-provided Chromebook for all your personal online needs. Use for education and research, check your email, browse websites, pay bills online, apply for jobs, stream music or movies, and more!
Chromebooks are limited to one checkout at a time per account.
How to borrow a Chromebook:
Visit the catalog to place a hold and have a Chromebook delivered to the Library location of your choice. Or contact us by phone, email or chat.
When you receive notice the Chromebook is ready at your selected location, proceed to the customer service desk and let them know you're picking up the device.
When you check out a Chromebook, you'll need to agree to the Terms of Service for the program.
You have 21 days to use the Chromebook, with no renewals.
Return it to any Library location inside, during open hours, or using the outdoor book drop boxes.
There is no cost to you to use the device.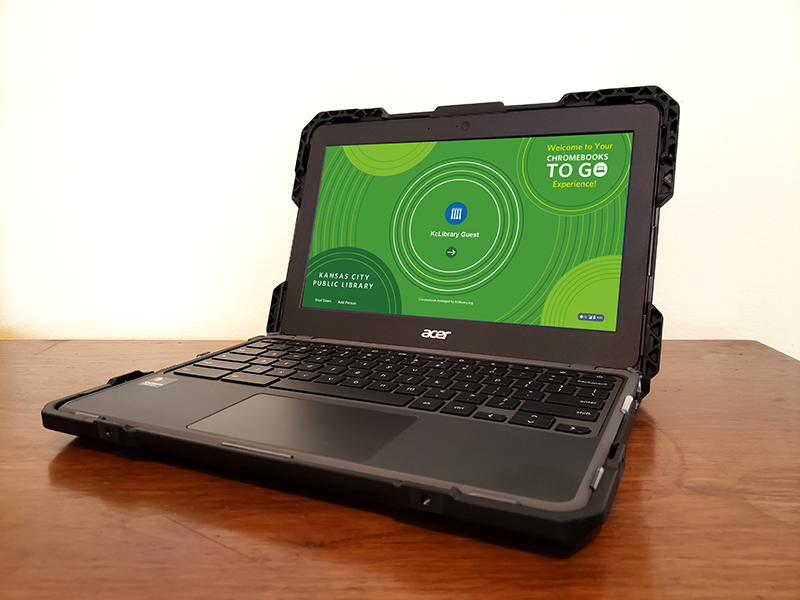 Borrow a Chromebook Library card required. Need one? Sign up here »
Learn How to Use a Chromebook
Learning how to use your Chromebook just became more exciting! Start your digital learning journey with Wayfarer, the library's learning tool that can be personalized to your needs. Explore, starting with the basics until you are a Chromebook expert.
Whether it's your first time using your Chromebook, or you already know how to use a Chromebook, there will be something new for you to learn. Click here to start your digital learning journey!
Chromebook FAQs
This service was made possible through the support of library district residents with the 2018 levy increase, a generous gift from the Friends of the Kansas City Public Library, the Marion and Henry Bloch Family Foundation, and the H&R Block Foundation.
The Tech to Go Program is supported by the Emergency Connectivity Fund administered by the Federal Communications Commission and the Institute of Museum and Library Services under the provisions of the Library Services and Technology Act as administered by the Missouri State Library, a division of the Office of the Secretary of State.