Using your Library is even easier with the latest updates to our mobile app, available for Android and iPhone users.
The completely refreshed KC Library app lets you use your phone or tablet to conveniently search our catalog of books, movies, music, and audiobooks. You can also place holds on items you want to borrow, renew your checkouts, and view your account information, including due dates on current checkouts, your list of holds, and any fees. Just log into the app using your library card number or catalog username plus your PIN, and use your Library on the go, anywhere, any time!
Digital Branch manager David LaCrone thinks patrons will find the latest updates to be valuable, leading to a better experience. "The best feature of the new app is that it displays all the different formats in the same record – print books, eBooks, audiobooks, large print – it's all there."
Among the new offerings: the ability for the app to use your phone's camera to scan the barcode on any book's back cover and look it up in the Library's collection. "I love the new UPC code scanner," notes LaCrone. "If you see a book at a friend's house or a bookstore, you can scan the code and immediately see if it's available at the Library."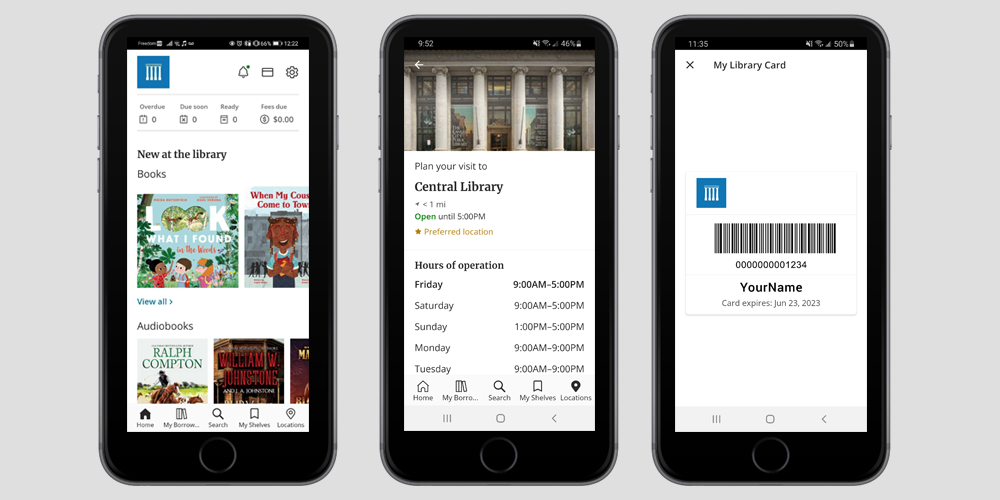 Aside from browsing the catalog and viewing your account information, the KC Library app offers several other handy tools and features: 
The app offers a digital version of your Library card – no need to carry your physical card with you! Bring up the barcode on your phone screen, then scan it as you would your card at a customer service desk or self-checkout machine.  
Use the built-in barcode scanner to read UPC codes and ISBN numbers on book covers and quickly see the record for that title in the Library catalog.  
Get full access to your Shelves in your catalog account to keep track of what you're reading or what's on your wish list: For Later, In Progress, and Completed.
Rate titles in the collection, and view other star ratings from other Library users.  
Find your preferred Kansas City Public Library location and view hours of operation. 
Explore topic lists created by Library staff and other catalog users.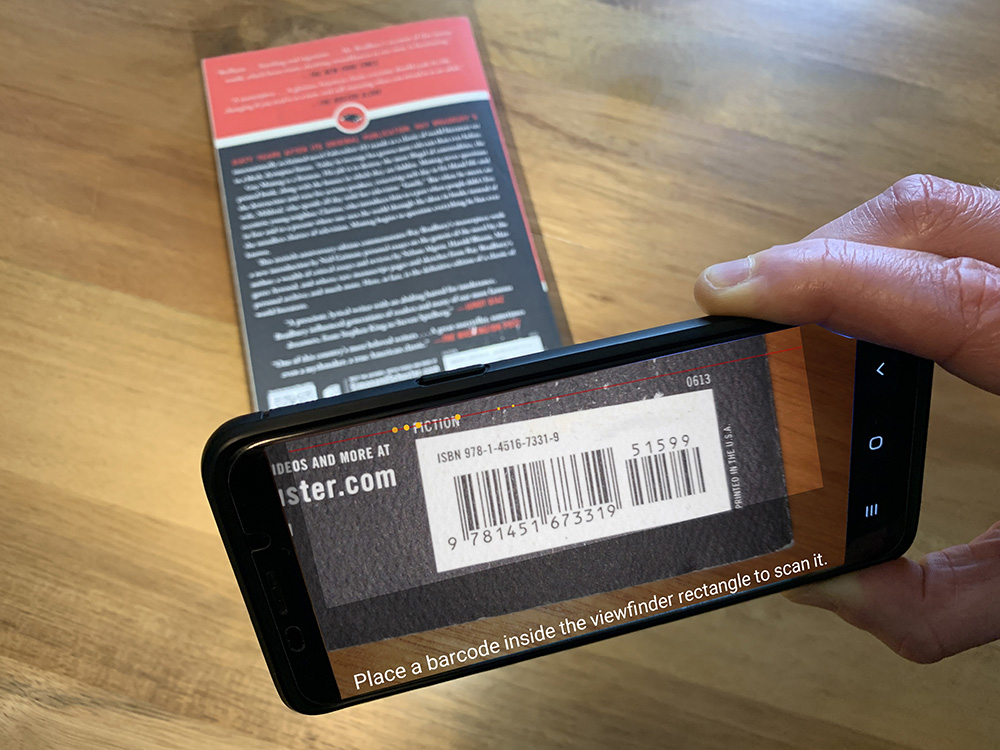 The KC Library app lets you use your phone's camera to scan a book's barcode
on the back cover and look it up in our catalog. 
If you already use the app, you will be prompted to update to the new version, or you may need to refresh or reinstall it. Don't have it on your device yet? Download it now at kclibrary.org/app.  
Library card required. Don't have one? Get one!