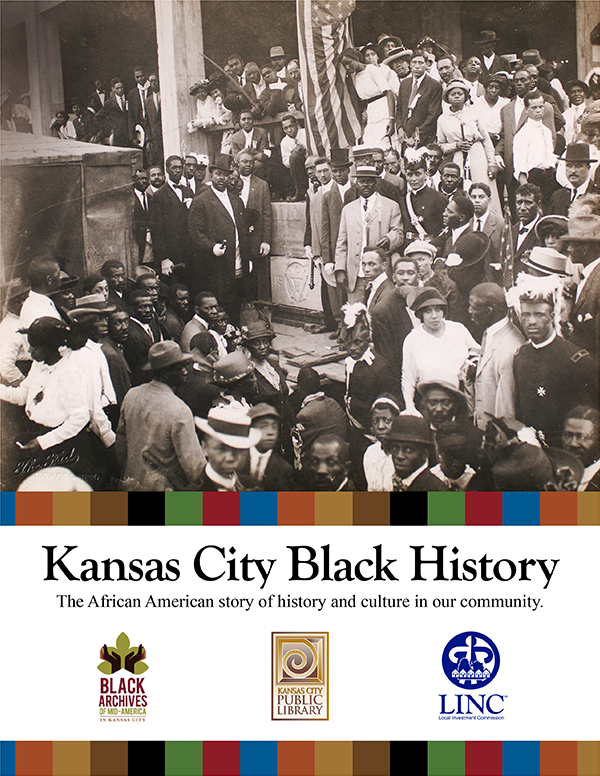 Each year, the Library partners with the Local Investment Commission (LINC) and the Black Archives of Mid-America to produce a Black History Month booklet celebrating the legacies and accomplishments of notable African Americans who blazed trails, broke barriers, led and left a mark on Kansas City history. The special 2020-21 edition, Kansas City Black History: The African American story of history and culture in our community, compiles the stories of more than 70 influential figures — with new essays from several local contemporary voices.

We "chant their names," writes Kansas City poet Glenn North within the pages that follow, "almost as if holy." The poet is joined by other contemporary voices whose essays complement the project's collection of biographies. 

In his introduction, Kansas City, Missouri, Mayor Quinton Lucas imagines a child like he once was, with a new library card, discovering these stories and growing up to understand "we are constantly creating new history." 

Black Archives of Mid-America Executive Director Carmaletta M. Williams calls the names of history in an essay praising a city that has flourished because of these Black Kansas Citians who "sat up, sat in, kicked down doors, and broke through glass ceilings. " 

Negro Leagues Baseball Museum President Bob Kendrick writes of the league's founders' own Declaration of Independence that not only unleashed the daring business of baseball but the wider power of Black enterprise.  And Justice T. Horn, a young community leader and social justice activist, writes of how Kansas City's socially active youth "are our father's wildest dreams and must continue to lift others." There is no rest, he says. "We must be smarter, stronger, and better than ever." 

This publication chronicles African American educators, activists, entrepreneurs, entertainers, and athletes without whom there would be no Kansas City as we know it.  A limited number are available at Kansas City Public Library locations using our Pop In/Pick Up service. A digital edition of the booklet is available to download and print for free.

The featured profiles and essays from the booklet will also appear on a companion website, KCBlackHistory.org, launching in early February.  An additional resource will be  several lesson plans related to the publication  that the Library is developing in collaboration with local educators.
 
---