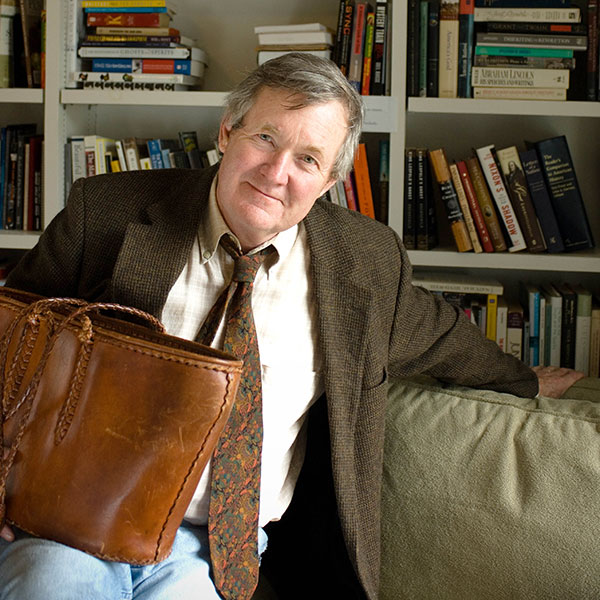 Kansas native Robert "Bob" Day made his most notable contribution to literature with his best-selling Western novel The Last Cattle Drive, released in 1977. But his legacy extends far beyond that, including a literary-focused teaching career that began at Fort Hays State University and stretched for 35 years at Washington College in Chestertown, Maryland.  
Day, who died Thursday, January 6, 2022, also was – and will remain – a presence at the Kansas City Public Library through his establishment of the Robert and Kathryn Day Endowment for the Literary Arts. It provides for an array of literary initiatives including such signature programming as a discussion with author and well-known creative writing teacher Margot Livesey in 2018. 
Day bequeathed a large portion of his estate, including all royalties and revenues from his literary works after his lifetime, to the Library. "We want to encourage the literary life in Kansas City in perpetuity," he said.  
His papers are housed at the Library. 
Day, raised in Merriam, Kansas, earned both bachelor's and master's degrees at KU and a Master of Fine Arts degree from the University of Arkansas. He worked at one point as a cowboy and farm hand on a ranch north of Hays and drew on those experiences in writing The Last Cattle Drive, his debut novel. Revolving around a contemporary Kansas rancher who rebels against the high price of trucking cattle by driving his herd overland across the state, the book became a modern Western classic. 
His other works include award-winning short stories, memoirs, and a second novel, Let Us Imagine Lost Love, which Day discussed at the downtown Central Library in December 2015. He released For Not Finding You, a short sequel to Last Cattle Drive, in 2021. 
He and Kathryn, an accomplished painter, made their home in northwestern Kansas near the unincorporated community of Ludell. In his honor, the UMKC-affiliated literary magazine New Letters established the international Robert Day Award for Fiction.
Day died of Parkinson's disease at age 80. Kathryn Jankus Day survives him. 

"As a native westerner who also studied the history of the American West during my academic career, I am especially interested in the work of of Bob Day," Library Director John Herron said. "I look forward to the creation of new public programming at the Kansas City Public Library to honor his memory and his impressive career."
The Robert and Kathryn Day Endowment for the Literary Arts is curated by the Library's director of readers' services, Kaite Stover. Five members of the Kansas City literary community serve on an advisory board: Mary Bunten, former executive director of The Writers Place; Lawrence, Kansas, writer Mary O'Connell; Bob Stewart, former editor of New Letters magazine and its KCUR-FM radio companion New Letters on the Air; novelist and University of Missouri-Kansas City associate professor and Creative Writing Director Whitney Terrell; and Fred Whitehead, co-editor of Freethought on the American Frontier, a collection of memoirs, essays, political cartoons, songs, and poetry lending insight into the social history of the West, and editor of two volumes of poetry.   
"Bob Day is the author of a cult classic and has himself become something of a cult classic," then-Library Director Crosby Kemper III said when the generous gift to the Library was announced. "The Kansas City Public Library is proud to be the keeper of his legacy."