Post date:
Wednesday, November 11, 2020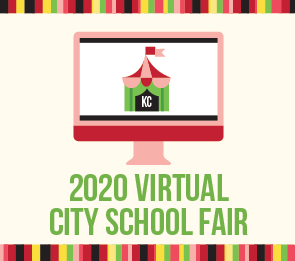 For the past five years, the Kansas City Public Library has hosted the Show Me KC Schools City School Fair, giving residents a chance to meet with representatives from the many public, private, faith-based, charter, and independent schools serving our community.
While the Fair has moved online this year in response to the COVID-19 pandemic, the Library's Youth & Family Engagement staff remained eager to be involved in any way they could.
"I spoke with the Show Me KC Schools people back in July, and we started brainstorming ideas of how we could do the fair," says Kim Angotti, operations administrator for the Library's youth and family engagement team. "When they settled on an online platform, we decided the best way the Library could contribute is by doing one of the things we do best: providing computer and internet access to those who might not have it at home."
The school fair takes place from 10 a.m. to 1 p.m. on Saturday, November 14, 2020, with 60 schools set up at "virtual booths" where families can visit with officials and collect the information they need to make informed decisions. 
"The Library will also have a booth that parents can visit," Angotti says. "Ours will obviously be a little different, but it will give us a chance to share some of the resources (homework help, Wi-Fi hotspot lending, etc.) that are available through the Library."
Parents can register for the fair at showmekcschools.org. 
Public computers at the Library's Bluford, Southeast, and Waldo branches will be reserved during that time for families wishing to attend the virtual school fair. Ninety-minute sessions can be reserved in advance by calling 816.701.3597.
In accordance with the Library's policy on public computer use, all equipment and workstations will be cleaned and sanitized between sessions. Masks must be worn while inside the Library.