The Kansas City Public Library is thrilled to be home to one of 154 hearts, each 5½ feet tall, in Kansas City's public art 
Parade of Hearts
. Our two-sided
entry is
titled
C
ommunity Bookshel
f,
a mini, heart-shaped echo of the beloved, 42-title
Community Bookshelf
parking garage at the Central Library on 10th Street between Wyandotte Street and Baltimore Avenue.
One side of the heart features a red oak bookshelf filled with many of the same classic literature titles, suggested by Library patrons nearly 20 years ago, that adorn
the outside of the parking garage. The middle of the heart is embossed with a big "KC." On the opposite side, two book-lovin
g
cartoon squirrels celebrate reading, their bushy tails joining to form yet another heart. 
A messy pile of white fiberglass books surrounds the base of the heart,
which was designed and sponsored by 
Dimensional Innovations
 in Overland Park, Kansas, and 
Whiskey Design
 in Kansas City.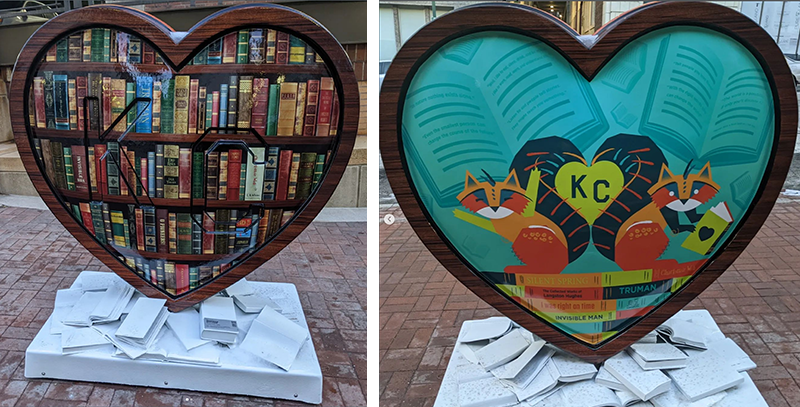 Whiskey Design's owner and creative director, Matt Wegerer, said that while his company has handled the branding, app, product design, and website for Parade of Hearts, the idea for the Library's heart came from Dimensional Innovations – also the designer of the original Community Bookshelf.
"They wanted to create something that felt right at home with the design of the exterior of the Library but also have a fun surprise for those who viewed the heart from the other side," Wegerer said.
The succession of heart sculptures dots
five
Missouri and Kansas
counties and
features the work of
123 Kansas City-rooted artists ranging in age from
8
to 71. Organizers selected artists from a pool of 700 applicants. Thirty
different
cities are home to the sculptures, and Parade of Hearts organizers
say they
hope Kansas Citians will visit parts of
the metro area
they usually don't venture into. 
According to
KCUR 89.3
, the idea for the parade came from a conversation between Charlie Hustle owner and CEO Chase McNult
y
and Tucker Trotter, the CEO of Dimensional Innovations
.
Trotter said, "There was so much happening in the world, and there was so much division, and we felt like here's an opportunity for us to set an example for other cities and communities, what it looks like to unify, what it looks like to come together." 
The hearts will remain on display
through May and then be auctioned off in June. All money raised by the sale of the hearts and Parade of Hearts merchandise will benefit those in Kansas City hardest hit by the pandemic via 
five main beneficiaries
: the University of Kansas Healthcare System, AltCap, the Visit KC Foundation,
and
the artists who designed the hearts.