Post date:
Monday, September 21, 2020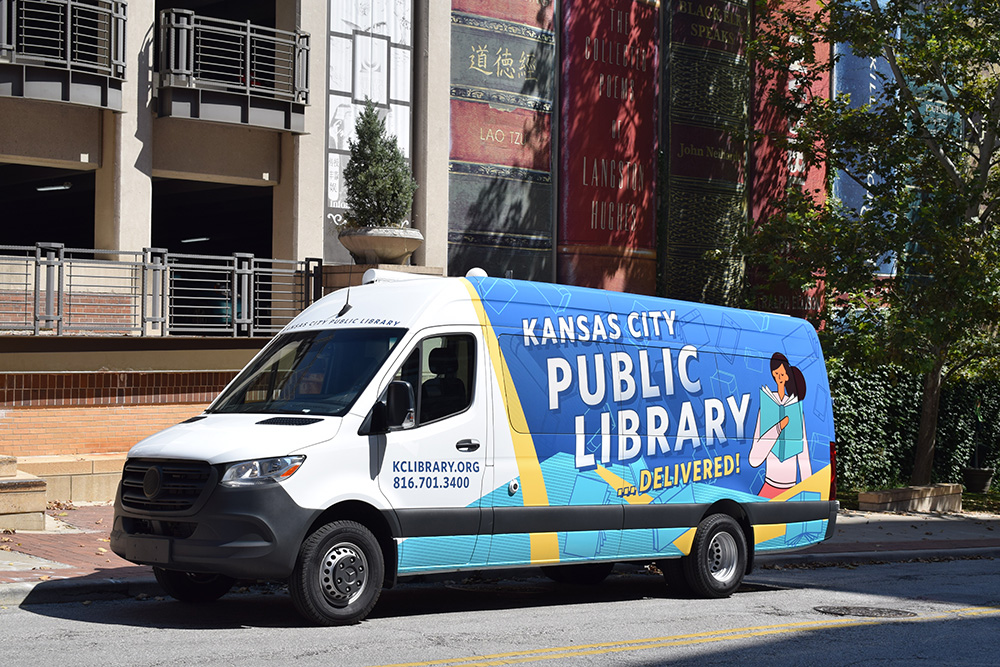 It would be kind of retro-cool to bill the Library's new outreach vehicle as its first bookmobile in more than half a century.  
Except it's more than a bookmobile.  
The customized, brightly emblazoned cargo van hit the streets Thursday, September 17, 2020, ferrying bags of books, audiobooks, and DVDs to residents of area senior living centers as part of the Library's Lobby Stops program. It will be a frequent presence at other outreach events and activities, transporting displays, supplies, and other materials and serving as a pop-up gathering place. Equipped with Wi-Fi, it'll also eventually provide patrons who need it with essential internet access. 
The vehicle ultimately will carry a rotating collection of books for on-the-spot browsing and checkout … like, you know, a traditional bookmobile. 
It's the centerpiece of an expanding mobile services program overseen by a new mobile library services manager, Sandra Davis, and buttressed by voter approval of a modest increase in the Library's operating tax levy in November 2018.
"I'm extremely excited to be a part of broadening our senior services and Books to Go programs, as well as establishing mobile library services," Davis says. "Bringing the Library to those who can't come into the Library is vital." 
She arrived at the Library in March, eight days after the COVID-19 pandemic forced the closure of all 10 of its physical locations and a day before a citywide stay-at-home order took effect. Davis spent nearly six years before that at the Kansas City, Kansas, Public Library, starting as a mobile librarian and moving up in 2017 to mobile services supervisor. 
She already has overseen the move of KCPL's mobile services program to a new home, a converted warehouse on Truman Road just minutes away from the Library's L.H. Bluford and North-East locations. The new vehicle arrived at the end of August.  
It has been a swirl of moving parts, plus a pandemic. 
"It's pretty challenging. I've felt lost a lot of times," Davis says. "But when we finally got moved into the new building … just being around the staff, it made me feel better. Getting to talk to everyone in person and seeing things and arranging our building and everything, that has been helpful." 
Her six-person team, part of the Library's Outreach Department, implements a range of mobile services. Lobby Stops are a priority for the new vehicle, which will serve seniors at 13 living centers across the area. It's expected to extend the reach of other Library services, potentially from the notarization of absentee and mail-in election ballots to the delivery of subscription boxes (actually bags) of books to virtual learning sites set up by Kansas City Public Schools at area community centers.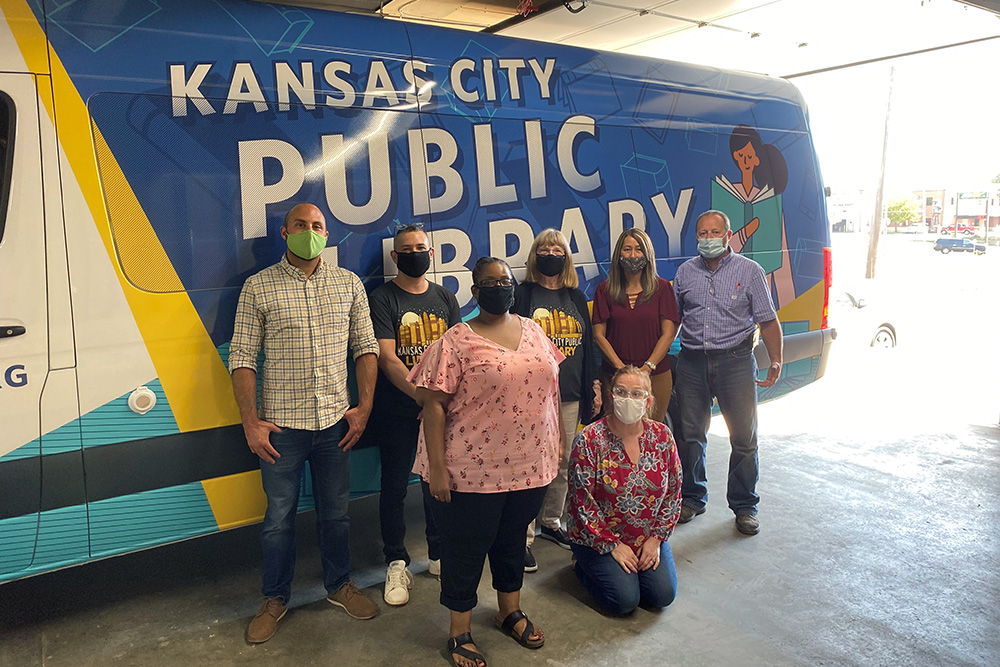 Members of the Library's Outreach team celebrate
the arrival of the new Mobile Library.
One of the Library's services that will benefit from the new vehicle
is its Lobby Stops, which serve seniors at area living centers.
Mobile services also encompass the popular Books to Go and Books to Give programs, which provide a multitude of Library materials to children at preschools and childcare centers. An important new service, made possible by a $50,000 CARES Act grant secured in July, will make four mobile device labs available to patrons needing access to technology for such vital tasks as enrollment for benefits, job searches, and education assistance. 
Davis has further expansion plans – and a new vehicle to drive them – but also a once-in-a-hundred-years challenge. 
"It's so hard right now with COVID," she says. "We really can't do what I'd like to do … make traditional mobile library stops at neighborhoods, go to daycare centers and do storytimes. 
"We'll do that as soon as we can, as soon as the world opens again." 

 
---

These expanded services are made possible in part thanks to Kansas City voters saying YES to the Library Question in November 2018.
Learn more at kclibrary.org/nextchapter.