The Library and the
Ewing Marion Kauffman Foundation
present a series of online community conversations centered around the book
The Sum of Us: What Racism Costs Everyone and How We Can Prosper Together
, by
Heather McGhee
, chair of the board of Color for Change, the country's largest online racial justice organization.
The Sum of Us
analyzes the fiscal implications of racism on white people as well as people of color.  
About the book
 The public is invited to take part in one of a series of
online book discussions
scheduled throughout October. On October 19, Heather McGhee joins the Library for
an online presentation
, which can be viewed on the Library's
YouTube channel
.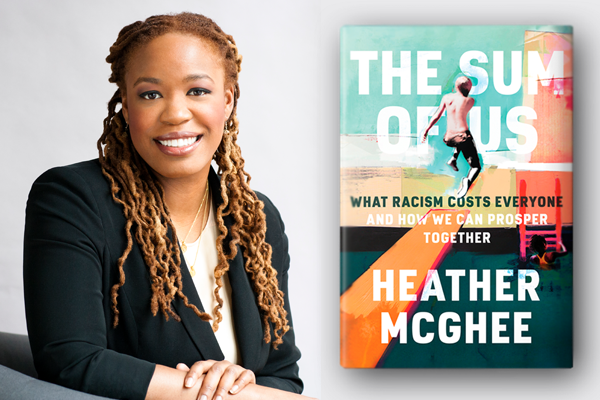 ---
Online Group Discussions:
Sign up to take part in one of the online book discussion opportunities in October. 
Participants must RSVP
; you will receive a Zoom link and password in advance of the online conversation date. 
View discussion guide
Thursday, October 7  |  6:30 p.m.  
Friday, October 8  |  11 a.m. 
Tuesday, October 12  |  6:30 p.m.  
Wednesday, October 13  |  1 p.m.   
Thursday, October 14  |  Noon
Saturday, October 16  |  1 p.m.  
Monday, October 18  |  6:30 p.m.
---
Online Author Event:
The Sum of Us: What Racism Costs Everyone and How We Can Prosper Together 
Heather McGhee, Joni Wickham 
Tuesday, October 19, 2021  |  6:30 p.m. 
Online event available at YouTube.com/kclibrary  

We may recognize the awful persistence of racism in America but not the full extent of its impact. Know this much, Heather McGhee says: While targeting some, bias and discrimination take a devastating toll on all.

Drawing from her bestselling book The Sum of Us: What Racism Costs Everyone and How We Can Prosper Together, McGhee examines that wide social and economic cost and how it's in the interest of everyone, not just people of color, to push for change. In unlikely places of worship and work, she points to proof of what she calls the Solidarity Dividend – gains that come when people come together across race to accomplish what they simply can't do on their own.

Joining her in the discussion is Kansas City political and communications strategist Joni Wickham, who was chief of staff to former Mayor Sly James.

The online conversation will be presented on the Library's YouTube channel and is co-presented by the Ewing Marion Kauffman Foundation.