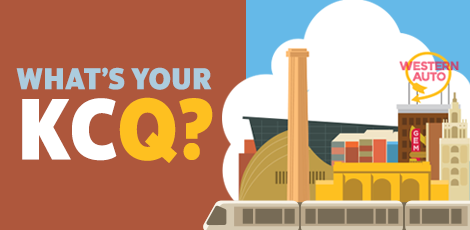 "What's your KC Q" is a joint project of the Kansas City Public Library and The Kansas City Star. Readers submit questions, the public votes on which questions to answer, and our team of librarians and reporters dig deep to uncover the answers.
Have a question you want to ask? Submit it now »
---
by Robert A Cronkleton
Next time you're philosophizing over beers, consider that the container you're holding could someday defend your home against the biting Kansas City cold.
How on Earth? By tumbling it's way over itself on to a new life here in the City of Fountains.
Earth Day 2021 is here, which often renews people's interest in finding ways to help out the environment.
It is only fitting for "What's Your KCQ?" to tackle a reader's question asking for an update on Ripple Glass, a local company aiming to make a dent in the city's waste, started by the folks at Boulevard Brewing Co.
The reader asked KCQ, a collaboration between The Star and the Kansas City Public Library, for an update on the company's "ambitious effort to recycle glass." She wanted answers to these questions: Successful? Profitable or self-sustaining? Future?
KCQ, which secretly enjoys the of clinking — sometimes shattering — sounds of glass bottles as they tumble into iconic Ripple Glass' big purple bins, was interested too.
'The purple bins, you can't miss them.'
The Ripple Glass plant, located near Truman Road and Interstate 435 on Kansas City's east side, recycles about 45,000 tons of glass a year, said Boulevard Brewing Co. founder John McDonald.
McDonald, along with Jeff Krum and Mike Utz, founded Ripple Glass as a free voluntarily drop-off program to collect glass.
"We all worked at Boulevard Brewing Company and we were looking at trying to make Boulevard a zero landfill facility," said McDonald, who added that work to form the company actually began much earlier. "It took us a long time to actually fund and start the business."
When they envisioned the company, they thought it would be able to get 50% of the glass in Kansas City. So far, though, it has only managed to get about 25%, McDonald said.
The 45,000 tons of glass Ripple recycles each year is just a fraction of what's being used — the rest? Well, the majority of glass across the country ends up in landfills, McDonald said.
"Glass and aluminum are the best containers for beverages and we only recycle probably at best 30%, so there's 70% of this material that has great value that's really ending up in the landfills across the United States," he said.
And recycling is easy once you get used to it, said McDonald, who compared it to being no harder than brushing your teeth.
Ripple Glass has has placed large bins at more than 100 drop off locations in the Kansas City area so people have somewhere close to their homes to take their glass.
"The purple bins, you can't miss them," McDonald said.
The circle of (a beer bottle's) life
Participation has been one of the biggest challenges the company has faced over the years. For a long time, especially in the United States, it's been easier to just throw things away.
"If you take a glass bottle, it's 100% recyclable," said Mike Patterson, president of Ripple Glass. "One bottle makes one new bottle or a new product."
Because of that, the company tries to push consumers to buy products in glass containers and recycle them so that they can then be reused. Before the COVID-19 pandemic, the company had educational opportunities that coincided with Earth Day. That has changed due to social distancing and because the company can't get into schools to do presentations.
So, here's how it works: All that you need to do is drop the bottle off in one of Ripple Glass' purple bins. From there, the company takes over. Once the bin reaches a certain level, it is brought to Ripple Glass' processing facility at 1642 Crystal Avenue and is dumped on the ground.
Workers visually inspect the pile of glass for large pieces of trash and ceramics, which aren't processed through the facility. Conveyors then load the glass into the plant where it goes through another visual inspection and workers look for cans and metal parts.
The glass then takes a ride on a maze of conveyor belts, going through a "series of crushing and cleaning and crushing and cleaning till it comes out the other side," Patterson said. It takes about 13 minutes for a bottle to make it through to a finished product on the outside.
The majority of the glass is crushed into what looks like sand that is then sold to Owens Corning in Kansas City, Kansas, where it is turned into fiberglass insulation. During the process, however, amber or brown glass is sorted out, broken down and sent to bottle manufacturers to be turned into new beer bottles.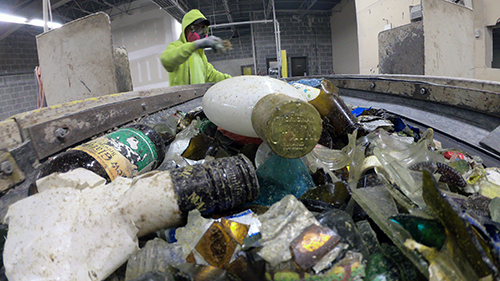 Glass bottles pass through a visual inspection station at the Ripple Glass where a
worker looks for trash including cans and metal parts. The facility in Kansas City
is hoping to process 50,000 tons of glass this year. | Monty Davis/The Star
2 million cases of beer bottles
Ripple Glass is now in its 12th year of operation. While most of the glass it recycles comes from the Kansas City area, the company also services communities in up to nine states, Patterson said.
In its first year of operation, the company brought in 7,000 to 8,000 tons of glass. This year, it is expecting to exceed 50,000 tons, he said. That roughly translates to 2 million cases of beer bottles — there's 24 bottles in a case.
But it's not just beer and alcohol bottles that are being recycled. Ripple Glass also wants your mayonnaise, juice and candle jars, among other things. Windows and glass shower doors and tabletops (with the frames and hardware removed), too.
The company has answers on its website to frequently asked questions like whether you need to take the labels off (no), rinse the container (nice, but not necessary) and remove lids (great if you do, but don't worry if it won't come off easily. Corks stuck inside wine bottles are okay too, by the way.)
The company also lists what type of glass is accepted as well as what is not — porcelain, ceramic and light bulbs, among others.
'Frankly, we can't keep putting this in the ground.'
Ripple Glass has turned the corner and is slightly profitable, Patterson said. As the Kansas City region grows, the company will need to grow, too, by adding more room and process capability, so it is important that it is able to turn some profit.
Continued growth is what the company is expecting as it continues its education and community outreach in Kansas City and throughout the region.
"We're looking for other creative ways to get people to join the party as we say on the back of the bin," Patterson said. "Because frankly, we can't keep putting this in the ground. It's got value and we can turn it into a product that provides a cleaner environment for all of us long term."
And for the record, Patterson too finds the sound of recycling glass to be cathartic.
"I hear the sound of glass crushing again and again, and it sounds like the right thing to do to me and the right thing to do for us and the earth that we live on," he said.
Submit a Question
Do you want to ask a question for a future voting round? Kansas City Star reporters and Kansas City Public Library researchers will investigate the question and explain how we got the answer. Enter it below to get started.