Jonathan Shorman, Allison Kite, Kevin Hardy, Talia Evans | The Kansas City Star and Kansas City Public Library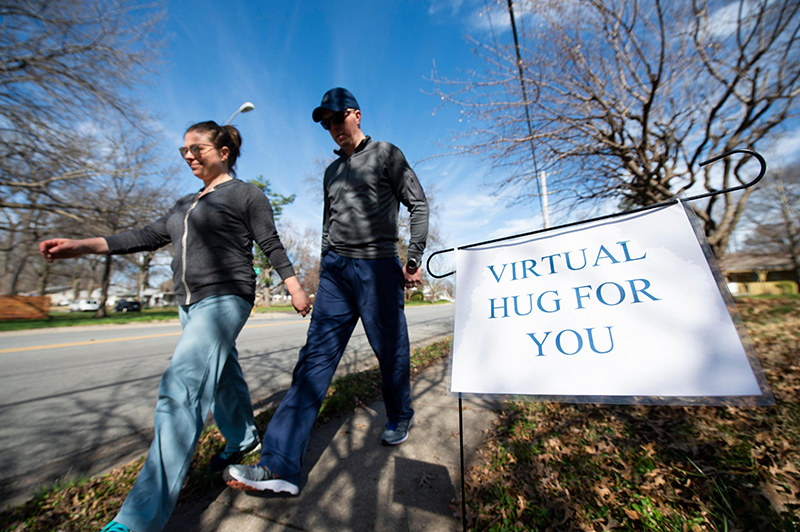 Joey and Elizabeth Crane walk past a yard sign with an inspirational message on 71st Street in Overland Park Wednesday afternoon, March 25, 2020. A couple of signs with encouraging words were placed along the street anonymously this week. Credit: Shelly Yang The Kansas City Star
As we adjust to this new "normal" — some of us working from home, or adjusting to work in essential businesses – things that used to be commonplace are coming into question.
Is my apartment going to charge a late fee on my rent? Can I get a book from the library?
"What's your KCQ?" — a partnership between The Star and the Kansas City Public Library — is focusing on answering your questions about how COVID-19 is affecting our communities and daily lives.
So now we're back with another round of answers. If you have questions, ask in the module below or at kansascity.com/kcq.
Are apartments going to be able to charge late fees if we are on furlough? Can complexes be forced to waive those fees?
It is a good idea to contact your landlord to talk about payment options (either delayed or partial).
The Coronavirus Aid, Relief, and Economic Security Act ("CARES Act") passed into law includes immediate protections for some renters. Starting March 27 and for 120 days, there is a temporary moratorium on late fees and evictions for renters in "covered properties" — or those that are federally-backed. The moratorium does not cover cases filed before it went into place or evictions related to reasons besides non-payment.
Robert Long, president of Kansas City-based Landlords Inc., said he won't be charging his tenants with penalties if they're late on rent because of the virus. He also works with other landlords, one of whom has offered percentage discounts on rent.
There is an eviction moratorium in Jackson County. It prohibits landlords from removing people from their homes if they don't pay rent. But once it ends, those bills, interest and late fees are due.
What rationale has been given for gun stores to be open during the pandemic. Why are stores that sell guns and ammo considered "essential"?
It is true that exemptions have been made when it comes to rights tied to the First Amendment (the freedom of religion) and Second Amendment (the right to keep and bear arms). They could be seen as moves to avoid a constitutional challenge from opponents.
In Missouri, Jackson County officials told Bass Pro Shops it had to close, but later changed its decision after the store appealed, citing a Missouri law that prohibits cities and the state from restricting firearm sales during an emergency. So stores such as Bass Pro Shops have been allowed to stay open.
In Kansas, sweeping exemptions in the statewide order raised at least the possibility that gun stores could have more flexibility. The order Johnson County issued on March 22 doesn't appear to exempt gun shops, for example. Sedgwick County's order also was silent on the issue of firearms.
In allowing the firearms industry to continue to operate, Kansas Democratic Gov. Laura Kelly sidestepped a confrontation over gun rights that would have likely occurred if she had imposed restrictions. Before adjourning, the Legislature voted to prohibit Kelly from seizing ammunition or limiting the sale of firearms.
What is happening with tax filing deadlines and vehicle registrations in Kansas and Missouri?
The simple answer: You have more time.
Both the Missouri and Kansas Department of Revenue offices are closed but are offering online help during this time. Both states have extended tax deadlines and deadlines to renew vehicle registrations.
The tax filing deadlines moved from April 15 to July 15. And any vehicle registration that expires during the states' stay-at-home orders are automatically extended 60 days.
Typically, the Kansas City Public Library offers tax help this time of year. We have reached out to our AARP Tax-Aide partners and are looking forward to the opportunity to reschedule sessions at the Waldo and Plaza Branches.
What library resources are available during the stay-at-home order?
The Kansas City Public Library is one of the organizations currently under the city's stay-at-home order, but there are so many resources for you to utilize in place of checking out physical materials. Use the Library's Digital Branch at any time to access eBooks, audiobooks, stream movies, television shows, and music. The Library also worked with providers like Hoopla, Kanopy, and Libby to expand the number of items that are available and increase borrowing limits.
You can also fill your time with several other online learning resources found in the Library's Digital Branch. With just a library card, you can learn new skills to build your resume on Lynda.com, research your family history on Ancestry.com, or help your student with their online learning using the help service Brainfuse.
If you don't have a Library card, signing up for an eCard is simple and fast at the Library's website. There you'll also find tutorials on how to use any digital resource you may have questions about.
"What's your KCQ?" is a partnership between The Star and the Kansas City Public Library. Have a question about how COVID-19 is affecting the Kansas City community? Ask in the module below.