Just before Christmas, a young woman – pregnant and accompanied by her mother – sought out the Library's
Community Resources
team for help. She had a new place to live but lacked furnishings and many other everyday essentials. Where could she turn?
"One thing led to another," recalls
Beth Hill
, the Library's senior resources specialist, "and we got her connected to another individual who had a lot of things they were cleaning out of their home. The young woman was able to get a bed, a television, pots and pans, the works. 
"That's the kind of thing that will happen through us."
Those sorts of inquiries, from soliciting help with job searches to where to look for assistance on rent and utility payments, have mounted in these stressful, COVID- and cold weather-affected times. Community Resources logged a little more than 30 contacts and referrals in both September and October. The number rose to 43 in November, 49 in December, and it topped 50 in both January and February.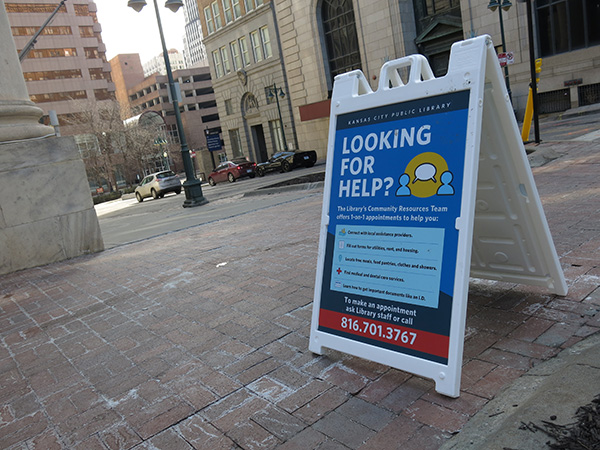 Outside the downtown Central Library, a sign invites patrons to connect with the Community Resource team and its services.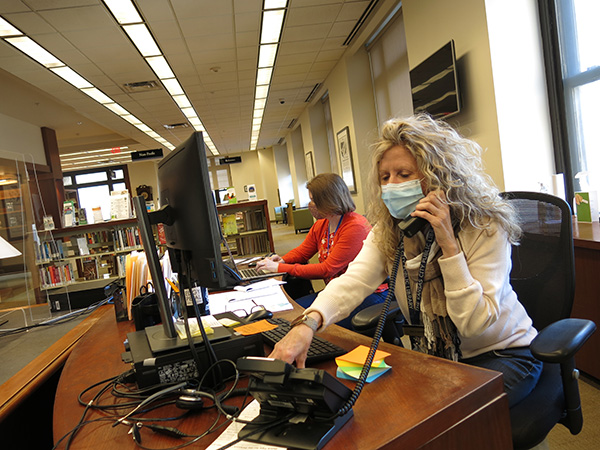 Megan Haave, left, a University of Kansas social work practicum student working with Community Resources, and Kelly Berry, the Libary's outreach community engagement associate, respond to patron calls seeking assistance.
Frontline staffers across the Library system serve as a bridge to the Central Library-based Community Resources unit. 
"I suspect a lot of patrons are coming in and asking, 'Where can I get rental assistance? Utility assistance? Food? I'm homeless,' " Hill says. "Certainly, all of the warming shelters available in the city and the area are something many will want to know about."
Sessions with Community Resources team members are made by phone, email or in person. More than one in four inquiries since September have entailed assistance with utility bills. One in six involved struggles with rent. January saw a spate of people wanting to make sure they secure federal stimulus payments, which begins with filing a tax return.
Hill and the Community Resources staff work hand in hand with such social service agencies as the Bishop Sullivan Center, Hope Faith, and the Greater Kansas City Coalition to End Homelessness. Among other things, they've distributed guidelines to all Library locations on helping homeless individuals who've taken up residence in cars parked outside the Library or set up campsites on Library grounds ("However, you choose to engage with the individual, please use empathy and understanding.")
"Who we're talking to more and more right now are people on the edge," Hill says. "They still have a roof over their head but they've gotten an eviction notice or they've been told it's just a matter of time. They're having difficulty finding work. They had family members lose their homes who've moved in, and suddenly their utility bills have gone way up. There are lots of different scenarios, and they're all related to what's been happening with COVID and how it has affected people's livelihoods."
"It's very fulfilling," she says. "I think everyone agrees that … even though the initiating incidents may be sad or distressing, it's very exhilarating to be able to help people get connected to the resources they need."   
Community Resources
We offer one-on-one phone or in-person appointments to help people find the resources they need. Our team can:
Make referrals to helping agencies
Assist in completing forms for utilities, rent, and housing
Locate free meals, food pantries, clothes and showers
Direct you to medical and dental care services
Offer handouts in acquiring vital documents
COMMUNITY RESOURCES
RELATED STORY
Among the Library's many challenges at the outset of the COVID-19 pandemic was staying in touch with Kansas City's most vulnerable populations, keeping them connected to vital services despite their limited or lack of access to technology. The solution: Keep it simple.
READ MORE
   |  
Download a copy of our Emergency Help & Community Resources Pamphlet