Post date:
Tuesday, December 6, 2022

As you prepare to deck halls, make merry, and greet the season, you can find a variety of Library resources and holiday happenings to make spirits bright. From festive family events to music and films befitting this time of year, we've wrapped up these offerings in a big bookish bow. 
Music  |  Gift Shelf Help  |  Films  |  Special Storytime Partnership  |  Events & Activities
 
---

Do You Hear What I Hear?
Does your holiday music taste lean toward classic carols? Prefer to pair your eggnog with nontraditional songs of the season? Your library card gives you the gift of free access to a wide selection of digital music offerings from hoopla and Freegal that ring all the right bells.
Holiday hoopla albums  |  Festive Freegal music
 

---

Giving the Gift of Reading? We Offer Some Shelf Help.
Don't know what book to get that friend or family member who has read everything? Get gift ideas from our expert elves librarians through our Shelf Help personalized reading recommendation service. We'll build you a custom list full of book ideas for the reader in your life; or if you're on the lookout for titles to try yourself, we'll set up a list just for you.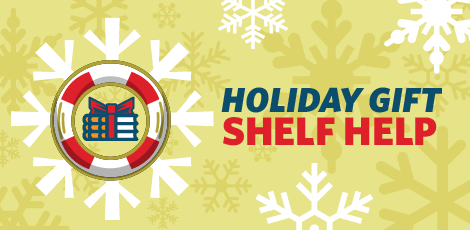 ---
Season's Screenings
If the weather outside is frightful, it's the perfect reason to stay indoors and stream movies on Kanopy, free with your library card. From family favorites to notable classics not found on other streaming services, Kanopy's holiday collection is a stocking stuffed with all kinds of cinematic treasures.
About Kanopy  |   Holiday collection
---

Enjoy Some 'Gingerbread' With Storytime Snacks
The Library's Youth & Family Engagement team is partnering with the National Museum of Toys / Miniatures for the holiday exhibition Gingerbread Lane, on display at the museum through January 15, 2023. Our youth librarians filmed two episodes of their YouTube Storytime Snack series on-site at the exhibition – those videos will appear online on December 10 and December 31.  
As part of the Library-museum collaboration, any exhibition guests who mention the YouTube storytime videos when they visit can receive half-price admission to the museum through January 15, 2023.  
Youth & Family YouTube channel
About the Gingerbread Lane exhibition
HOLIDAY Activities AT YOUR LIBRARY
Movie Matinée: Last Christmas
Thursday, December 8, 2022  |  1 – 3 p.m.
Southeast Branch, 6242 Swope Pkwy., KCMO
Southeast Branch hosts an afternoon screening of the holiday romance Last Christmas, which tells the tale of a frustrated Londoner working as a department store elf who stumbles into an unexpected relationship.  
Holiday Open House
Sunday, December 11, 2022  |  1:30 – 3:30 p.m.
Central Library, 14 W. 10th St., KCMO
Central Library's holiday open house offers an afternoon of yuletide fun. Enjoy a hot cocoa bar and treats; young artists are invited to draw on the blank walls of the second-floor Mountain Gallery; take part in crafts in the children's area, and listen to ukulele band The Sepiatones perform from 2-3 p.m. in Kirk Hall.
 
Holiday Concert
Wednesday, December 14, 2022  | Noon – 1 p.m.
Central Library, 14 W. 10th St., KCMO  | Kirk Hall
Join us for some jazzy holiday cheer with a lunchtime concert featuring The Dan & Chase Duo, as they play favorite seasonal music sprinkled with some showtunes and standards. Bring your lunch to listen to the performance, or just pop in for a song or two.
 
Cookies and Cocoa!
Thursday, December 15, 2022 | 4 – 6 p.m.  
Southeast Branch, 6242 Swope Pkwy., KCMO
Young culinary creatives are invited to decorate their perfect holiday cookie while enjoying a cup of hot cocoa. Supplies are limited and are available on a first-come, first-served basis. Special guest Santa Claus also makes an appearance!
Friday Night Family Fun: Parties! Holiday Fun
Friday, December 16, 2022 | 5:30 – 7:30 p.m.
Plaza Branch, 4801 Main St., KCMO | Kid Corner
 
Celebrate your favorite winter holidays at this crafty event. Create decorations such as hanging ornaments and magnet-backed bling that will fill your home with colorful cheer and brighten the coldest days of the year. Ages 3 and up.
Bookmobile at Merry Market
Saturday, December 17, 2022  | 10 a.m. – 5 p.m.
City Market, 20 E 5th St., Kansas City, MO
The Merry Market at City Market is a holiday experience complete with crafters, artists, a holiday bar, lots of holiday foods, family activities, and more. The Bookmobile will provide free books, activities, resources, and the chance to step inside the mobile library on wheels.
Family Video Vault Presents: The Muppet Christmas Carol
Saturday, December 17, 2022  | 2 – 4 p.m.
Central Library, 14 W. 10th St., KCMO | Durwood Film Vault
Our lovable felt friends The Muppets tell their version of the classic Charles Dickens tale about a miserly old man haunted by ghosts of the past, present, and future in this Christmas classic full of hijinks and heart.
 
Drop-In Winter Family Fun
Wednesday, December 21, 2022  |  1 – 3 p.m.
Wednesday, December 28, 2022  |  1 – 3 p.m.
North-East Branch, 6000 Wilson Ave., KCMO
Join us in the children's studio for drop-in winter activities! We'll have hot cocoa, and hands-on activities, including crafts and experiments.
 
Winter Break Family Fun
Friday, December 30, 2022  | 10 a.m. – Noon
Trails West Branch, 11401 E. 23rd St., Independence, MO
While the kids are out of school, stop by Trails West Branch for a morning of fun crafts and games – including making snow slime to take home.