Post date:
Friday, December 11, 2020
The Library's North-East location will open fairly quietly Thursday, December 17, 2020. There'll be no splashy ceremony. Plans are to hold a public celebration sometime after the first of the year, as soon as it's safe, formally unveiling an extensively remodeled facility that reflects the rich diversity of its neighborhood.

But we'll say this up front: The Library, and Kansas City's Historic Northeast, have a new jewel.

The $4.5 million refurbishing, begun late last year, gives the branch a fresh look, more space and amenities, and an expanded, even more multicultural collection. It also becomes – fittingly – the new home of the Library's Refugee & Immigrant Services & Empowerment division.

Reopening starts with Pop In / Pick Up service for picking up borrowed books and other materials. The branch's Village Post Office also will be open December 17. Additional services, including free public computer access and photocopying, faxing, and scanning availability, are expected to resume in mid- to late January 2021.

"This is an exciting update," says Cindy Hohl, the Library's director of branch operations. "There's going to be so much going on in that facility. It's great to see all of this coming together."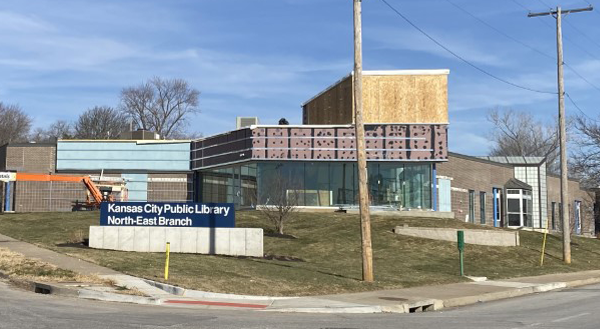 The North-East Branch's renovations are nearing completion. The process of upgrading the building began in December 2019.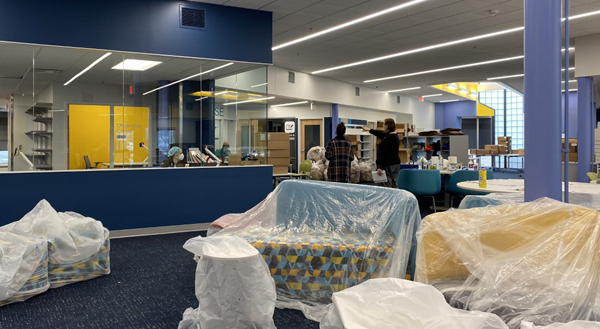 A look at North-East's remodeled interior, still in progress. In the background are branch Manager Amanda Barnhart and RISE Outreach Manager Julie Robinson.
The branch has operated since the middle of December 2019 out of a temporary storefront location across the street in the Northeast Plaza Shopping Center. The renovation was a priority going into, and coming out of, voters' approval of a modest increase in the Library's property tax levy in November 2018, and crucial additional funding came from the William T. Kemper Foundation, Sunderland Foundation, and Marion and Henry Bloch Family Foundation.
The makeover upgrades technology and the branch's study and meeting spaces and adds a children's programming area – a "messy room" for art and other activities. Some 7,000 new books and other materials have been added in 13 languages ranging from English and Spanish to Arabic, Osage, and Swahili.
Visitors will be greeted by a large sign behind the front desk saying "welcome" in those different languages.
"Early in the design process, and even before it started, we held focus sessions with community members and leaders in the Northeast area," says Library Deputy Director
Joel Jones
, who oversees library services. "The final product reflects what we learned.
"This Library location has always been a neighborhood anchor. We think the redesign, both interior and exterior, makes it even more of a landmark."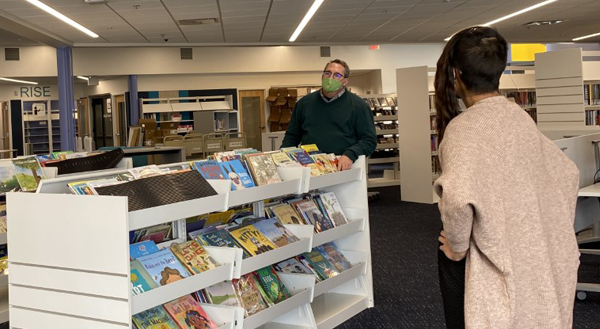 Deputy Director Joel Jones, left, and branch Manager Amanda Barnhart visit at the Library's transforming North-East location.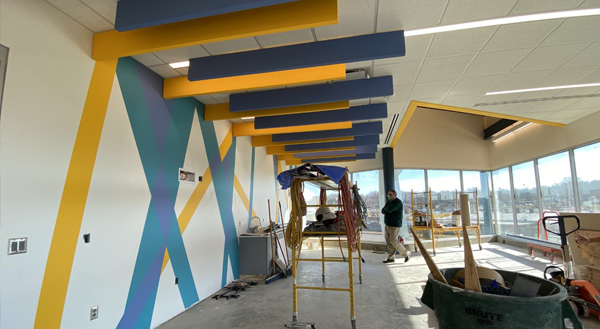 The new North-East space offers more natural light, dynamic colors, and more space for activities.
The branch will be open from
10 a.m. to 6 p.m. Monday through Friday
and from
10 to 5 on Saturday
– a schedule pared by the COVID-19 pandemic.
With the reopening comes the debut of the Library's first new exhibit since the outset of the COVID-19 pandemic in March, a digital display spotlighting the Historic Northeast's proliferation of outdoor murals. Called
Community in Color: Murals of the Historic Northeast
, it spotlights more than 30 of the outdoor works of art that have become a distinguishing feature of the Northeast area.
Anne Ducey
, the Library's exhibits director, began working on the project last spring with North-East Branch Manager
Amanda Barnhart
and a small circle of artists and activists tied to the community. The pandemic ruled out a traditional exhibit, but the high-resolution photographs of the murals lend themselves well to the digital format and display on the North-East Branch's series of four new 70-inch screens.
"Featuring them in a digital exhibit at the 'new and improved' North-East Branch will hopefully serve to bring their message of inclusivity and community to a greater audience in Kansas City," Ducey says.
---

These expanded services are made possible in part thanks to Kansas City voters saying YES to the Library Question in November 2018.
Learn more at kclibrary.org/nextchapter.