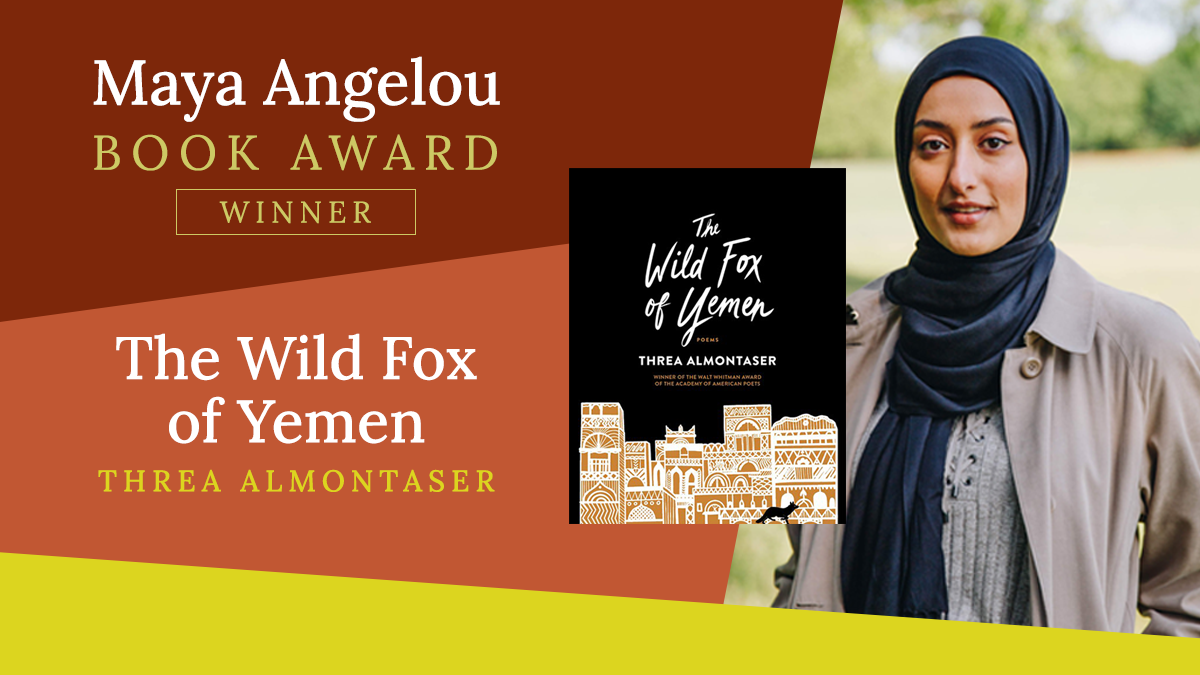 Threa Almontaser Announced as Winner
Yemeni American poet Threa Almontaser was named Wednesday as the inaugural winner of the Maya Angelou Book Award for her extraordinary debut collection of poetry, The Wild Fox of Yemen.
The new national award, established by the Kansas City Public Library, the University of Missouri-Kansas City, and five other Missouri universities, celebrates contemporary writers of poetry and fiction whose works reflect a commitment to social justice and inclusion. Almontaser's selection – from more than 100 entries – was announced during Wednesday night's Writers for Readers literary event co-presented by the Library and UMKC.
Moving between English and Arabic, The Wild Fox of Yemen examines the life of a young Muslim woman in New York, half a world away from her roots in Yemen. Almontaser describes it as a love letter to her home country and the people of Yemen.
"I feel a responsibility toward the Yemeni community now more than ever to write, not just about our survival but our joys, too," Almontaser said. "As for where the singular poems sit within this larger body of work, I'd say I'm influenced to write about both cultural differences and different cultures."
The award, named for Missouri-born memoirist, poet, and civil rights activist Maya Angelou, is accompanied by a $10,000 stipend. Almontaser will conduct a speaking tour next spring of the six participating universities: UMKC, the University of Missouri-Columbia, Truman State, Missouri State, Southeast Missouri State, and Northwest Missouri State.
Finalists
The committee announced five finalists for the Maya Angelou Book Award on Wednesday, Sept. 29, 2021:
About the Award
The Maya Angelou Book Award was founded in 2020 to honor the legacy of Missouri-born author Maya Angelou by celebrating contemporary authors whose work has demonstrated a commitment to social justice in America and/or the world. The Angelou Book Award is alternatively presented each year for poetry and fiction.
For Writers
Each year, one author will win $10,000, conduct a reading tour of Missouri colleges, universities and libraries, and be recognized in a ceremony sponsored by the Kansas City Public Library, the University of Missouri and the University of Missouri-Kansas City.
Eligibility
Submissions closed Monday, May 3, 2021.
Entrants must be U.S. Citizens and reside within the United States.
Entrants must be at least 18 years of age.
Entrants must be available for a two-week reading tour in Missouri during the Fall semester (virtual or in-person, as circumstances permit).
Entrants must not be an employee of a Missouri college or university, or an employee of the Kansas City Public Library.
There is no entry fee. The Reading Committee requests electronic copies of manuscripts published in 2020 and 2021. Galleys of books scheduled for summer and fall 2021 are eligible.
2021 Award Information
Submissions open Monday, March 1, 2021
Deadline for entry: Monday, May 3, 2021
Announcement of winner: October 20, 2021
Book tour and ceremony: Spring 2022 - Dates forthcoming
Submit Entry for Maya Angelou Book Award
Submissions for the Maya Angelou Book Award are closed.