Volunteer
Other Opportunities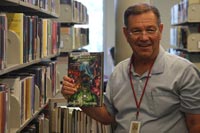 MATERIALS LOCATOR:
Materials locators use a computer generated printout to locate materials to be sent to other libraries. Volunteers need to be able to reach and bend to shelves as necessary. This position is morning hours only.
MATERIALS SHELVER:
Materials shelvers help staff by sorting, checking the condition of and shelving books and other library materials. Shelvers need to be able to organize alphabetically and numerically and to reach and bend to shelves and push a cart up to 45 pounds.
SHELF READER:
Shelf readers make sure books are in their proper alphabetical and numerical order, and help with general Library straightening.
HOMEWORK HELP:
Assist elementary and high school students with their homework. This position is evening hours only.
Interested in learning more? Please contact the Development team at development@kclibrary.org or complete and submit an application form:
All volunteer positions require a criminal background check. Under no circumstances will the library knowingly engage persons charged with a theft, sexual or violent offense.