MENTORS NEEDED - LAUNCHCODE'S DISCOVERY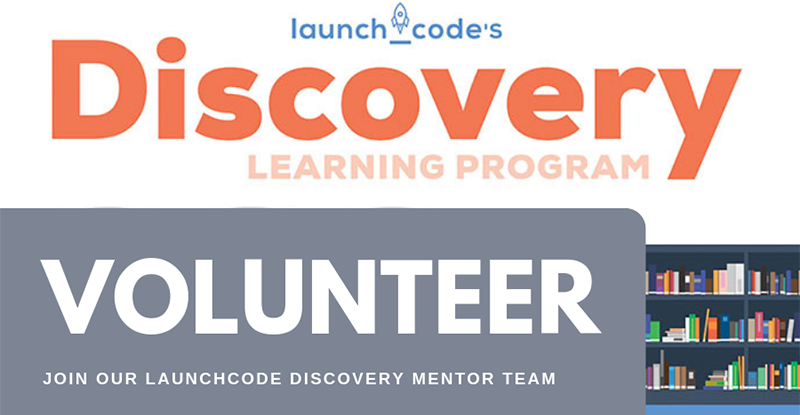 Launchcode's Discovery program is seeking volunteers who will mentor adult patrons currently taking the online Discovery course. As a Launchcode Discovery Mentor at The Kansas City Public Library, you will provide guidance and direct assistance to students in the subjects of math and basic programming. A minimum commitment of four (4) hours a month for six (6) months is required. Training and ongoing support are provided.
Volunteer Information
Where Volunteers Serve:
Plaza Branch
4801 Main St, Kansas City, MO 64112
Every Friday from 6-8pm
Next Volunteer Training:
The Kansas City Public Library offers a 1-hour Tech Coach information and training session twice each month,
at the Plaza Branch 4801 Main St. KCMO
Second Tuesdays and Third Thursdays
5:30–6:30 p.m.
Qualifications and Benefits
Qualifications:
Please look over Launchcode's Discovery syllabus, you must feel comfortable answering questions that pertain to this syllabus.
Excellent computer skills
A firm grasp of basic math concepts (High School math)
A basic understanding of object oriented programming languages, preferably Python
Ability to communicate in an effective and supportive way with learners
Flexibility and patience
Fluency in reading, speaking and writing English
Able to work independently in a community computer lab
Interest in digital literacy and adult education
Benefits Provided:
Job skills, professional reference, resume enhancement and networking opportunities within the community
Knowledge that your efforts are helping others reach their personal goals and cross the digital divide in Kansas City
Experience with persons from a variety of educational and cultural backgrounds
Get started or learn more
Can't decide which roles is best for you? No need to decide right away. The next step is the same regardless of the role you choose. Join us for one of our upcoming information sessions. Simply complete the application and choose the upcoming information session you would like to attend.
Fill out the online application.
For more information, send us an email or call us at 816.701.3593.