I became a "beer guy" in 1995. That was when I discovered Boulevard Wheat and my eyes were opened to the idea that there were more than two flavors of beer – regular and light. A year later I took a trip to Colorado and visited a rapidly expanding restaurant chain called Old Chicago Pizza & Taproom that advertised more than 100 different beers. At that point, there was no going back.
I have spent the last 18 years — wow, 18 years — exploring the wide world of craft beer. Boulevard was a blessing for Kansas City. It produced a fantastic product and made Kansas City a big-time player in the craft beer revolution. Unfortunately, for a long time, it was the only Kansas City player. But if you are going to have only one, it might as well be the George Brett of craft brewing, right?
In recent years, things have changed. Boulevard is still there — the anchor that ensures Kansas City will always be mentioned whenever anyone anywhere talks about great craft beer communities — but others have joined the party.
So when the Young Friends of the Kansas City Public Library settled on Booktoberfest (a novel beer tasting experience) as their first fundraising activity, I was delighted. Here was a chance to promote reading, the Library, and Kansas City's great craft beers.
Booktoberfest is not your typical beer-tasting event. There are not 50 breweries from all over the country. There will be no huge crowds. You will not pay for admission and then have to buy food.
We made a conscious decision to keep it small. We wanted the emphasis to be on showcasing the Library and the great craft beers that are being produced in our community. We partnered with four small, true micro-breweries that are doing some pretty exciting things in Kansas City.
I should point out here that I am not an expert on the subject of beer. I cannot identify types of hops by scent. I know nothing about the brewing process. I can't even always remember the names of the styles of beer I am drinking. I'm just a guy who knows what he likes in a beer, and I like to think that I have pretty good taste.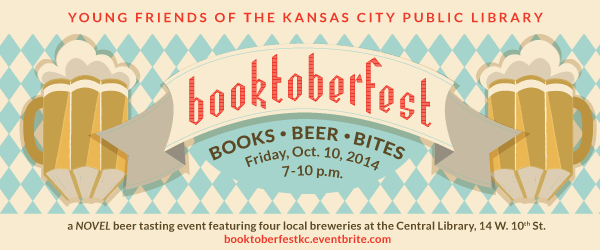 Participating breweries include:
KC Bier Company
Located at 310 W. 79th Street in Waldo, KC Bier Company is the largest brewery featured at Booktoberfest. While many American breweries shy away from German-style beers because they're too similar to traditional North American lagers, KC Bier Company embraces them. Much like my experience with Boulevard Wheat all those years ago, KC Bier Company is helping people realize that just because a beer looks like something you'd pour out of a domestic bottle doesn't mean it can't be a great craft brew.
Rock & Run Brewery
Located at 110 E. Kansas Street in downtown Liberty, Rock & Run Brewery features a combination of traditional beers, less common styles, and experimental offerings. It was here that I developed a real taste for smoked beers – the barley dried over an open flame to give it a distinctive, smokey flavor.
Cinder Block
Located at 110 E. 18th Avenue in North Kansas City, Cinder Block is one of my favorite locations. Off the beaten path, the taproom has a very industrial feel. It emanates cool. And the beer is top notch. The Block IPA is a favorite of many, but my personal favorite is Cultivate Saison, a big beer that rivals my all-time favorite in that style – Boulevard's Tank 7.
Crane Brewing Company
While not yet open to the public (it hopes to open soon in Raytown), Crane places an emphasis on sour (another one of my favorites) and wild beers. I tried the brews from Crane for the first time in the lead-up to Booktoberfest. I was a fan of its Marcel, a dry-hopped saison, but the one that created the most buzz around the office was Ruby, an eye-catching red cream ale brewed with beets.

We hope to make Booktoberfest a more civilized beer tasting event.
The event takes place on Friday, October 10, at the Central Library (14 W. 10th Street). Free parking is available in the Library district parking garage at 10th & Baltimore. Doors open at 6:30 p.m. At that time, people will be able to check in and enjoy hors d'oeuvres provided by Cosentino's Downtown Market and pizza from Milwaukee Delicatessen.
Tickets are $35 or two for $50 and are available at booktoberfestkc.eventbrite.com. Booktoberfest is co-presented by Recommended Daily.
All proceeds will benefit the Young Friends of the Kansas City Public Library in support of the Library's efforts to make Kansas City a community of readers.
We will assign every ticketholder to a small group, and at 7 p.m. a "tour guide" will escort the groups to their first tasting station. The groups will get to spend about 30 minutes at each station, sampling beers, talking about their breweries, and experiencing the beauty of the Central Library. Of course, we couldn't do an event that night without first ensuring that attendees can follow the Royals' American League Championship Series opener against Baltimore. It will be shown on large screens at each tasting station.
To wrap up the evening, we will congregate on the Library's rooftop terrace for cookies from Swoon Cookies and pretzels from Farm to Market Bread Company and to watch the end of the Royals game.
I hope you can join us Friday night for an evening of books, beer, bites … and baseball.
- Steve Woolfolk, Assistant Director of Public Affairs