Post date:
Monday, February 11, 2013
Looking for more books about good love gone bad, bad love that feels good and love in all the wrong places?
Check out our KCPL Pinterest page, Books of Love.
There are classic and contemporary romances, nonfiction about the various unusual passions folks may harbor for sports, cities, and stuffed animals from childhood, short stories full of epic tragedy and eternal devotion, and stories of otherwordly love.
Reading never felt so right.
About the Author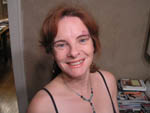 Kaite Mediatore Stover is the Director of Readers' Services at the Kansas City Public Library. She is a regular guest on KCUR's Book Doctors segment and moderator of The Kansas City Star's FYI Book Club. She can tap dance, read tarot cards, and doesn't bite.