On a hot Saturday last month, 50 people gathered at the Westport Branch to learn about another August day 147 years ago, when soldiers ordered 20,000 Missouri civilians from their homes. It was a period in local history as regrettable as it is compelling. In the Union Army's reprisal for guerrilla raids against places like Lawrence, Kansas, lives were lost and houses burned.
General Order No. 11 and Westport's place in the center of the border skirmishes of summer 1863 are the epicenter of local Civil War history. And talking about these events just once a year isn't enough for DIY scholars like Doreen Mundy.
Mundy and 13 of her friends occupied the back row of the Westport Historical Society's lecture on Order No. 11. Until two years ago, most of the people in Mundy's group didn't know each other. They're members of the American History group Mundy set up on the social networking site Meetup.com, which helps people connect online around shared interests and then "meetup" in person. Seventy-five people belong to Mundy's group, which typically meets twice a month. They've conducted 55 meetups since 2008.
For a club devoted to grassroots scholarship, that's practically a history minor. But it began with a slightly different focus than the lofty goal of higher learning. Mundy, who played Eliza Wornall in a 2008 re-enactment of the Battle of Westport, was looking for new friends.
"I decided to start the group because I had a desire to visit local historic sites and attend lectures, but my family was less than enthusiastic about it, and I didn't really have any friends that were as excited about history as I was," she tells KC Unbound.
"I needed like-minded people to hang out with," she adds.
As the audience in the lecture hall showed, there are plenty of people interested in Kansas City's past. The story behind General Order No. 11 is particularly compelling.
The speaker, Park University professor Timothy Westcott, outlined the events that led up to Brigadier General Thomas Ewing's decision to drive out most of the civilian population of the lands around Kansas City. Though Missouri was a Union state, its western counties were home to many Southern sympathizers who were providing aid to the pro-Confederate guerrillas, known as "bushwhackers."
On August 21, 1863, buschwhacker William Quantrill led 450 raiders to Lawrence, killing 180 men and boys and burning much of the town to the ground. Three days later, General Ewing issued his order, which, Westcott argued, sent the region into even greater chaos.
One was the famous General Order No. 11 (1863), which George Caleb Bingham painted in 1868 to thwart Ewing's campaign for governorship of Ohio.
The lecture ended with a comparison of two paintings.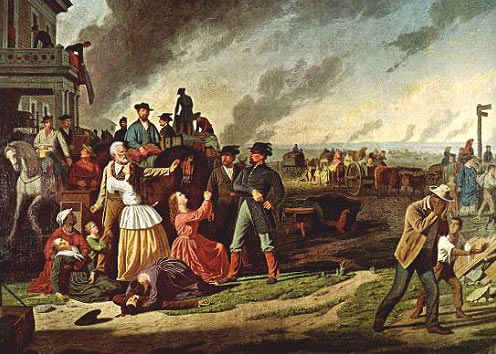 The other painting was the less well-known Back Home, April 1865 by Tom Lea III, which shows a solemn Missouri family returning to their leveled homestead in the so-called Burnt District (the lands pillaged by Union soldiers enforcing Order No. 11). Lea's painting hangs in the Pleasant Hill, Mo., post office.
Afterward, as people began heading over to the Harris Kearney House for refreshments, Mundy and her friends talked about their next outing: a trip to historic Rocheport, Mo., the very next Saturday.
Because there's always time for history.
Explore the Library:
If you'd like to join the American History Meetup, create a free account and connect with the group here.
-- Jason Harper