'Bout time we got a lady in the game! Straight from the pages of Larry McMurtry's Buffalo Girls comes Calamity Jane, American frontierswoman and Off-the-Shelf All-Star Third Baseman. Once Jane's warmed up, it'll be time to pick a Teen Idol for Center Field!
Born in 1852 in Princeton, Missouri, Martha Jane Canary was a wild one. She was christened "Calamity Jane" during her time spent fighting Native Americans for the military and later became friends with Wild Bill Hickock in Deadwood. In McMurtry's 1990 historic romp of a novel, an aging Calamity travels to London as part of Buffalo Bill Cody's Wild West Show to perform for Queen Victoria.
Now, as the 2012 MLB All-Star Game hubbub ramps up in Kansas City, the Kansas City Public Library is proud to welcome Miss Jane as the first woman on our literary bookball team.
In the voting that took place yesterday on the KC Library Facebook page, Jane didn't face very stiff competition from her fellow American legends vying for 3B: Doc Holliday (Doc by Mary Doria Russell), Ichabod Crane ("The Legend of Sleepy Hollow" by Washington Irving), and Sacajawea (Sacajawea by Anna Lee Waldo).
Fans rallied to Calamity from the beginning, and as the toughest bookballer this side of the Mississippi, Jane will test her reflexes in the "hot corner," fielding grounders and gunning runners out for the OTS All-Stars. 
But now it's time to shift gears to the outfield.
Off-the-Shelf Center Field: Teen Idol
The captain of the outfield assigns all the flyballs, watches every pitch, and has a great arm. Clearly, this is a job for a young 'un. Which of these angsty teens from Young Adult fiction should be ruling the outfield?
Center Field: Teen Idol Nominees

Katniss Everdeen, The Hunger Games by Suzanne Collins

Holden Caufield, The Catcher in the Rye by J.D. Salinger

Bella Swan, Twilight by Stephenie Meyer

Arnold Spirit Jr., The Absolutely True Diary of a Part-Time Indian by Sherman Alexie
Voting begins on our Facebook page at facebook.com/kclibrary starting today at noon through 9 a.m. tomorrow, July 6. Vote once for any of the young bucks above or feel free to write in your own nominee by clicking "Add an option."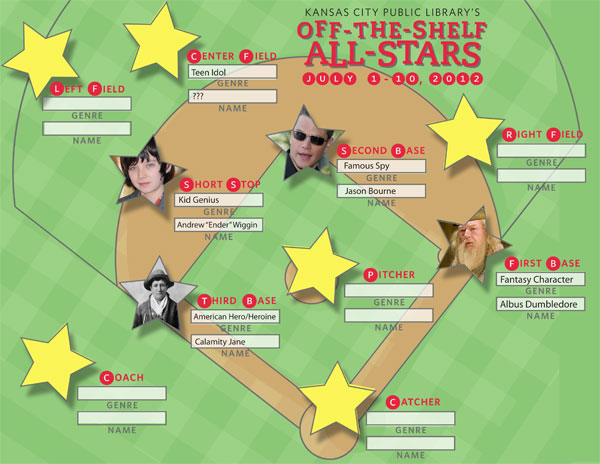 Here's who's been voted onto the team so far:
First Base (Fantasy Character): Professor Dumbledore, Harry Potter and the Sorcerer's Stone
Second Base (Famous Spy): Jason Bourne, The Bourne Identity
Shortstop (Kid Genius): Ender Wiggin, Ender's Game
Third Base (American Hero): Calamity Jane, Buffalo Girls
Center Field (Teen Idol): ???
We'll be asking your help building our Off-the-Shelf team all the way through the MLB All-Star game at Kauffman Stadium on July 10. Keep the great interaction coming on Facebook, and follow the hashtag #OTSAS on Twitter for updates!
About the Author
Jason Harper is the web content developer and social media manager at the Kansas City Public Library.