Post date:
Thursday, November 5, 2015
The Kansas City Public Library is one of 21 nationwide recipients to receive a $100,000 grant to help launch a two-year program aimed at improving financial literacy.
We have partnered with the Women's Employment Network and other local agencies to provide a range of services, including workshops, web resources, and individual financial coaching, to residents who are looking to enhance their money-managing skills but may lack access to reliable, unbiased education opportunities and resources. The Money Matters Workshop Series is projected intended to reach hundreds of residents in areas most in need served by our North-East, Bluford, and Southeast Branches.
Currently, workshops are being held at these three locations and we are looking to expand to local area community centers, social services agencies, and religious facilities. The Money Matters Workshops will cover banking, budgeting, credit management, and protection against identity theft.
The Women's Employment Network and other financial opportunity centers will also offer free individual financial coaching sessions to workshop participants. The Money Matters Workshop Series and coaching are open to anyone but specifically targeting:
Young women are entering the workforce and women newly assuming primary responsibility for managing household finances.
Immigrants—primarily Somalis and Latinos–living near the Library's North-East Branch at 6000 Wilson Rd.
Adults 55 and older who are preparing for retirement or managing income in retirement.
Workshops include:
Banking Basics focuses on empowering participants to utilize and develop relationships with either a bank or credit union, access banking products and successfully use money management tools.
Budgeting: The Money Diet focuses on creating a household spending plan. Participants will get an overview of the components of a budget, gain tools to help with expenses, and explore ways to save on everyday expenses.
Give Yourself Credit focuses on how lenders view credit, being smart about selecting a credit card, teaching participants how to read their credit reports, and improving credit scores.
Yes, I am Janice Brown: Be safe from Identity Theft focuses on education participants on how to identify the warning signs of identity theft, how to protect their children, and being proactive if identity theft occurs.


For a full list of upcoming workshops and to register, please visit kclibrary.org/moneymatters.
This program is made possible by a grant from the Financial Industry Regulatory Authority's Investor Education Foundation through the Smart investing@your library initiative, a partnership with the American Library Association.
About the Author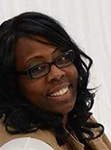 Latoya Woods works with the Library's H&R Block Business & Career Center as a Financial Literacy Specialist. She develops financial literacy workshops as part of the FINRA grant offered at three Library branches and other community agencies.